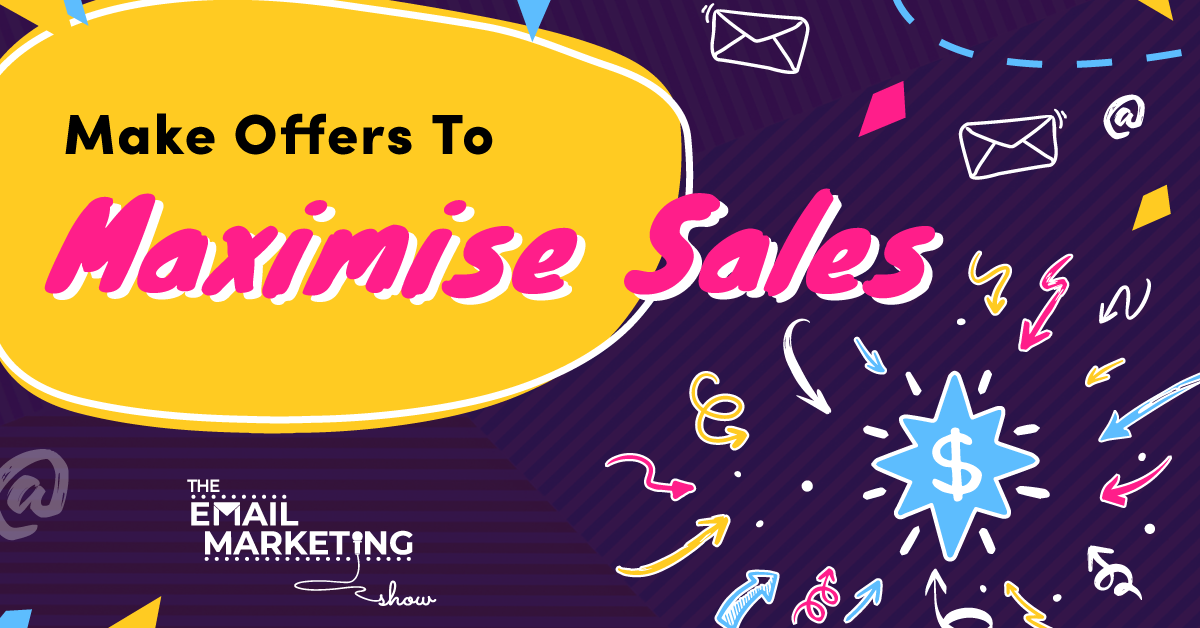 The Little-Known Right Order to Make Your Offers (For Maximum Sales)
Do you have a flagship product – a core product or service that you focus on with your marketing and your messaging? Today we're sharing how you decide in what order to promote your products so you can simplify your business and your marketing and maximise your sales per subscriber.
Sounds too good to be true? Well, it's a really simple trick, and you're just about to learn all there is about it!
Ready?
SOME EPISODE HIGHLIGHTS: 

(4:43) All roads lead to Rome!
(7:21) Choosing your Rome.
(9:34) Create offers that appeal to different segments of your audience.
(10:40) Reduce the risk and deliver results to prove you can help.
(11:46) Bring more eyeballs to your core product.
(13:09) Simplify your business and maximise your profits.
(14:56) How to structure your email marketing.
(16:29) Talk about your offers in different ways.
(18:04) How to pick your flagship product.
(21:20) Subject line of the week.
All roads lead to Rome!
In a casual, throwaway comment we shared during our Level Up mastermind in London, we said that all businesses need to have a core product and all roads must lead to it. It's like the old well-known expression that all roads lead to Rome! This was hands down the biggest takeaway from our participants, and it's an idea that we often take for granted but want to shed some light on because it might help you solve some of the problems you're currently experiencing in your business.
When using our email campaigns, a lot of people ask us in what order they should sell their products and to whom. If you sell a couple of different products in your business and have a few lead magnets as well, you have to juggle different offers. So how do you know how they all fit together?
The great news is that there's an easy answer to this. You need to pick the one thing that you ultimately want everybody in your world to end up in. For us, it's our membership, The League. Interestingly, what you choose as 'your Rome' doesn't have to be your highest-priced product. For example, our email writing agency or our mastermind Level Up cost more than The League. But those are what we call our profit maximisers or upsell offers. They are products we make available for the people who want further help from us (more about that later).
So to help you figure out what your Rome is, finish the sentence, "If I could wave a magic wand and get everyone single one of my perfect customers to buy one thing from me, it would be …………".
Choosing your Rome
Our Rome is our membership because with our more expensive products we have a capacity issue. In our mastermind, we only have two groups of 15 people, for example. So we don't want every single one of our ideal customers to end up there – that's just not possible! But with our membership, we can have as many members as we want because it's a scalable offer. In other words, having more people inside The League won't diminish our ability to deliver. That's why our membership is our Rome, and everything leads to that. Bringing people closer to our Rome (our flagship product) is our ultimate goal.
So that's what you want to do too – figure out what your Rome is and then lead people to it. Because if your marketing isn't doing that, it's probably confusing people and pushing them away. Once you have one focal point in your business, your customers will see that too. But if you have loads of different offers, it's hard for people to figure out what's right for them. They can get confused.
It's okay to have different products that will bring in people at different points and help them with various parts of their journey. But ultimately you want one core offer – something you're driving everyone to. That will be your focal point – your North Star. So every time you're creating a new piece of content, a new offer, or setting up an email campaign, you want to first figure out how that activity helps you to get more of your ideal clients closer to buying your core offer.
Create offers that appeal to different segments of your audience
Once you've picked your Rome, look at everything else you're doing to see if your other activities or offers act as a ramp towards your Rome. Do they move people towards your core offer? Everything you do in your business and your marketing needs to act as a precursor or prequel to the one thing you want to sell.
In order to achieve that, you want to create things that appeal to different segments of your audience. For example, in our business, we might create a piece of content that only appeals to course creators. And then we'll have something separate for membership site owners or coaches. These are all micro products, and they can be free or paid for, but the key is that they lead into the core product. So create on-ramp products or offers that appeal to different segments and lead to your Rome.
Reduce the risk and deliver results to prove you can help
On-ramp offers can also be useful to help you reduce the risk for potential new customers who are on the fence about buying your flagship product. In other words, you can use on-ramp products to make your Rome either lower price or lower commitment. Can you think of ways to reduce the level of perceived commitment?
Another thing you can do is to deliver some kind of result to prove that you can help people. We currently live in a world with the highest levels of skepticism and lowest levels of trust ever in the history of the human race. People might not want to commit to you just yet. So it's key for you to be able to deliver some small result – something that proves that you're good and that your product or service works. Can your on-ramp offers do that?
The Top 10 Books To 'Power Up' Your Email Marketing
10 book recommendations that will improve all areas of your email marketing (including some underground treasures that we stumbled upon which have been game-changing for us).
Bring more eyeballs to your core product
And finally, on-ramp offers can be tied to some kind of traffic method that brings more eyeballs to your flagship product. For example, we only have affiliate programmes (where we pay people a commission for selling our products) for our on-ramp offers. We don't have an affiliate programme for our Rome – The League. And that's because we know that by running affiliate programmes for our on-ramp offers we get more people to run promotions for us and therefore more ideal customers to see our Rome.
For example, in our online email marketing conference – Inbox – we had presentations about lots of different topics. And those will appeal to different segments of our audience. The business model for our event reduces risk because Inbox is free to attend. You pay nothing upfront and only spend money if you want to buy the recordings. So we deliver results for people. Because people take the teachings, apply them to their business, and make money. Plus, all our speakers promote the event to their lists and bring more subscribers to our world from their audiences.
Simplify your business and maximise your profits
So, to summarise, when looking at any other offers you run in your business, check whether they are on-ramp products that move people closer to your flagship product. If not, are they profit maximisers, like our writing agency or our mastermind? If you have anything else that doesn't fall into these categories, are those things just a distraction? Because something that doesn't help people come into your ecosystem by getting closer to your Rome or isn't a profit maximiser isn't needed. So get rid of it and simplify your business – not just for you but for your subscribers too.
When someone new comes into your world, the undertone of everything you say is that ultimately they should end up in your Rome. And if people want to dip their toe in the water with you first and find out if you're any good and can get results for people, you'll have other lower-commitment offers that are either free or paid for. Look at what we do – yes, we talk about our membership The League a lot, but every now and then we also tell people about other things we're doing. We give people lots of different opportunities to try some of our products.
How to structure your email marketing
Once you've set things up in your business this way, you can also figure out how to order your campaigns in your email marketing engine and create your ideal subscriber journey.
When someone new comes into your world, you want to put them through the Getting to Know You sequence (that's what we call our welcome sequence). And then after that, you have a string of campaigns designed to sell your core product and tell people why it's good, why they should buy it, and why they should buy it now. Some people will buy, but those who don't will receive new campaigns (coupled with your daily emails) where you offer them your lower-commitment products.
So if join our list as a new email subscriber you go through a series of campaigns about The League, which we believe is the best thing you can do for your email marketing. But if you get to the end of our engine, and you're still not ready to join, then we can help you with other products (i.e. our on-ramp offers). 
For example, we can sell you our List Building course or our Bottomless Email Strategy (which is included inside our membership, by the way). And a lot of people who start off with these products do end up in The League because we've proven to them that we can help. 
Talk about your offers in different ways
So, picking your flagship product and deciding that everything in your marketing leads to that helps you simplify your email marketing and your business. You can wrap multiple offers and campaigns around your flagship product and then talk about it in different ways. You can highlight different aspects of your product that will appeal to different people. 
What you don't want to do is to talk about different products every month. Because that's a sure way to confuse your list and make no sales! A confused mind cannot make decisions, and if you continuously promote different products, your audience won't be able to tell the difference. They won't know what's available or what they should buy to solve the problem they have. 
But when you have one Rome, there's no confusion. So stick with your one thing and talk about it from different angles to make sure you continue to build the beliefs, the understanding, and the desire for your core product.
How to pick your flagship product
So what types of products would make for a good Rome? You have many options here, but here are the core ones. 
High-ticket coaching programme. Think 12 weeks, or 6-12 months, for example. 
Mastermind. 
Membership. This is what we chose to do because we wanted a subscription we could scale. But even if you sell physical products, you could have a business model that encourages people to buy from you every month.
Flagship course or programme.
A live event you do once a year.
Once you've decided what your Rome is, you can add other offers for the people who want to get even closer to you (i.e. the profit maximisers). Remember, you're not trying to sell those to everyone – they are offers for the people who want more help from you. We created our mastermind at the back of people who wanted to spend more time with us to get some help with more than just email marketing.
So if you want to find out more about our world, go and check out our Rome – The League. And as for our mastermind, Level Up, we don't have any availability right now (August 2022). But we'll be opening up some slots in the future. So if you want to register your interest and go on the waiting list, the link is here.
Make More Sales with our Psychology-Based Email Marketing Membership
Psychology-based email marketing.
Complete email campaigns.
Video training.
Group coaching sessions.
Exclusive AutomateHero app.
Subject line of the week
This week's subject line is "what's your face doing?" followed by the confused face emoji. This works because it's a curiosity-driven subject line – people can't tell what it's going to be about. Will it be an insult? It's a weird question to ask and totally driven by curiosity. Try it out!
Useful Episode Resources
Related episodes
Why We Started an Email Marketing Agency. 
How To Do Your Email Marketing While You're On Holiday.
Lessons Learned from Running Our 2-Day INBOX Event.
FREE list of the top 10 books to improve your email marketing
If you want to write better emails, come up with better content, and move your readers to click and buy, here's how. We put together this list of our Top 10 most highly recommended books that will improve all areas of your email marketing (including some underground treasures that we happened upon, which have been game-changing for us). Grab your FREE list here. 
Join our FREE Facebook group
If you want to chat about how you can maximise the value of your email list and make more money from every subscriber, we can help! We know your business is different, so come and hang out in our FREE Facebook group, the Email Marketing Show Community for Course Creators and Coaches. We share a lot of training and resources, and you can talk about what you're up to.
Try ResponseSuite for $1
This week's episode is sponsored by ResponseSuite.com, the survey quiz and application form tool that we created specifically for small businesses like you to integrate with your marketing systems to segment your subscribers and make more sales. Try it out for 14 days for just $1.
Join The League Membership
Not sick of us yet? Every day we hang out in our amazing community of Email Marketing Heroes. We share all of our training and campaigns and a whole bunch of other stuff. If you're looking to learn how to use psychology-driven marketing to level up your email campaigns, come and check out The League Membership. It's the number one place to hang out and grow your email marketing. Best news yet? You can apply everything we talk about in this show.
Subscribe and review The Email Marketing Show podcast
Thanks so much for tuning into the podcast! If you enjoyed this episode (all about how to pick a flagship product and order offers in your business to maximise sales) and love the show, we'd really appreciate you subscribing and leaving us a review of the show on your favourite podcast player.
Not only does it let us know you're out there listening, but your feedback helps us to keep creating the most useful episodes so more awesome people like you can discover the podcast. 
And please do tell us! If you don't spend time on email marketing, what do you really fill your working days with? We'd love to know!