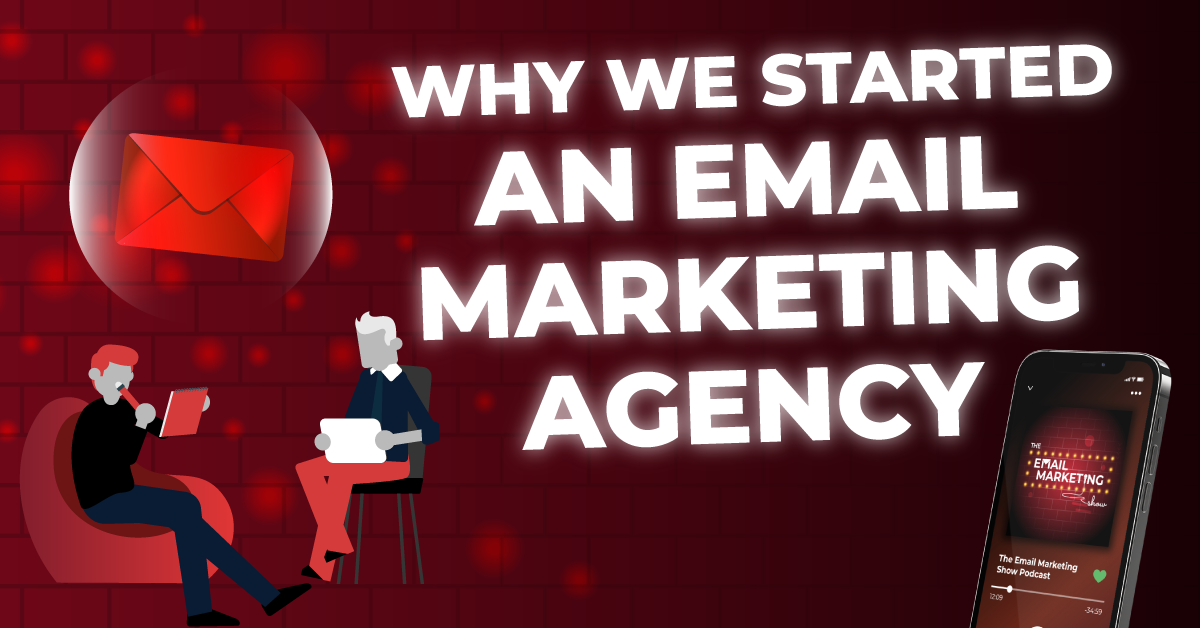 Why We Started an Email Marketing Agency
Did you know we started an email marketing agency? If you didn't, you're about to find out why we started one, who it's for, and how it could help you.
So if you're curious to find out whether we could take care of your email marketing for you, read on (or click play to listen!)

SOME EPISODE HIGHLIGHTS: 

(0:10) Want to get more sales from your email marketing? Grab our FREE download Click Tricks.
(3:38) Fancy a 14-day FREE trial with Keap?
(4:37) Why we stopped our first email marketing writing agency.
(6:55) Do one thing at the time (but not forever).
(11:00) It's about delegation - not abdication!
(14:10) The minimum viable version of our email marketing agency.
(15:47) Why we only work with specific types of businesses.
(18:26) Who is our email marketing agency for?
(21:21) If you're interested in working with us, check out our application form!
(23:22) Subject line of the week.
Want to get more sales from your email marketing?
We put a little something together for you – it's really cool and it's FREE (yes, we're nice like that). If you want to make more sales from your email marketing, you need those clicks on the things that you're selling!
So we've got 12 creative ways to help you get more clicks in every email you send. It's a FREE download, and it's called Click Tricks. You can grab it here.
Why we stopped our first email marketing agency
News flash! We've just started an email marketing agency.
But this isn't even the first time we've done this! In fact, we used to have an email marketing agency, but we closed it down. You see, when we first started this business, having an agency was the logical thing to do. So we did. We'd work with clients, plan an effective strategy and implement email marketing campaigns for them.
But there was a downside.
We wanted to help more people than we had time to. Plus the investment was prohibitive for small businesses and course creators. And those were the very people we wanted to help because we have a background in creating online courses.
So to help more people we created our membership, The League. This is where we help course creators, coaches, membership site owners, and other small businesses to do their own email marketing. So we went all-in on the membership and moved away from the email writing agency.
The Top 10 Books To 'Power Up' Your Email Marketing
10 book recommendations that will improve all areas of your email marketing (including some underground treasures that we stumbled upon which have been game-changing for us).
Do one thing at the time (but not forever)
We very much subscribe to this idea of doing one thing at the time. But that doesn't mean you do just that one thing forever! We love The League, but we also believe that in business you have to take the time to do one thing right and then move on. This is how we get so much done – separately and together – in our businesses. We do one thing, get it up and running quickly, get it refined (that means automated or systemised), and then move on and do the next thing.
We like to use the analogy of a circus performer spinning plates. It can look like mayhem at first. But the way they do it is very systemised. They get one plate spinning until it's perfect and then move on to the next one. Once they have all the plates spinning, they just need to give them a little wiggle to keep them going.
It's the same for some of the bits of our businesses. We have people in charge of parts of our businesses and will jump on a meeting once a month to check how things are. So here's a key lesson we learnt – get one thing going and do it quickly. If it doesn't work, you can close it down and move on and do something different.
So now that we have our membership up and running, and we've systemised that process, we know when to turn up for our deliverables to serve our members, and we're ready to move on to the next thing in our business, which is how to help people who want an affordable way to have their email marketing taken care of for them. 
Remember it's delegation – not abdication!
The fact we're happy with where our membership The League is (at its core) doesn't mean we're leaving it behind! Quite the opposite! We're constantly working to improve it and add to it. We never take our eyes off it – we'd never abandon it. Delegation or systemisation doesn't mean abdication – you can't close your eyes and assume a plate is still spinning. Because if you do, sooner or later, you'll hear the sound of that plate on the floor. And you don't want that.
So when we first started planning out our email marketing writing agency we were super clear about the fact we wanted to deliver good results and a great quality product for our clients. But at the same time, we still wanted to run and serve The League, produce our podcast (The Email Marketing Show), and fulfil our other existing commitments. These were our conditions. 
The minimum viable version of our email marketing agency
So the first thing we asked ourselves when we started putting our email marketing agency together was to work out what the minimum viable version of it looked like. In the past, we'd been guilty of building huge elaborate processes that took lots of work, time, energy, and efforts to then realise we didn't want to run that business.
And the first thing we wanted to make sure of was that we had writers who would create marketing emails and take care of email marketing campaigns for our clients. Thankfully, because we have paying members, students, and customers who are certified in our frameworks, techniques, strategies and processes, we have some incredible writers at our disposal. In other words, we have amazing people who do email marketing day in and day out and love it! 
So we began building our team of writers to get our fulfillment piece in place in order for us to focus on growing the business rather than working in it. We'll do the discovery and sales calls with prospective and new clients to find out what you want. And then we'll tell you how we do it and sign you up if we seem like a good fit for each other.
We only work with specific types of businesses
When we kicked things off with our email marketing agency, we created a sales page where we ask people to apply for a call. We're selective about who we work with – we want specific clients who want what we deliver, in the way that we deliver it, and in our timeframe. So there's a specific application process people need to get through before they get on a phone call with us. And that's because we don't want to waste your time if we can't help you.
If you head over to our sales page, you'll find a video of us introducing ourselves. We tell you what we do and who the agency is for. We talk about the problems we solve and the way we do it. You'll see that we lay it all out very openly without any mysteries – we're completely transparent about what we do. And if that sounds like something you want help with, you can go through an application form which asks a few key questions, including what products and services you offer. And we ask that because if someone operates in an area we have no experience in or aren't sure whether we can't get results (like real estate, for example), we won't work with them.
What's also key for us in terms of the clients we work with is that they've already proven that their product sells. Because email marketing is going to amplify what they've already proven. And if someone doesn't have a proven product yet, 100 times nothing is still nothing! So we want to make sure we're not just taking people's money and not get a result. We want to give clients the best chance of getting the best results from what we do.
Who is our email marketing agency for?
It's for anyone who wants to use email marketing in their business but doesn't have the time, inclination, or patience to learn it and do it themselves. And that's fine! We have things in our business that we don't do ourselves – like social media or paid ads, for example. We choose to outsource these areas and tasks to the experts so we can double down on the things we're good at. And for us that's email marketing.
So if you don't want to learn email marketing because you want to focus on delivering your product or service, you can still utilise email marketing in your business. And while you double down on the stuff you're good at, our email marketing agency can take care of email for you.  
We have a formula that works for certain types of businesses at certain stages. We teach it over and over inside The League and know it works. If you're happy to learn it and implement it yourself, then our membership is the place for you. If not (and you still want results and turn subscribers into paying customers quicker and faster than any other strategy), then our agency can do it for you. We have the formula and the experienced writers, which is why we know we can offer these amazing advantages to our clients.
So if you think you're ready and would like us to take hold of your email marketing, build your email engine, and do your weekly emails, go ahead and fill in our application form. You can find it here.
Make More Sales with our Psychology-Based Email Marketing Membership
Psychology-based email marketing.
Complete email campaigns.
Video training.
Group coaching sessions.
Exclusive AutomateHero app.
Subject line of the week
This week's subject line of the week is "I am begging you [First Name]". The hook of the email was around the fact that your subscribers are never going to beg you to start emailing them! So on their behalf, we are begging you to send emails to them. Because they are interested in hearing from you! 
But also, this particular email we're referring to was sent out to drive traffic to an episode of our podcast – Product Launch Emails – Success Story with Kay Peacey. In our chat, Kay talks about the resistance she had to emailing subscribers. So we used this story as the hook of our email. And this helped us fix a problem we had in our business. Because we used to send emails to get people to go and listen to episodes of the podcast, but those never performed well. Until we started writing them using the exact frameworks we use for all of our other emails. And this proves our frameworks work! So here's an extra little lesson for you. Cool, right?
Useful Episode Resources
Related episodes
Product Launch Emails – Success Story with Kay Peacey.
7 Ideas for Building Your Email List in 2022.
Why Email Marketing is at the Top of the Digital Marketing Trends for 2022. 
FREE list of the top 10 books to improve your email marketing
If you want to write better emails, come up with better content, and move your readers to click and buy, here's how. We put together this list of our Top 10 most highly recommended books that will improve all areas of your email marketing (including some underground treasures that we happened upon, which have been game-changing for us). Grab your FREE list here. 
Join our FREE Facebook group
If you want to chat about how you can maximise the value of your email list and make more money from every subscriber, we can help! We know your business is different, so come and hang out in our FREE Facebook group, the Email Marketing Show Community for Course Creators and Coaches. We share a lot of training and resources, and you can talk about what you're up to.
Try ResponseSuite for $1
This week's episode is sponsored by ResponseSuite.com, the survey quiz and application form tool that we created specifically for small businesses like you to integrate with your marketing systems to segment your subscribers and make more sales. Try it out for 14 days for just $1.
Join The League Membership
Not sick of us yet? Every day we hang out in our amazing community of Email Marketing Heroes. We share all of our training and campaigns and a whole bunch of other stuff. If you're looking to learn how to use psychology-driven marketing to level up your email campaigns, come and check out The League Membership. It's the number one place to hang out and grow your email marketing. Best news yet? You can apply everything we talk about in this show.
Subscribe and review The Email Marketing Show podcast
Thanks so much for tuning into the podcast! If you enjoyed this episode (all about why we started an email marketing agency) and love the show, we'd really appreciate you subscribing and leaving us a review of the show on your favourite podcast player.
Not only does it let us know you're out there listening, but your feedback helps us to keep creating the most useful episodes so more awesome people like you can discover the podcast. 
And please do tell us! If you don't spend time on email marketing, what do you really fill your working days with? We'd love to know!