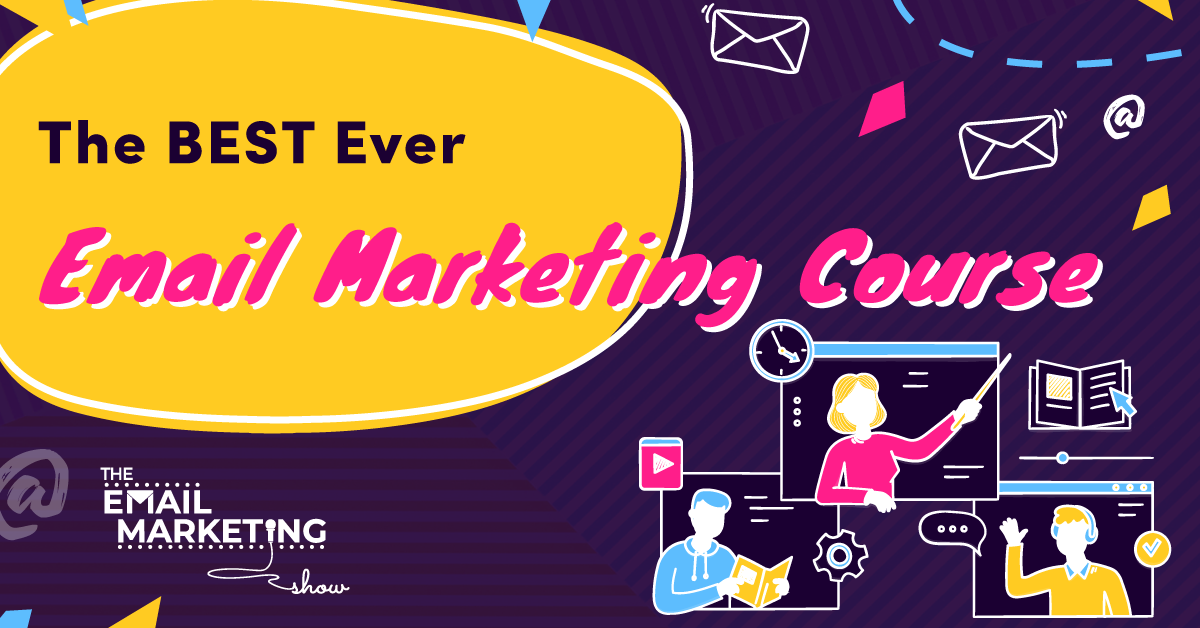 What's The BEST Email Marketing Course On The Planet?
If you're thinking of buying an email marketing course, what should you look out for? What should a course even help you do? Should you invest in one? And what will you learn?
If you want answers to all these questions, well, you're about to get them!
Check this out!
SOME EPISODE HIGHLIGHTS: 

(0:18) Join our FREE Facebook Group. 
(4:45) What can an email marketing course help you do?
(11:19) Can an email marketing course save you time?
(15:01) The 3 key elements of a good email marketing course - strategy.
(18:54) Email marketing campaigns. 
(22:32) Technology.
(25:46) The best email marketing courses.
(26:36) The best email marketing copywriting courses.
(28:22) The best sales funnels courses.
(29:52) Subject line of the week.What can an email marketing course help you do? 
What can an email marketing course help you do?
Why would you invest in an email marketing course? You might be someone who does email marketing quite 'loosely' at the moment. That means you might have a list of people who bought something from you, and you send them a newsletter (sometimes) with some random information and a link to your website. Every time you send an email, you hope for the best. And (no offense, but…) you're probably not getting great results from your email marketing.
If you're currently sending emails of any description to anybody at scale, and you're not getting results, chances are there's something strategically off somewhere. And it's probably nothing to do with your copywriting skills – because that's one of the smaller elements of email marketing. By studying a good email marketing course, you'll learn a better system for doing email. And we don't mean the tech here – it's about the systematic way in which you approach your email marketing.
For example, you might learn a way that's easier than what you're currently doing, which may be a collection of different things you've put together based on what you've seen others doing. And that's probably not working very well.
If you go ahead and buy an email marketing course, you should be clear on the outcome. And the way we see it, ultimately, is that a course has to help you make more money from each subscriber you already have on your list.
What if you don't have an email list yet?
You may be someone who's just getting ready to start so you don't have an email list yet. A lot of people who join our membership The League are at this point – they either don't have a list or they have a 'small one' (of 400-500+ people) and want to do more with it.
In reality, only about 20% of our members are people who do email marketing 'the perfect way'. Yes, it would be ideal to have everything set up and up and running before you even gain your first subscriber. That would mean that every single person you bring in is not having enough time to get disengaged. It would also mean that everyone would be going through a well-put-together bunch of campaigns that maximise the value of each subscriber.
The bottom line is that email marketing courses help people at different stages. Whether you're starting your email list from scratch, or you already have one and want to get better results and earn more per subscriber, an email marketing course can help.
Can an email marketing course save you time?
You're probably wondering if an email marketing course can save you time compared to how long it'd take you to figure things out for yourself. And the answer is yes. A lot of our members tell us that without our teachings, they'd still be going around in circles. We're all busy, and we all think we don't have enough time to invest in a course. But just like when you outsource anything, you have to first invest that time upfront so you can reap the benefits later. In other words, you do the work now to free up some time down the line.
So a good email marketing course will save you time by cutting out the learning curve. With a course, you don't have to figure things out yourself and can go straight to the results.
You'll also save time because you'll know exactly what to do, when to do it, where, why, and how. The way we teach email marketing allows you to build a bunch of assets that run for you forever. Realistically, the only thing you have to do on a daily basis is to send a daily email, which takes less than half an hour. But with email marketing, you're creating an asset that's going to serve you forever and give you returns like nothing else.
When you create email marketing automations, you make sales week after week while you're doing something completely different – whether in your business or your personal life. Because automating your campaigns means your emails will be sent and sales will be made.
The 3 key elements of a good email marketing course
Not all courses are created equal, obviously. Different courses have different elements, so what are the 3 key components that make a good email marketing course?
Here's our take on it. You need:
Strategy.
Email marketing campaigns.
And technology.
Email marketing strategy
A good email marketing course needs to have a good strategy. If all you get are words that you can copy and paste, it won't work. Because it won't sound like you or fit into what you're doing. You can study all the theories and strategies in the world about a topic, but it still doesn't mean you're going to be any good at it. Knowing how a machine works doesn't mean you'll be able to operate it, right?
So when it comes to strategy for our email marketing course (which, in our case is a membership called The League), you want to understand how the campaigns link together and compound to create massive sales. In our SCORE email engine, for example, a campaign links to the next, and you want to know how that affects things. The way we help you understand that is by using frameworks. We love for our get using these to create massive results.
When it comes to strategy, you also want personalised help for your unique situation because your business is different from all others. Every business is a unique cocktail of circumstances, so you need individual support. That's why twice a month we work with our members on a group coaching call – our Hotline Call. This is where we address any specific challenges you might have and help you apply what we teach to make sure it's personalised to you.
Email marketing campaigns
The second key component of a good email marketing course is having access to email marketing campaigns that you can implement in your business. It's about knowing exactly what to send, when to send it, who to send it to, and why – in order to get maximum sales.
With email marketing, only roughly 20% is about the words inside your emails. That's why we don't follow your typical copywriting formats. Because when you send as many emails as we do in order to make sales, you'll end up with formulaic emails that look and feel like everyone else's. And you don't want that.
What matters the most (the remaining 80%) is the purpose behind the emails – the thinking, the idea, the hooks, and the angles. So you could send an email with the best words ever (from a copywriting perspective), but if the rest isn't in place, the whole thing isn't going to work.
That's why our campaigns are strings of emails that work together – with a beginning, a middle, and an end. They take the subscriber on a journey from non-customer to paying customer. And it's definitely not just about the words. It's about the thinking, the ideas, and everything behind it, which is why pure fill-in-the-blanks campaigns don't have the same strength. They won't give the same results as the campaigns we put together (very intentionally) inside The League.
Technology
The third element that a good email marketing course should have is technology. This is important because everything you do in your business (including your tech) should be based on what you want to achieve. It needs to bend at your will.
It's why, as part of our membership The League, we had a software developer create an entire toolkit of tech tools that open up some extremely advanced and previously impossible possibilities for all email marketing platforms. It's called Automate Hero, and it's included for free in our membership – and not available anywhere else.
So if you want to get results from your email marketing, you need these three things:
The strategic thinking and understanding of how it all links and works together so none of your subscribers are dropping through the cracks.
The campaigns, the hooks, and the psychology behind the words.
And the technology piece, with tools that integrate with your email marketing platform and open up additional functionalities that will enhance your email marketing.
The Top 10 Books To 'Power Up' Your Email Marketing
10 book recommendations that will improve all areas of your email marketing (including some underground treasures that we stumbled upon which have been game-changing for us).
The best email marketing courses
With that all said, what are the best email marketing courses to grow your list? We have a couple:
Our First 5k Subscribers course helps you get your first 5,000 subscribers using low-cost and no-cost traffic.
And Group Loops is our programme for using a Facebook group in order to build your email list.
The best email marketing copywriting courses
When it comes to email marketing copywriting courses, we want to caveat this by saying you don't need to be a great copywriter to send amazing emails that make loads of sales. As we said, we don't follow the specific structure that other courses teach. Because even if you were to hire a copywriter to write your emails for you, you'd still end up with very formulaic emails that might have a bit of personality sprinkled on them (at best), but it wouldn't be baked in from the ground up.
What you want instead is to become really good at writing interesting and funny emails that people like to receive and that help you make sales.
That's what you're looking for and the reason why our membership The League exists. In all honesty, if there was something else out there that's just as good, we'd be telling you about that course and not have bothered with our own membership!
But The League is by far the place to go for more intricacies, such as learning how to use storytelling in your emails. You also get a bunch of different structures you can follow, such as our Bottomless Email Strategy Package, which teaches you to write emails that are interesting to read.
The best sales funnels courses
And finally, when it comes to the best sales funnel courses, a good place to start is our Sales Page Sorted course. This isn't about technology because you can do that in a million different ways, and most of them are fine. Instead, it's about the words you use and the strategy behind those words. This course teaches you everything you need in order to write copy for all the different pages you have and to pull together both sales videos and written sales letters that will move people along your funnels.
And if you decide to jump into The League, you'll get all the strategy, the email campaigns, and the technology. Simple!
Make More Sales with our Psychology-Based Email Marketing Membership
Psychology-based email marketing.
Complete email campaigns.
Video training.
Group coaching sessions.
Exclusive AutomateHero app.
Subject line of the week
This week's subject line is "Breaking my silence." This was a story about the fact that Rob is generally an introvert. He rarely talks to people when he's out and about, but being a dog owner has changed that. And it means he now talks to other dog owners while he walks his dog. Interesting and intriguing subject line, right? Bet you wondered what that was all about. So check it out!
Useful Episode Resources
Related episodes
6 Things You Didn't Know Your Email Marketing Platform Could Do.
Everything You Need To Know About Our Membership The League (THE Behind The Scenes!)
Tell Me You're A Member Of The League Without Telling Me You're A Member Of The League.
FREE list to improve your email marketing
If you want to write better emails, come up with better content, and move your readers to click and buy, here's how. We put together this list of our Top 10 most highly recommended books that will improve all areas of your email marketing (including some underground treasures that we happened upon, which have been game-changing for us). Grab your FREE list here.
Join our FREE Facebook group
If you want to chat about how you can maximise the value of your email list and make more money from every subscriber, we can help! We know your business is different, so come and hang out in our FREE Facebook group, the Email Marketing Show Community for Course Creators and Coaches. We share a lot of training and resources, and you can talk about what you're up to.
Try ResponseSuite for $1
This week's episode is sponsored by ResponseSuite.com, the survey quiz and application form tool that we created specifically for small businesses like you to integrate with your marketing systems to segment your subscribers and make more sales. Try it out for 14 days for just $1.
Join The League Membership
Not sick of us yet? Every day we hang out in our amazing community of Email Marketing Heroes. We share all of our training and campaigns and a whole bunch of other stuff. If you're looking to learn how to use psychology-driven marketing to level up your email campaigns, come and check out The League Membership. It's the number one place to hang out and grow your email marketing. Best news yet? You can apply everything we talk about in this show.
Subscribe and review The Email Marketing Show podcast
Thanks so much for tuning into the podcast! If you enjoyed this episode (all about email marketing courses and what they can do for you) and love the show, we'd really appreciate you subscribing and leaving us a review of the show on your favourite podcast player.
Not only does it let us know you're out there listening, but your feedback helps us to keep creating the most useful episodes so more awesome people like you can discover the podcast.
And please do tell us! If you don't spend time on email marketing, what do you really fill your working days with? We'd love to know!