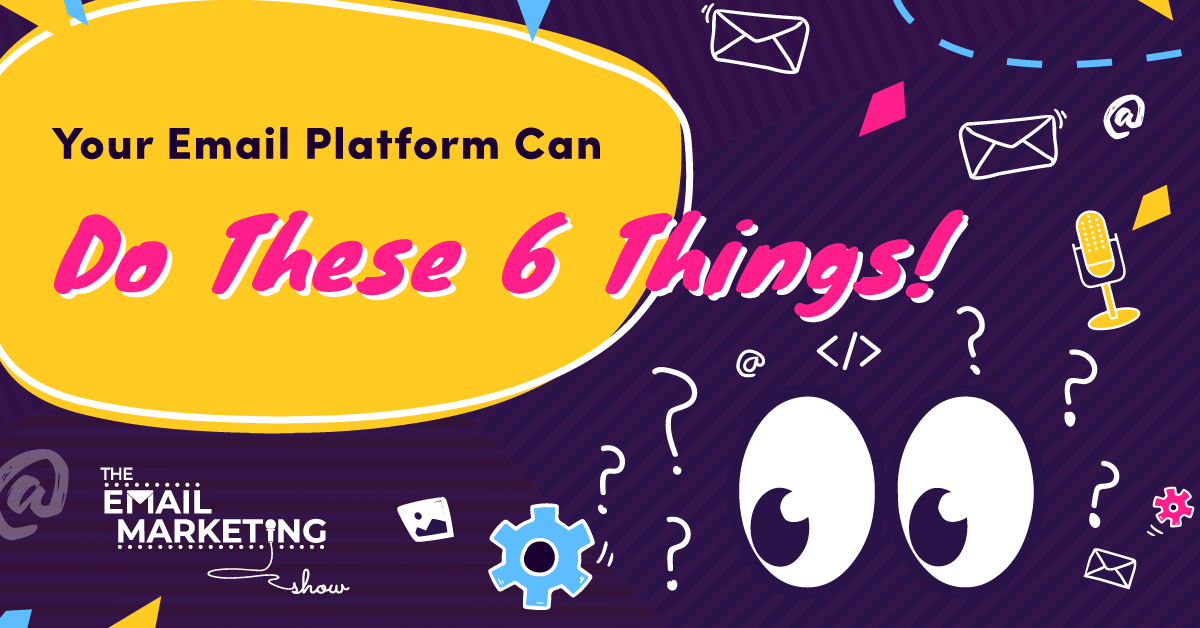 6 Things You Didn't Know Your Email Marketing Platform Could Do
What if your email marketing platform could do more than you think it can? What if there was a super simple way for you to do some things that sound very technical – and something that only big companies with huge budgets could do? Well, we're here to show you 6 amazing things that the best marketing email platforms can do (thanks to a little sprinkle of magic from us).
Ready to have your mind blown and your business changed for the better?
SOME EPISODE HIGHLIGHTS: 

(0:10) Join our FREE Facebook Group. 
(5:18) Introducing our software - Automate Hero.
(7:33) Tracking where your customers are coming from.
(12:29) Showing people the right offers.
(15:20) Creating urgency for every subscriber.
(18:33) Offering hot leads the product they're after.
(22:38) Targeting subscribers based on their browsing behaviours.
(26:58) Increasing the consumption of your sales videos.
(29:00) Want access to these tools? Join our membership The League. 
(33:27) Subject line of the week.
Introducing our software – Automate Hero
Automate Hero is a tool we created for our members inside The League that plugs into your existing email marketing platform and adds some technical capabilities that sound complicated but are really really easy to do.
So here are the 6 amazing things that our members can do by using Automate Hero.
1. Tracking where your customers are coming from
This is all about being able to know for sure how someone first came into your world and when and how they first became a customer by buying one of your products or services.
Automate Hero gives you the ability to track this inside your email marketing platform. And it doesn't use pixels or cookies. Because we know those things are often inaccurate and not easy to use. Installing Automate Hero takes 10 minutes, and then it'll be up and running forever. But the key here is that you'll be able to track the information with accuracy.
So if a podcast listener decides to download one of our lead magnets and then a month later joins our membership via a link in one of our emails, we can track that.
Do more of what's working and stop doing what isn't!
And this is really powerful because it allows you to accurately review your activity over a period of time and determine what's working in your business. If you relied on the data from the ads reporting platforms, for example, you'd never get anywhere because the numbers often don't even add up!
As we always say, knowing what works in your business is key, so you can do more of what's working and stop doing what isn't. This is why, at the end of 2022, we stopped investing in our Instagram strategy. Because when we looked at the data, we realised that less than 1% of our members were coming via that route. So we redirected all that time, money, and effort into strategies that give us a return on investments.
And knowing where people originally come from and when they buy is important because the buyer's journey is hardly a linear one. If someone becomes a customer years down the line, we'll still be able to track it!
2. Showing people the right offers
The second functionality that Automate Hero allows your marketing email platform to perform is sending people the right offers instead of showing them something they already bought.
So imagine someone opts into your lead magnet and is presented with an offer for a product or service they've already bought. When that happens, you're not only missing out on an opportunity to direct this person to something they might actually want to buy. But if you're showing them something they already have, they'll also end up disengaging and not paying as much attention.
Through our tool Redirect Hero, you can check (in real-time) which products or services a particular subscriber has bought from you by verifying the tags or list against that person inside your email marketing platform. Based on that, you get to send them to different sales pages. And that means you show fewer irrelevant offers to people.
It also means that you can dynamically and automatically increase how much someone spends with you, which translates to a more profitable business.
3. Creating urgency for every subscriber
What do you do when you have an evergreen product or service that is always available to buy? How do you create urgency? Simple. You add countdown timers.
Our software Automate Hero allows you to post a countdown timer on any page you host and say there are only X amount of products available at a particular price. And suddenly, whatever you're selling becomes more desirable. People have to jump off the fence and buy now because the offer is soon going away.
We use this strategy and tool for our own membership, The League, which is an evergreen product. To create urgency, we use email campaigns with special offers and countdown timers. Because we want everyone who joins our list to have the same opportunities, no matter when they join, each timer is individual and based on whenever a person came into our world.
Automate Hero allows us to create an evergreen launch-like urgency that cannot be skipped. And that's because we don't use cookies – there are ways around those! Instead, we use technology that's built into the email marketing platform through our tool.
The Top 10 Books To 'Power Up' Your Email Marketing
10 book recommendations that will improve all areas of your email marketing (including some underground treasures that we stumbled upon which have been game-changing for us).
4. Offering hot leads the product they're after
The next capability our suite of tools allows your email marketing platform to perform is to target your most interested customers by putting them in front of an offer for the very product or service they've been looking at.
This is the virtual equivalent of a customer walking into a shop and picking up a product and looking at it. You know for a fact that soon enough, a sales assistant will come over and tell you all about the product and help you buy it.
In the online world, you need an automated version of that – and this is exactly it. If someone clicks on a link inside one of our emails and looks at our membership The League 3 times in the space of 60 days, but they don't buy, we put them into an email sequence that's specifically designed to sell them our membership.
The Tell Me More campaign
The campaign is called Tell Me More and it's made of 6 emails sent out over 6 days. What's so special about this automation? It contains a bribe. And it works and converts, but not because of the bribe. It works and converts because we know that people are at a point where their buying intent is super high. They're very close to making a decision – the time is right for them to buy. So they do.
This uses a piece of technology that we call Click Count, which shows how many times someone clicks on a specific offer. Of course, when you're a member of The League and have access to this tool, you can customise it so it works for you. Whatever parameters you set, they must tell you that, based on their online behaviours, this person is red hot – they're about to buy. You just need the equivalent of an in-store sales assistant to help them get over the line.
5. Targeting subscribers based on their browsing behaviours
The fifth functionality we can enable your email marketing platform to do for you is to customise how you follow up with people who've been on your sales pages. When looking at pages, people have different habits – both in terms of browsing and buying behaviours. Someone will look through a page in order while someone else may jump from section to section or scroll up and down. That means you want to be able to target them differently depending on what they've seen on a page.
For example, if you know someone has seen the price but not the bonuses, you may want to talk to them differently to someone who's seen the bonuses and not the price. In other words, you'll want to send different sets of emails.
For this, we created a tool called Page Hero, which is an invisible piece of code that you place on your page that tracks every single subscriber – where they click, how long they spend on a page, etc. Based on that information, you can decide what emails to send them.
If someone's had your sales page open on their laptop for more than three days, for example, you might want to send them a special offer to make them buy now. That's exactly what countdown timers do – they move people from thinking they'll buy "someday" to buying "right now". Pretty cool, right?
6. Increasing the consumption of your sales videos
The last tool we have in our arsenal right now is something that enables you to increase the consumption of your sales videos (or any video). It's called Video Hero and it allows you to tag someone in your marketing email platform based on how many minutes and seconds of a sales video they've watched.
This allows you to send people different emails based on how much of your content they've consumed. If they've only watched a few minutes of a video, for example, you can send them an email to remind them to watch it. Or if they've watched most of it but not completed it, your message will be different.
All you need to do is to place the video on a page that you host so you can add a little piece of code onto it and get this functionality to work. Easy as pie.
Want access to these tools? Join our membership The League
These 6 capabilities may sound difficult (if not impossible!) and technical. But they're not! With Automate Hero, they're super simple. There's absolutely no technical knowledge or coding required – just some copying and pasting! And you can continue to use your existing email marketing platform.
If you want access to the software we created, check out our membership The League. We give you all the campaigns, training, and coaching to help you more than double your sales through email marketing. The Automate Hero suite effectively gives your existing email marketing platform superpowers, and it's dead easy to integrate.
Currently, it works with some of the most popular email markeing platform, including Keap, AWeber, ActiveCampaign, Convertkit, Drip, GetResponse, Klaviyo, Mailchimp, MailerLite and more! Plus, we'll be adding more platform intergreations and more exciting functionalities as time goes on. If you're already a member and aren't using Automate Hero, whatcha waiting for? Go and log in right now!
Make More Sales with our Psychology-Based Email Marketing Membership
Psychology-based email marketing.
Complete email campaigns.
Video training.
Group coaching sessions.
Exclusive AutomateHero app.
Subject line of the week
This week's subject line is "A shit start to the day." where the word 'shit' is replaced by the poop emoji. This email had a story in it about Rob's dog's morning habits. And it worked well because of the emoji, but also because it has a quirky, double meaning to it. It definitely drives curiosity, and it makes perfect sense when you read the whole email. Try it out!
Useful Episode Resources
Related episodes
Two Things to Start Collecting So You Know What's Working in Your Marketing.
Best Email Marketing Campaign To Get Your Customers To Buy Again (And Again).
How To Audit Your Email Marketing.
FREE list of the top 10 books to improve your email marketing
If you want to write better emails, come up with better content, and move your readers to click and buy, here's how. We put together this list of our Top 10 most highly recommended books that will improve all areas of your email marketing (including some underground treasures that we happened upon, which have been game-changing for us). Grab your FREE list here.
Join our FREE Facebook group
If you want to chat about how you can maximise the value of your email list and make more money from every subscriber, we can help! We know your business is different, so come and hang out in our FREE Facebook group, the Email Marketing Show Community for Course Creators and Coaches. We share a lot of training and resources, and you can talk about what you're up to.
Try ResponseSuite for $1
This week's episode is sponsored by ResponseSuite.com, the survey quiz and application form tool that we created specifically for small businesses like you to integrate with your marketing systems to segment your subscribers and make more sales. Try it out for 14 days for just $1.
Join The League Membership
Not sick of us yet? Every day we hang out in our amazing community of Email Marketing Heroes. We share all of our training and campaigns and a whole bunch of other stuff. If you're looking to learn how to use psychology-driven marketing to level up your email campaigns, come and check out The League Membership. It's the number one place to hang out and grow your email marketing. Best news yet? You can apply everything we talk about in this show.
Subscribe and review The Email Marketing Show podcast
Thanks so much for tuning into the podcast! If you enjoyed this episode (all about the 6 slightly technical and amazing things that the best marketing email platforms can do) and love the show, we'd really appreciate you subscribing and leaving us a review of the show on your favourite podcast player.
Not only does it let us know you're out there listening, but your feedback helps us to keep creating the most useful episodes so more awesome people like you can discover the podcast.
And please do tell us! If you don't spend time on email marketing, what do you really fill your working days with? We'd love to know!