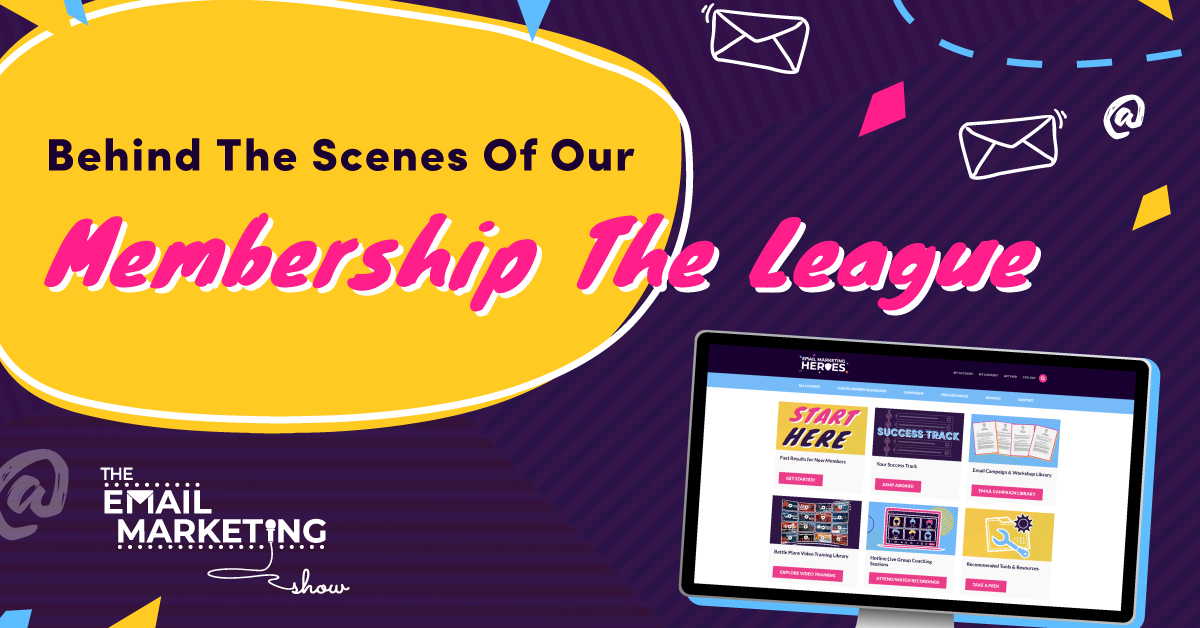 Everything You Need To Know About Our Membership The League (THE Behind The Scenes!)
Want the behind-the-scenes of all the behind-the-scenes? Then let's talk about everything you need to know about our awesome membership The League.
(Spoiler alert – this is some pretty cool stuff!)
SOME EPISODE HIGHLIGHTS: 

(0:10) Join our FREE Facebook Group. 
(4:20) What is our membership all about?
(6:04) Why we created The League.
(9:25) People buy for different reasons.
(13:07) Why you want to sell from different angles.
(16:23) The 'trifecta' of features you get inside The League.
(22:36) What about the technical aspects of email marketing?
(26:59) And we have Battle Plans too!
(29:20) Who's The League for?
(30:54) Subject line of the week.
What is our membership all about?
People ask us questions about our membership all the time. How does it work? Will it work for me? Well, first things first, its full name is The League of Email Marketing Heroes. When we first launched it, we didn't know what to call it, and it was one of our members (shoutout to Fifi Mason!) who suggested the name we're using.
And we might be biased, but we genuinely think it's the best email marketing resource on the planet that teaches you to make more sales (and more predictably) in your business using email marketing. And we obsess over improving it. All. The. Time.
Why we created The League?
People buy for different reasons, so you need different ways to sell and present your offers. But also, there's a benefit to selling a smaller number of products – it's more profitable and efficient in many ways. For example, if you only sell one thing, you only need one sales page and not 10!
When you sell a smaller number of products, you need to sell them to more people, which means having to get more first-time subscribers to become customers and then having more of those customers buy another product. That's how you make more sales from the same product and the same people – you sell more of your products to the people who are already your customers and maximise your customer value along the way. And then you bring in the next set of subscribers and do the same thing again. This is how we sell. And that's also what we teach inside our membership.
And the great thing about this method is that people don't end up feeling overwhelmed about which of your products they want to pick. Because there's only one! That's why we only sell our membership The League, our programme Accelerator, and our Email Writing Agency. We have a few front-end products to get people to our main services, but broadly speaking, we don't need to switch our promotions up to talk about different things.
And that means we're great at understanding our core product – our membership The League. We know how to talk about it and to make sure it's the best email marketing membership on the planet because we're not distracted by other things. We're able to focus on this one product, make it better, and fill it with deep content.
People buy for different reasons
If you have people on your email list who haven't bought yet, it's because they haven't heard the angle that makes the penny drop. They haven't yet realised why they need to buy and take action right now. So your job is to keep communicating about the thing you sell in different ways until someone hears something that makes them want to buy.
If you don't have at least 20-30 different angles (or campaigns) to sell your one thing, then you're doing your product a disservice. Because it means you haven't said what you need to say in all the different ways it could be said!
If you only have one campaign, you may be able to handle some objections. Or share some social proof. Or even create some urgency. But that's only from that one angle. And the motivators (the psychological reasons why people buy things) are different.
Someone might buy a new pair of shoes because they're the latest model from their favourite designer. But someone else might want those shoes only because there's a discount. And that's their motivator. A third person might want to buy because there's an offer where you buy one and get one half-price. We created our method (and that's what we teach inside The League) because it works. And because no one else was doing it!
Why you want to sell from different angles
We sold as many spots of our membership using a whole lot of campaigns. What would have happened if we only had one campaign? If it's taken that much effort and variety of campaigns to get as many people in, imagine what would happen if we only created one and then moved on?
By running one campaign we sold $27,000 worth. But when we added what we call our SCORE email engine (which is basically more campaigns), we sold over $500,000 worth of spots in a number of months. So the difference in the results you get from talking about something from different angles is astronomical!
Since 2006, we have built a bank of proven campaigns, and that's how our membership The League started – we give others the same campaigns we use and see success with in our business. And of course, we keep adding more campaigns. We run them inside the business first and only launch them when we know they work. We do this less frequently now because we have a lot of campaigns, but whenever we have new ideas, we create new sequences, test them out, and then offer them inside our membership.
The 'trifecta' of features you get inside The League
When you access our campaigns, you get every single email that's part of that sequence. This means you don't have to figure out what to send or to piece things together yourself. We give you all the campaigns, teach you how they work, and show you how you can use them. All you need to do is to tweak them slightly so they suit your business and your stories.
The Hotline group coaching calls
To go with the campaigns, we also have two group coaching calls every month – we call them Hotline group coaching calls. We have League members from all over the world joining these calls, and we help every single person to apply email marketing to their specific situation. It's all about their product or service, their business, and the lifestyle they want to build around that.
We have people at all stages of their business asking us which campaign to use or how to make a specific campaign work for their individual situation. In a nutshell, we help people figure out what their email marketing strategy should be, based on their circumstances. We want every single person to leave the call inspired with new ideas and never feel they've hit a roadblock.
In fact, we even have people who join the call, don't ask a question of their own, but always walk away with ideas for something they can do in their business. And that's just by listening to us answer other people's questions. Because we address everyone's questions in deep and detailed ways, we always have members seeing opportunities or solutions to problems they didn't think they had. And those are the kinds of things that can change your business. And even your life!
The campaign workshops
The other live interaction we have inside our membership is through our campaign workshops. Every month, we grab one of the most recent campaigns that we published, and we dissect it. We dig into every single email of the campaign, look at its structure, and explain it. We go deep into the psychology of each email of the campaign and give people an opportunity to ask questions about how it all applies to them.
The reason we do this is that it helps you do a better job with each campaign. But even if you never run a specific sequence of emails, you can still use some of the techniques, strategies, and psychology behind it for something else. It could be a sentence, a hook, or simply an idea from a campaign that doesn't relate to your business specifically, and apply it to something else you want to do.
Every email you come across in our campaigns is almost like a piece of a puzzle that you can put together in different combinations. So by attending a campaign workshop (or watching the replay), you learn how to become better at email marketing rather than just filling in the blanks (which also works).
The Top 10 Books To 'Power Up' Your Email Marketing
10 book recommendations that will improve all areas of your email marketing (including some underground treasures that we stumbled upon which have been game-changing for us).
What about the technical aspects of email marketing?
While we think email marketing is more about psychology, there's also a technical element to it that can hugely enhance your results. It's through automation and technology that you can run flash sales or urgency-based campaigns, for example.
Let's say you're running a time-bound campaign where you give a discount to people for the first 48 hours after they join your list. You want to do this automatically for everyone who joins your list, regardless of when they join.
And in the past, we used to run these types of campaigns using a third-party tool which we loved. As a result, we'd recommend it to all our clients too. It was a no-brainer, but the tool obviously had a cost, and we felt quite uncomfortable telling people they should subscribe to it.
This is why we created a whole suite of tools that are included in our membership at no extra cost. It's called Automate Hero, and we have a few tools within the suite that fully integrate with your email marketing platform. We talk about the details in this episode called 6 Things You Didn't Know Your Email Marketing Platform Could Do.
And we have Battle Plans too!
What you learn inside our membership The League is the system for automating the sales function of your business. You get the campaigns, the training, the coaching, the community through the Facebook group of members, and the technology to make sales more predictably in your business without ever wasting your time.
On top of that, we also have a bunch of Battle Plans, which are training courses worth between $47-$247. We only rarely sell them outside our membership, but they are free to our members, and they help with specific bits of email marketing, such as subject line inspiration or the technical aspects of list building.
The whole thing is very modular, and we've built it that way to get you fast results. It's not unusual for us to have people who join our membership, implement one campaign and make thousands of dollars worth of sales within days. And you can obviously build the campaigns as and when you're ready, add to them, and have them running for you automatically and making you money!
We also created a Success Track that people can follow step by step to start getting results. And if at any point you feel stuck and want to know how it all applies to your business, you can just come and ask the question. Through The League, you get to build this system over time and always improve and refine it. It's a different approach to email marketing but one that will make a massive difference!
Who is The League for?
While we say that our membership The League is mainly for coaches, course creators, and membership site owners, we have all sorts of businesses in there – from martial art studios to bakeries, insurance brokers, magicians, musicians… you name it!
And they're based all over the world with all sorts of business models. We have people with digital, online businesses but also people with brick-and-mortar businesses. The truth is that we could all be communicating with our email lists a little better and have the best system that allows you to at least double the sales you make from your email subscribers. That's what our membership The League is designed to do. So if you're not already a member, go and check it out to take advantage of all this. Let's get stuck in!
Make More Sales with our Psychology-Based Email Marketing Membership
Psychology-based email marketing.
Complete email campaigns.
Video training.
Group coaching sessions.
Exclusive AutomateHero app.
Subject line of the week
This week's subject line is "Price decrease!" It's a weird and interesting one. Because people see this and wonder if you're running a sale. Has the price gone down for something? This is odd and rare because people often talk about prices going up, not down.
The story was about the fact we were in Florida and about to book an Uber. But the price was too high, so we closed the app and started downloading a competitor's. And right there and then, Uber sent us an offer with a price decrease, so we booked our ride with them. It's not a great tactic, but it's going to get them the business.
So that was the story, and the subject line grabs people's curiosity. They are left wondering what's going on and why someone would decrease their prices. Check it out!
Useful Episode Resources
Related episodes
The Little-Known Right Order to Make Your Offers (For Maximum Sales).
Best Email Marketing Campaign To Get Your Customers To Buy Again (And Again).
Tell Me You're A Member Of The League Without Telling Me You're A Member Of The League.
FREE list to improve your email marketing
If you want to write better emails, come up with better content, and move your readers to click and buy, here's how. We put together this list of our Top 10 most highly recommended books that will improve all areas of your email marketing (including some underground treasures that we happened upon, which have been game-changing for us). Grab your FREE list here.
Join our FREE Facebook group
If you want to chat about how you can maximise the value of your email list and make more money from every subscriber, we can help! We know your business is different, so come and hang out in our FREE Facebook group, the Email Marketing Show Community for Course Creators and Coaches. We share a lot of training and resources, and you can talk about what you're up to.
Try ResponseSuite for $1
This week's episode is sponsored by ResponseSuite.com, the survey quiz and application form tool that we created specifically for small businesses like you to integrate with your marketing systems to segment your subscribers and make more sales. Try it out for 14 days for just $1.
Join The League Membership
Not sick of us yet? Every day we hang out in our amazing community of Email Marketing Heroes. We share all of our training and campaigns and a whole bunch of other stuff. If you're looking to learn how to use psychology-driven marketing to level up your email campaigns, come and check out The League Membership. It's the number one place to hang out and grow your email marketing. Best news yet? You can apply everything we talk about in this show.
Subscribe and review The Email Marketing Show podcast
Thanks so much for tuning into the podcast! If you enjoyed this episode (all about this amazing behind-the-scenes of our membership The League) and love the show, we'd really appreciate you subscribing and leaving us a review of the show on your favourite podcast player.
Not only does it let us know you're out there listening, but your feedback helps us to keep creating the most useful episodes so more awesome people like you can discover the podcast.
And please do tell us! If you don't spend time on email marketing, what do you really fill your working days with? We'd love to know!