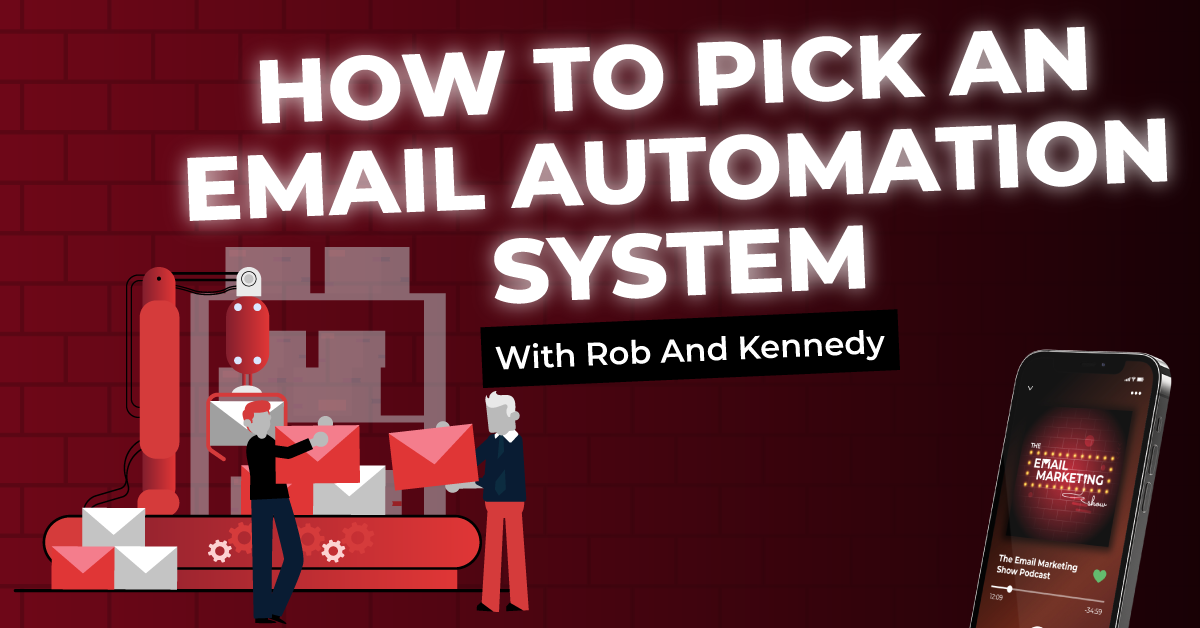 How to Pick an Email Automation System
We get asked this question all the time. What's the best email automation system? How do you pick one? And you might be surprised, but there's not one single universal answer to this question!
So… want to know exactly what you need to do when you're looking for the best email marketing platform for your business?
Then check this out!
SOME EPISODE HIGHLIGHTS: 

(4:02) What's an email automation system?
(5:45) Always get the best-in-class product for your budget.
(8:36) Pay now for the business you want to have in the future.
(11:40) Cost vs ROI.
(13:40) How to pick your email automation platform.
(13:59) Why you should try out a few email automation platforms.
(14:59) Check that the email automation system you want meets your needs.
(15:52) Pick the email platform you prefer.
(17:40) Our email automation system recommendations. 
(19:00) Subject line of the week.
The Top 10 Books To 'Power Up' Your Email Marketing
10 book recommendations that will improve all areas of your email marketing (including some underground treasures that we stumbled upon which have been game-changing for us).
What is an email automation system? 
So first of all, what is an email automation system? Back in the day, they were called autoresponders – and some people still use the term. But in short, an email automation system is a platform that allows you to do clever stuff with your email list, like making decisions based on their behaviours or creating automated sequences of emails. Very handy! 
Always get the best-in-class product for your budget
When it comes to any software platforms, you have to bear in mind that none of them will do everything you want them to do. We once almost switched to one of these all-in-one platforms that will host your membership site, allow you to deliver your programmes, do your appointment scheduling, your email marketing, etc. But in the end, we found the platform was mediocre at everything and made email marketing too difficult. So our policy is to get the best-in-class product that your budget will allow. 
For email marketing, we use what we think is the best-in-class for the budget we have. It has to meet certain requirements around list size and email automation, for example, but it also needs to meet our budget. 
And we follow the same approach with all the other software products we use. So we always advise you choose the best you can afford. Because there are always going to be bigger and better things out there. But it doesn't mean they're right for you and your business.
Pay now for the business you want to have in the future
Here's something we swear by. Pay now for the business you intend to have in the future and remember that email marketing will get you the highest ROI. If you're going to do email marketing  seriously and put effort into it,  it will make you money. 
The problem with some of the marketing platforms out there though is that they might lure you in with a free or super-cheap account. But once you get to 10k subscribers, hosting a list with them becomes more expensive. And moving platforms then is a real pain in the neck.
So the best thing you can possibly do is to commit to taking email marketing seriously right now and invest in it accordingly. Our top tip? Invest for the list you're going to build and get an email platform that will be affordable then. 
Cost vs ROI
Make More Sales with our Psychology-Based Email Marketing Membership
Psychology-based email marketing.
Complete email campaigns.
Video training.
Group coaching sessions.
Exclusive AutomateHero app.
This might surprise you, but we only have a list of 4,500 subscribers. It may be sound small, but we make about $500,000 from our list. So if our email automation platform costs us around $1,800 a year ($150 per month), we're still making a large ROI. In fact, we make on average  $12 per subscriber per month (and that's our EPSPM – or Earning per Subscriber per Month). And even if we made the industry standard average of $1 per subscriber per month, we'd still be making $54,000 a year from an annual investment of $1,800. And that's still huge! 
So even if you have a small list, it's not going to cost you the earth and sky to put them on a really good email automation platform. And that's why we think you should never be worried about your email marketing bill. If you are, it's only because you know you're not putting your all into your email marketing. 
How to pick your email automation system
Here's what you don't do. Don't go to a Facebook group and ask. Because any crowdsourced answer you get is going to be useless for you. Everyone will be talking about what their favourite platform is – what's working for them. And that's not necessarily what's going to work for you and your particular situation.
So here's what you do instead.
Try out a few email automation systems
The best thing to do is to take a one-month trial for the 3-5 platforms you think you might be interested in. Some of them offer a free trial, but even if they don't, take the risk of paying for one month. Because trying a few upfront is going to make the process of choosing one faster. And it'll be less frustrating than having to move platforms later. 
Also, look at how many subscribers you're expecting to have in 4-5 years' time – because that's the number of subscribers you need to price the monthly cost at. Remember that if you do email marketing properly (and listen to the show and apply the strategies we discuss, or, even better, if you join our membership The League) you'll have no problems getting great results from your list.
Does the email automation system meet your needs? 
The next thing you want to check once you have your trial account is that it meets your requirements. Does it do what you want it to do? 
Choose an activity and see how it works on each of the platforms. Can you easily put people into automations? Can you tag them and move them around in multiple automations at the same time? And if one of the platforms falls down at the first hurdle, then close the account because that platform is not for you.
Pick the email automation system you prefer
Then you want to see which ones you enjoy using. If any platform makes you want to throw your laptop out of the window, then it's not right. Which one do you like best? 
The biggest difference between Active Campaign and Keap (formerly Infusionsoft), for example, is that the automation builder in Keap goes horizontally – you build things in a chain from left to right. Whereas Active Campaign goes vertically – from top to bottom – and you connect things going one underneath the other. And it's only through using the platforms that you'll realise what you prefer – what fits better with the way your brain naturally works. What you're trying to do here is to reduce the amount of frictional resistance to doing email marketing by having tools that align with the way you naturally think. 
What might also help is to see if you have people around you who do something similar to you. Do they sell courses or a membership? Do they use this particular platform you're looking at? We see that most of our members in The League use a handful of email systems. And any of those are great. So, in general, you want to make sure it's a platform that others around you are using, rather than one that no one has ever heard about. That way when you have a question, you'll be able to get answers from real people, rather than digging around the forums.
Our email automation system recommendation
And if you really want our personal recommendation, if you're a course creator, a membership site owner, or a coach or consultant, in our opinion, you should take a look at Keap (formerly known as Infusionsoft), Active Campaign, and ConvertKit. We'd recommend you take a trial on those, and if you know someone who uses them, maybe ask them if they can show you how you use them. 
And if you want to try out Keap, check out this amazing promotion!
Subject line of the week
This week's subject's line of the week is "The 25-second advert". And it was actually a really short email of only 10-15 lines. It was about the fact that Rob went on someone's website and 25 seconds later, he'd left and gone to Facebook and saw the company's advert appear in his newsfeed.
The point of the email was that good marketing shouldn't take very long (25 seconds). And we think the subject line worked well because of its specificity and the curiosity it triggered. Interesting stuff, right?
Useful Episode Resources
Related episodes
Using Email Marketing to Build a Profitable Business – a Success Story from a Member of The League.
Email Marketing Automation – 6 Automations You Should Have In Your Business.
How to amplify email campaigns, Clate Mask from Keap spills the beans.
FREE list of the top 10 books to improve your email marketing
If you want to write better emails, come up with better content, and move your readers to click and buy, here's how. We put together this list of our Top 10 most highly recommended books that will improve all areas of your email marketing (including some underground treasures that we happened upon, which have been game-changing for us). Grab your FREE list here. 
Join our FREE Facebook group
If you want to chat about how you can maximise the value of your email list and make more money from every subscriber, we can help! We know your business is different, so come and hang out in our FREE Facebook group, the Email Marketing Show Community for Course Creators and Coaches. We share a lot of training and resources, and you can talk about what you're up to.
Try ResponseSuite for $1
This week's episode is sponsored by ResponseSuite.com, the survey quiz and application form tool that we created specifically for small businesses like you to integrate with your marketing systems to segment your subscribers and make more sales. Try it out for 14 days for just $1.
Join The League Membership
Not sick of us yet? Every day we hang out in our amazing community of Email Marketing Heroes. We share all of our training and campaigns and a whole bunch of other stuff. If you're looking to learn how to use psychology-driven marketing to level up your email campaigns, come and check out The League Membership. It's the number one place to hang out and grow your email marketing. Best news yet? You can apply everything we talk about in this show.
Subscribe and review The Email Marketing Show podcast
Thanks so much for tuning into the podcast! If you enjoyed this episode (all about how to pick an email automation system) and love the show, we'd really appreciate you subscribing and leaving us a review of the show on your favourite podcast player.
Not only does it let us know you're out there listening, but your feedback helps us to keep creating the most useful episodes so more awesome people like you can discover the podcast. 
And please do tell us! If you don't spend time on email marketing, what do you really fill your working days with? We'd love to know!