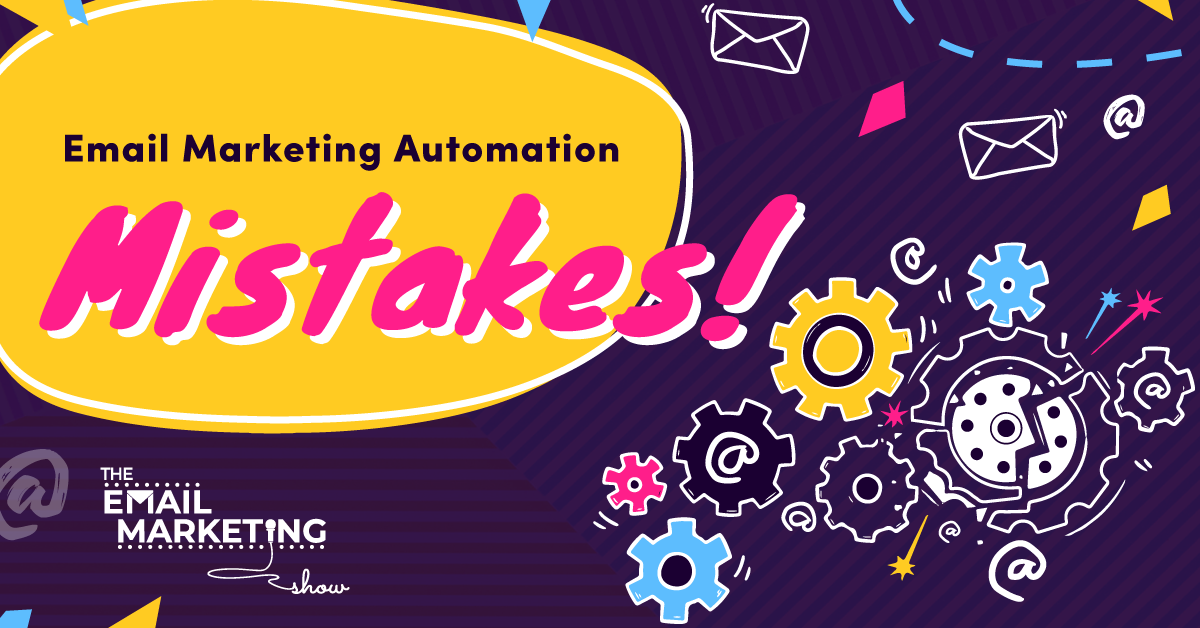 Mistakes You're Making With Your Email Marketing Automation Strategy
Do you feel confident about your email marketing automation strategy? In the work we do, we see people make some common mistakes when running email campaigns, which is why inside our membership The League we teach people how to make their email automation simple by using something we call the email engine.
Want to find out more about it?
SOME EPISODE HIGHLIGHTS: 

(0:10) Join our FREE Facebook Group.
(3:54) Mistake: Not doing email automation at all.
(5:56) Mistake: Not testing your emails live before automating them.
(7:17) Mistake: Creating email sequences around different products.
(9:55) Mistake: Building complicated email marketing automations.
(11:55) Mistake: Spending too long building automations.
(14:09) Mistake: Not having a Welcome sequence.
(15:57) Mistake: Keep doing things that aren't working.
(17:48) Mistake: Rushing through the process of building your email engine.
(19:17) Mistake: Not checking the performance of your automations.
(23:09) Subject line of the week.
Not doing email automation at all
The first mistake we see people make is to not use email marketing automation at all and only send live broadcast emails instead. If you do this, you're missing out, because more than 80% of the sales across our entire business come from email automation. So if you don't have a sequence of emails that automatically goes out to present your core offer, you're leaving significant money on the table.
You want to make sure you build email campaigns to introduce your product or service. That's so people know what your core product is and you can make the best possible offer to every single person who comes into your email system. But in order to do that, you need to use email marketing automation.
Not testing your emails live before automating them
The next thing you need to do is to test your emails live before you automate them. This may sound contradictory, but it's not. Because what you want are automated email marketing campaigns that turn subscribers into customers, turn customers into repeat customers, and bring old clients back. And you want these things to happen fast.
But before you take an automated campaign and include it in your email engine (for every single new subscriber to go through it) you want to be sure it works. Because let's face it – not all implementations are going to work for all businesses all the time.
So it's important you take the campaigns we have inside The League, run them to ensure they work (with your audience, your offer, and your setup), and only then automate them and add them to your email engine.
Creating email sequences about different products
Another mistake we see is marketers put email campaigns together and keep switching between products, with one campaign about one product, the following one about something else, and so on. But switching between products is the least efficient way of using email automation. What you want instead is to have a series of campaigns that promote the same product.
For example, if someone joins our email list, we may launch a campaign called The Overture (which introduces our core product), and if people don't buy, we then run another campaign about the same product.
Why?
Because when you keep switching between products, you create overwhelm and confusion. And that means people don't know what to do. Also, you're not giving yourself the chance to present your product from different angles, and when it comes to some of your subscribers, you'll never find the right angle. So they'll never buy!
That's why we never jump from product to product. Instead, we present lots of different offers for the same product. The key is for you to create different email marketing campaigns that present the same product from different angles, in different ways, and using different media and different offers. Don't confuse your audience! You want everyone to buy your core product.
Building complicated email marketing automations
Another thing we see a lot is people who build automations in complicated spaghetti-junction style inside their automation builder. We don't buy into that, which is why, for the most part, we keep things linear and straightforward.
When someone joins our list, they go through our welcome sequence and then a series of sales campaigns. It's only when they buy a product that we pull them out of our engine. If they don't buy, we keep emailing about the same thing.
We also keep everything simple because it stops us from running into problems When you run your campaigns in a linear way, it helps you troubleshoot problems easily. So the way we run our campaigns is by launching them one after the other. They are linked together, just like the carriages on a train, but they don't overlap.
Spending too long building automations
A lot of people take a long time to build email marketing campaigns. But the longer you spend creating a campaign and not putting people through it, the longer it's taking you to make some sales and a return on your investments. If you wait until all your campaigns are built before putting people through them, you're not selling – you're leaving money on the table.
And the point here is that your email marketing automation is never finished! By seeing it as something modular (like a train with separate carriages) you can just create a campaign and put people through it as soon as it's finished. If you don't have another campaign ready, people just go through your daily broadcast emails. But in the meantime, you can build the next campaign. And when that's ready, your subscribers will go through that too.
Our League members, for example, work at completely different paces. We have clients who only run three campaigns a year and others who create a new one every week. It doesn't matter how many you run every year, as long as they make sales and the impact you get from those campaigns keeps growing your business. So get a campaign finished and put people through it as soon as they're ready. And in the background, keep adding to your email engine because the whole system is never 'finished' – it's not supposed to!
Not having a Welcome sequence
The next mistake we see is not bridging from lead magnets to ongoing email sequences. Often, we see email marketers who have subscribers joining their list and as soon as people have downloaded their lead magnet, they start emailing them immediately.
But when you do that, you're missing some sort of bridge or connection that tells people what to expect from you and why being on your email list is a good thing for them.
We do this through our Getting To Know You sequence, which is our take on the Welcome campaign. It's a four-part email campaign where we explain to people that unless and until they unsubscribe (which they can do at any time), they'll hear from us every day.
We also tell them why being on our email list is good for them. And the advantage to us is that it builds authority and credibility in their minds. For example, we tell them why our approach to email is different and build up their anticipation or expectation of what's to come.
The sequence comes from a place of explanation and context building, but it has the knock-on effect of making our engagement quite high. Because people are expecting the emails and are excited by them.
So if you miss out on this step by not having a Welcome sequence, you'll also end up with lower engagement. In turn, this might lead to higher unsubscribe numbers and complaints from people who can't remember who you are or why you're in their inboxes.
The Top 10 Books To 'Power Up' Your Email Marketing
10 book recommendations that will improve all areas of your email marketing (including some underground treasures that we stumbled upon which have been game-changing for us).
Keep doing things that aren't working
The beauty of having an email engine that's built like a train with different carriages (i.e. sequences or campaigns) is that you can take out anything that isn't working. If an email campaign doesn't work for you, you can take it out. It means that your train shrinks down a little. But it still works.
For example, last year we did a live webinar that performed and converted really well. So we automated the sequence and added it to our email engine. For the first couple of weeks, it worked great. But then it stopped making sales and started killing the conversion on subsequent campaigns, so we took it out. Set up your email engine in a way you can remove campaigns that aren't working.
Rushing through the process of building your email engine
You don't need to build your email engine all at once. Instead, take your time and build it one piece at the time. We've been building our email engine for this business for three and a half years now, and it's not even finished. When we think of new ideas, we run new campaigns live, test them, and then add them to our email engine (and only if they work). But the process is slow – we don't add campaigns very often.
And that's okay because while you might not set up new automated campaigns for a while, the ones that you did set up are serving you and making you sales. They're an asset you've created and that's working for you. In other words, your campaigns are an investment that you continue to get a return on.
Not checking the performance of your automations
And finally, another mistake we see people make is not checking and reviewing the performance of each individual email in a campaign. Because sometimes when a campaign isn't performing, it could be down to one particular email. And that means you don't have to remove the whole sequence. You just tweak what isn't working. So check the sales and click-through rates of individual emails.
For example, we had a situation where we looked at one individual email inside one of our campaigns and realised it wasn't giving us many clicks. We checked that everything was working in the email (the tech was okay, the link was in there, etc.) and then decided to test a different subject line. About a month later, when we checked again, this same email was getting clicks and making sales. So checking individual emails is important because you don't want single emails to damage the results of your campaigns.
While email marketing automation can easily be a 'set and forget' task (you build your campaigns and then let them run and make sales), it's also important to keep an eye on them. Because things can change. There might be something in an email that's timely, for example, and no longer makes sense.
So at least once a month, look at the numbers in your business, such as the reporting for each campaign. Also, check whether people are engaging with your emails. This will help you make sure things run smoothly. And if the world has moved on or your philosophies have, you'll know it's time to make some changes.
So here are the all mistakes you might be making with your email marketing automation strategy. If you want to make things much easier for yourself, we have more than 30 campaigns inside our membership The League that are proven to convert. Plus, we give you all the tools and training to run your email marketing faster. So check out all the details and then come and join this amazing community!
Make More Sales with our Psychology-Based Email Marketing Membership
Psychology-based email marketing.
Complete email campaigns.
Video training.
Group coaching sessions.
Exclusive AutomateHero app.
Subject line of the week
This week's subject line is "We make $****** from email marketing". This was one of our highest-converting broadcast emails ever. We rarely talk openly and extensively about the numbers in our business, and it's not because we're not transparent about it – it's just because we don't necessarily embrace the idea of 'bro marketing'.
But in this case, we tried it out and revealed how much money we make from email marketing every year. We blanked the number in the subject line so people would go and open the email to see the actual number. Did we really reveal it? Yes, we did! This wasn't clickbait – we gave people a behind-the-scenes peek. And it worked. So try this out!
Useful Episode Resources
Related episodes
The Only Email Marketing Campaign Types You'll Ever Need.
How to Pick an Email Automation System.
9 Psychological Things That We Use In All Of Our Campaigns.
FREE list of the top 10 books to improve your email marketing
If you want to write better emails, come up with better content, and move your readers to click and buy, here's how. We put together this list of our Top 10 most highly recommended books that will improve all areas of your email marketing (including some underground treasures that we happened upon, which have been game-changing for us). Grab your FREE list here.
Join our FREE Facebook group
If you want to chat about how you can maximise the value of your email list and make more money from every subscriber, we can help! We know your business is different, so come and hang out in our FREE Facebook group, the Email Marketing Show Community for Course Creators and Coaches. We share a lot of training and resources, and you can talk about what you're up to.
Try ResponseSuite for $1
This week's episode is sponsored by ResponseSuite.com, the survey quiz and application form tool that we created specifically for small businesses like you to integrate with your marketing systems to segment your subscribers and make more sales. Try it out for 14 days for just $1.
Join The League Membership
Not sick of us yet? Every day we hang out in our amazing community of Email Marketing Heroes. We share all of our training and campaigns and a whole bunch of other stuff. If you're looking to learn how to use psychology-driven marketing to level up your email campaigns, come and check out The League Membership. It's the number one place to hang out and grow your email marketing. Best news yet? You can apply everything we talk about in this show.
Subscribe and review The Email Marketing Show podcast
Thanks so much for tuning into the podcast! If you enjoyed this episode (all about the mistakes you might be making in your email marketing automation strategy) and love the show, we'd really appreciate you subscribing and leaving us a review of the show on your favourite podcast player.
Not only does it let us know you're out there listening, but your feedback helps us to keep creating the most useful episodes so more awesome people like you can discover the podcast.
And please do tell us! If you don't spend time on email marketing, what do you really fill your working days with? We'd love to know!