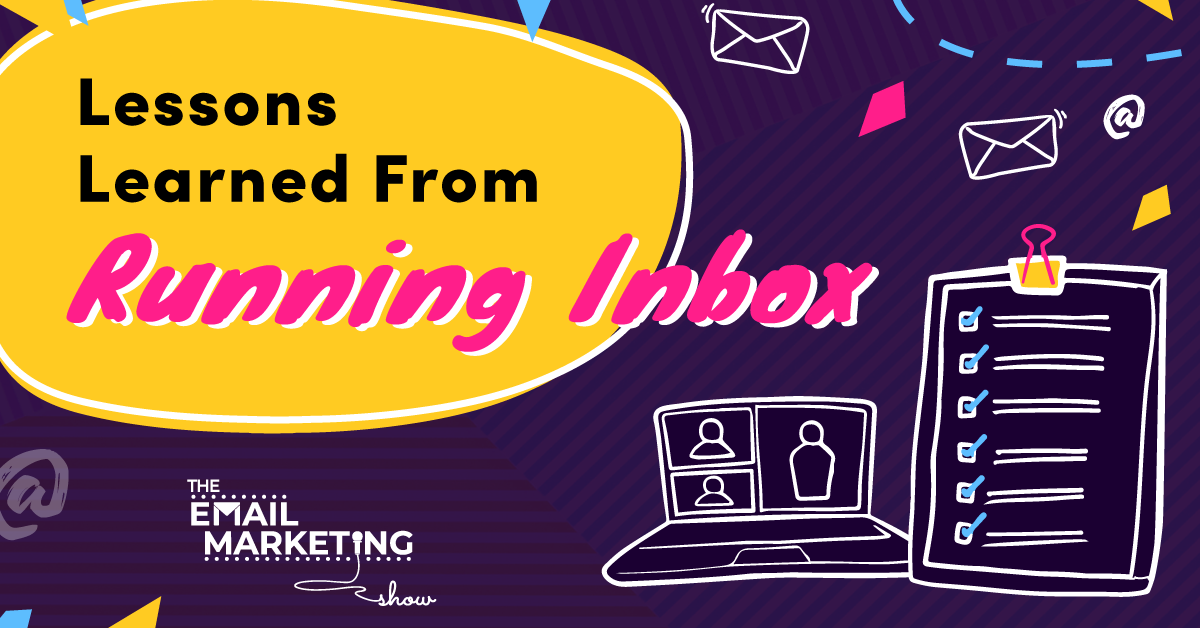 Lessons Learned from Running Our 2-Day INBOX Event
Are you thinking of running your own online summit? Are you wondering about how to promote a virtual event with email marketing?
Today we're sharing the lessons we've learned from running our own two-day online event – Inbox. This is the third year we hosted our signature email marketing conference, which is a totally free online event with multiple speakers and a ton of value.
Want to know all about it so you can find out exactly what email campaigns you can run to make your next online event a super profitable one?
Then let's go!
SOME EPISODE HIGHLIGHTS: 

(5:03) Why the online online virtual summit business model works.
(6:49) Why we choose to run Inbox on Zoom.
(8:00) Agree with the speakers when they're going to promote the event.
(9:53) Find sponsors for your event.  
(10:56) Promote your event with email marketing. 
(12:39) The registration sequence and the engagement sequence. 
(16:06) The sequence you run during the event and the post-event sequence.
(20:07) How to handle the price hikes.
(25:51) Check out our Virtual Summit email campaign workshop.
(29:06) Subject line of the week.
Why the online virtual summit business model works
Our Inbox email marketing conference is now online, which means people can attend from all over the world. But when we first ran the event in 2020 it wasn't meant to be free or online. We'd planned an in-person conference in Newcastle for $500 per ticket.
But then the pandemic hit, and we had to move the event online. We've basically changed the business model so that instead of having people pay for a ticket, they pay for the recordings of all the sessions (we call this All Access Pass).
Plus, because all the speakers also promote the event to their audiences (and earn a percentage of the sales), an online event like this is a great list-building exercise. We absolutely fell in love with this business model, and to this date, our conference Inbox creates the biggest influx of brand new subscribers to our list each year.
Why we choose to run Inbox on Zoom
One of the things we learned is that although there are different platforms designed to host virtual events (and those are absolutely brilliant) sometimes tech barriers stop people from attending. So we decided to host our event on Zoom, and we have no intention of ever changing that.
Because running a virtual summit is a list-building exercise, you want lots of attendees! So it's probably not the right time to try out fancy platforms that people aren't familiar with because there can be a lot of resistance to those. Whereas with Zoom, pretty much everyone knows how to use it, so if you remove the tech resistance you'll have more people registering and attending the event.
Agree with the speakers when they're going to promote the event
Another thing we learned is that not all businesses treat email marketing as a priority in their business. So while we know in advance what we're going to promote and when, a lot of businesses might not.
During the first year of running Inbox, we asked all speakers to promote the event to their list, but we didn't specify any timelines for them. And that meant that we got very little (if any) promotion at all from some of the speakers.
So what we do now is to ask the speakers to specify in advance what dates they're going to promote the event. We ask them to create a schedule, put it in their calendars, and commit to it. So if you're organising an online event, don't be afraid of letting your speakers know that it works as a collective. If all the speakers promote the conference to their list, then you're getting in front of all of their audiences. But if they don't, then you don't get as much exposure – you all have to do the promotion.
Find sponsors for your event
Another tip we can give you is to try and find companies that are happy to pay to get in front of your audience (because they're their ideal clients too) and offer them a sponsorship package. This means you'll have other businesses advertise at your event and pay a fee to be able to do so.
The sponsorship fee could be any amount and might depend on the scale of your event, but it gives those sponsors a good potential for return. And for you, having sponsors means additional revenue. We suggest you put different sponsorship packages together and let your sponsors know what they get for paying different amounts. That way, you allow businesses at different levels to put their message in front of your audience.
The Top 10 Books To 'Power Up' Your Email Marketing
10 book recommendations that will improve all areas of your email marketing (including some underground treasures that we stumbled upon which have been game-changing for us).
Promote your event with email marketing 
Another tip we have for you if you're running your own virtual summit is to use a few short email campaigns to promote it. Inside our membership The League we have different campaigns that are perfect if you're hosting a big, expensive, in-person event. But for a free online event, we use and recommend four email sequences.
A summit is a list-building event, but it's also a money-making opportunity. So you're leaving money on the table if you don't try to at least make half the sales yourself. Because of course, you can rely on speakers promoting the event, but you've got a list too! And in fact, you have the most engaged and responsive list of people who are interested in your brand and what you sell.
So don't make the mistake of abandoning your list. You want your event to turn into a cash-generation activity too, and the following four email campaigns are going to help you maximise your sales.
1. The registration sequence
The first email campaign we run is a registration sequence. This goes out to your audience to get them to come and register for the free event. Ours is made up of 15 emails going out over 14 days (with two emails on the last day) and drives people to go and check out the sales page.
And speaking of the sales page, let's remember that even though the event is free, you want to sell it! So imagine you're putting together an event that's thousands of dollars per ticket. Make a page that will sell that and then make it free – don't skimp out on the sales page just because it's a free event.
You want people who register to feel that this event is so good that they're taking advantage of you by getting it for free. So when they find out that the session recordings are available to sell, they want to go and grab them!
2. The engagement sequence
The second sequence we use is a "show up" sequence to drive engagement. It's an important one because when people turn up at the event, watch the content and realise it's mind-blowing, and they can't take notes fast enough, or they can't attend all the sessions because they have other commitments during the day, this sequence will drive people to go and buy your recordings.
For this, we use a sequence of 5 emails over the course of 10 days leading up to the event. Remember that your emails shouldn't be boring – you need to include valuable content and position the event in such a way that will make people want to attend. Effectively, you want to re-sell people on the event even though it's free because you want them to show up. And you want to have an impact on people even if they decide not to buy the recordings.
So even if someone decides to never buy our All Access Pass, we still want them to see how good the event is. Because later on, when they're ready to think about email marketing, they're going to think of us as the industry leaders for hosting such a great event. And by drumming up engagement, you're helping your speakers too. 
3. The sequence you run during the event 
The third sequence is the one we run during the event. While Inbox is running, each morning we send out an email that explains what's happening in the morning sessions. And then we do the same in the afternoon. Because we run a two-day event, that's a short sequence of four emails.  
In the first year of running Inbox, we would send out an email every hour. But we soon learned that our subscribers didn't like that – way too many emails in a day! So we don't suggest you do that. 
4. The post-event sequence
The fourth email sequence is a post-event sequence. In ours, we send a feedback survey to help us improve the event, and that's how we learn about what people like. As the founders of Response Suite, we are big fans of surveys and use them a lot in our business. 
Something key that we do in our online conference is to set different prices for the recordings, and typically the price for our All Access Pass goes up by five times 2-3 days after the event. So we use our post-event email sequence to remind people of the price hike and compel them to buy now.
As you've probably figured out by now, three-quarters of the sequences we send out have the primary goal of pushing engagement and selling the recordings. So it's not just about building your list from the event – remember you want to make it profitable too!
After registration, we have a window where people can get the recordings for a ridiculously cheap price. And we sell a few All Access Passes at that price, but we sell as many (if not more dollars' worth) at the higher price point. And that's because not everyone trusts the value of the event to buy immediately or beforehand. But also, not everyone is necessarily looking at a decent return on their money – they'd rather have a decent return on their time. So they're happy to spend more money once they've seen some of the event or have worked out that they want to go back and watch the sessions later on.
So don't leave money on the table – put these sequences in place and remind people that the recordings are available. 
How to handle the price hikes
We mentioned earlier that we have a window after registration when the All Access Pass is super cheap. We call this the 20-minute fast-action discounted price, and that's available to someone immediately after they register. That price will automatically expire 20 minutes after registration. To do this, we use a tool called Countdown Hero, which is part of our Automate Hero tool – something we include for free in our membership, The League.
For the 20-minute fast-action discount, we also ask some of the speakers to add some bonuses – something that gives them more eyeballs on their content. So this increases and grows the value of the All Access Pass. But also, if the speakers recommend the event to their list, people are more likely to buy the recordings at a super discounted price. The speakers get a percentage of those sales via their affiliate link, so you increase your conversions while the speaker increases their commissions. It's a win from both angles!
After the 20 minutes have expired, the Early Bird price kicks in, and that's available until the event starts. After that, you sell at the Regular price, which is obviously higher than the Early Bird. So in your pre-event emails, make sure you remind people about the price hike to give them a chance to buy at the Early Bird price. And during the event, keep reminding people they can buy at the Regular price before the price goes up afterwards.  
Using conditional content
Of course, for people who have already bought the All Access Pass, we suggest you use conditional content. This is a feature that all email platforms will have which allows you to segment those subscribers who have already bought the All Access Pass. And instead of telling them about the price hikes, you simply re-sell them on the valuable content they already have access to.
Check out our Virtual Summit Email Campaign Workshop
Using these automated email campaigns to promote your virtual summit or online event is great because once you've set them up, you can run your event regularly. You only need to change the dates or any other details. That's what we do. And just like that, you're ready to roll out again. For us, getting ready for Inbox 2022 took about 10% less time than it took us the previous year because all our campaigns were already in place.
But if you want to do this quickly and efficiently the first time you run your own online event, we have something for you. You can use the exact emails we used over the last few years of running Inbox because we are teaching a Virtual Summit Email Campaign Workshop on Wednesday, the 17th of August 2022.
We teach all the campaigns we went through here today and unpick the psychology of why every word in those emails helps you get more people to register so you can grow your list and get them to buy the recordings so you can make the event profitable. 
Not only do you get all the teaching, but we also give you a Google document with every email for you to copy and paste, and send out when you run your online event. You also get a free account to our tool Countdown Hero, so you can create automatically expiring countdowns.
So go and check out this link to join The League and attend the Virtual Summit Campaign Workshop. And once you signed up, you'll also get the recording for that session if you can't attend live.
Make More Sales with our Psychology-Based Email Marketing Membership
Psychology-based email marketing.
Complete email campaigns.
Video training.
Group coaching sessions.
Exclusive AutomateHero app.
Subject line of the week
This week's subject line is "what's your face doing?" followed by the confused face emoji. This works because it's a curiosity-driven subject line – people can't tell what it's going to be about. Will it be an insult? It's a weird question to ask and totally driven by curiosity.
Useful Episode Resources
Related episodes
9 Lessons from The Inbox Online Email Marketing Conference.
Why You Might Want to Think Twice About Consumption Emails.
7 Essential Email Campaigns Examples For Your Business.
FREE list of the top 10 books to improve your email marketing
If you want to write better emails, come up with better content, and move your readers to click and buy, here's how. We put together this list of our Top 10 most highly recommended books that will improve all areas of your email marketing (including some underground treasures that we happened upon, which have been game-changing for us). Grab your FREE list here.
Join our FREE Facebook group
If you want to chat about how you can maximise the value of your email list and make more money from every subscriber, we can help! We know your business is different, so come and hang out in our FREE Facebook group, the Email Marketing Show Community for Course Creators and Coaches. We share a lot of training and resources, and you can talk about what you're up to.
Try ResponseSuite for $1
This week's episode is sponsored by ResponseSuite.com, the survey quiz and application form tool that we created specifically for small businesses like you to integrate with your marketing systems to segment your subscribers and make more sales. Try it out for 14 days for just $1.
Join The League Membership
Not sick of us yet? Every day we hang out in our amazing community of Email Marketing Heroes. We share all of our training and campaigns and a whole bunch of other stuff. If you're looking to learn how to use psychology-driven marketing to level up your email campaigns, come and check out The League Membership. It's the number one place to hang out and grow your email marketing. Best news yet? You can apply everything we talk about in this show.
Subscribe and review The Email Marketing Show podcast
Thanks so much for tuning into the podcast! If you enjoyed this episode (all about how to promote a virtual event with email marketing) and love the show, we'd really appreciate you subscribing and leaving us a review of the show on your favourite podcast player.
Not only does it let us know you're out there listening, but your feedback helps us to keep creating the most useful episodes so more awesome people like you can discover the podcast.
And please do tell us! If you don't spend time on email marketing, what do you really fill your working days with? We'd love to know!