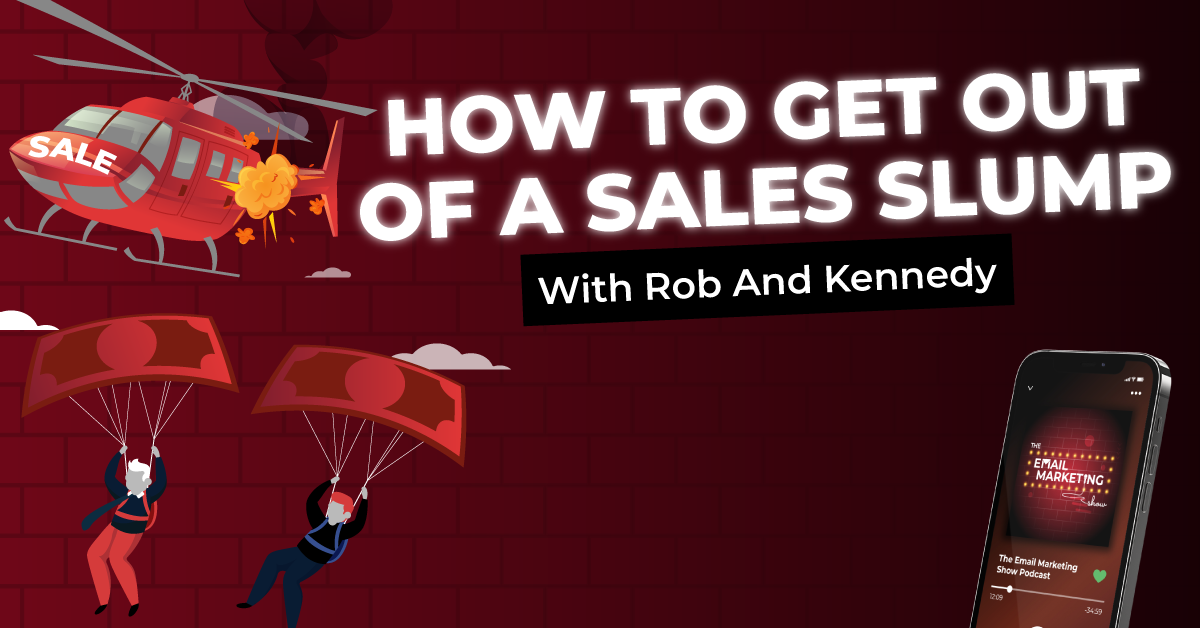 How to Get Out of a Sales Slump
Have you ever experienced a slump in sales? We know we have. But we've also learnt to read the signs so we know when one's about to happen. And we've come up with a few strategies to get ourselves out of it. So here's what we're talking about today – exactly what to look out for to spot when sales are about to slow down and how to get out of a sales slump.
Ready to find out what you've gotta do?
SOME EPISODE HIGHLIGHTS: 

(2:26) Why you need to keep an eye on the sales data in your business.
(4:36) What is your EPSPM and why does it matters? (Warning: there's singing!)
(7:16) Focus on making more money from your existing list.
(7:57) What to do when you have a seasonal slump in sales.
(10:05) All big businesses change their shop window - why shouldn't you?
(12:07) How to prevent 'banner blindness'.
(12:50) What to do to avoid a slump in sales. 
(15:24) What indicators to watch to predict a slump in sales.
(18:23) How to use challenges to get out of a slump in sales.
(21:14) Subject line of the week. 
The Top 10 Books To 'Power Up' Your Email Marketing
10 book recommendations that will improve all areas of your email marketing (including some underground treasures that we stumbled upon which have been game-changing for us).
Why do you need to keep an eye on the sales data in your business?
It happens to the best of us. You put out a product, and it's not just selling as much as you feel it should. Or maybe it did sell for a while, but now… not so much. So what do you do? 
The first thing to do is to check the data and see what it's telling you. Is there actually a problem? You might find that yes, things are a bit quiet. But maybe you know that's because you have a very seasonal business and things are always a little quiet for you at this time of year – it's a known trend in your business. And if you find that you're making more money this month than you were last month or the one before, then great. You're winning! And definitely doing something right, so now it's a matter of working out what that is so you can make more of it. 
But what exactly are the metrics you should keep an eye on? 
What's your EPSPM and why does it matter?
We go on and on about this one. But it's important. Your EPSPM (bit of a mouthful, yes) is your Earnings Per Subscriber Per Month. And it's quite self-explanatory, really. It tells you how much money you're currently making for each of the subscribers on your list.
How to work it out? Look at how much you made in the last month, for example, and divide your sales by the number of subscribers you had on your list. If you made $1,000 and you have 1,000 subscribers on your list, each subscriber is earning you $1. That's the figure you want to look at – once you know that, you can easily see whether that goes up or down month on month. 
And you know why this is a fundamental metric in your business? Because while a lot of people are focused on growing their list, if you double your list but your EPSPM doesn't go up or, worse, goes down, then having more people on your list isn't a good thing! Because you're earning less, not more.
So if this month you're making $1 per subscriber and next month you double your list from 1,000 to 2,000 people, but you're still making $1,000, you've reduced the effectiveness of your email marketing because your EPSPM is now $0.50 and not $1.
Focus on making more money from your list
So here's a quick tip. Focus on making more money from the list you have rather than growing your list further. 
As we've said many times before, this is the exact reason why we got good at email marketing. Because we couldn't afford to build our email list by investing in ads. And we couldn't afford to upset people to the point they'd unsubscribe from our list either! So we had to really focus on how to earn more for each subscriber.
So our tip to you is to track this metric (the EPSPM) and make sure it's not going down as your list grows. Worst case scenario, you want it to stay the same. But ideally, you want that number to grow as your list grows. 
What do you do when you have a slump in sales?
Make More Sales with our Psychology-Based Email Marketing Membership
Psychology-based email marketing.
Complete email campaigns.
Video training.
Group coaching sessions.
Exclusive AutomateHero app.
So let's say you are tracking your EPSPM, and it is indeed going down. It's time to change things up. Because most of the time the reason why there are slumps in sales is that your audience has stopped listening to what you're saying. They feel they heard your message and know what it is. And if you have people like that in your audience who haven't bought from you yet, then it's time for you to start thinking about a different way of saying what you need to say. In other words, you need a new shop window. 
Think about physical shops on the high street. They do this – they change their windows regularly and multiple times a year. Big companies with an online presence do the same by refreshing the look and feel of their website or changing their logos. Even Google does this, often displaying different graphics or animations to celebrate and commemorate historic events, occasions, or anniversaries. As a user and a consumer, things like that help you pay attention and build a deeper relationship with the brand. And if the big names do it, why shouldn't small business owners like us do the same? 
How to prevent 'banner blindness'
We often talk about this idea of banner blindness or ad blindness which has to do with the fact that if you have the same stuff on your website or the same copy in your ads all the time, people just become blind to it. If you don't change your 'shop window', people become blind to your general messaging. 
For example, we love the Complete Daily Email strategy – our approach to sending an email every day and having it make sales all the time. But our main product is our membership – The League. Most of the time we just send emails about The League, and that just works a treat. But every now and then, when we feel there's a slump in open rates, click-through rates, or sales rates, the only way to fix that is to do something different – to veer off. To zag instead of zigging.
Sometimes you have to stop talking about the thing you've been talking about and talk about something different instead. For example, instead of sending people to your sales page every day, you could start sending them to a free video first. And then you could re-target the people who watched that video with email. It's all about changing the shop window and the way to do that is by thinking about the different ways you can put an offer together. How else can you present the thing that you want to sell? Could you, for example, put together a bundle, run a webinar, do a live event, run a challenge, or a week of live streams? Whatever you do, think about a different window dressing for the same shop. 
How to predict a slump in sales
Why get caught unprepared though? What if you could see the sales slump coming and could do something about it before you get in that situation? You could start watching out for the indicators that might suggest a slump is coming. If you're selling stuff by email, you might be able to see a slow decline in the number of people opening your emails and then clicking on your links. So your click-through rate is something to keep an eye on. 
Because if you see that going down it means that, for whatever reason, your messaging isn't convincing your audience. So this is where you need to act and think about what to do differently. Change things up – talk about something different so that what you're saying becomes different and interesting again.
How to use challenges to get out of a slump in sales
One of our favourite ways to drive people to something unique and different is to use a 5-day challenge. They work really well, but you need to get people to participate and convert. We spent a couple of years coming up with a way to run challenges that work. We perfected it and refined it until we got it completely nailed. And we created something called the Dual Reality Challenge.
It's a really cool automated way to have these challenges run for you via email. You can build them and run them as often as you want. You just drop your subscribers in and get people to register, participate, and then buy from your business. So if you want to grab that, here's the link. It will give you an instant way to change up the shop window in your business and start selling more of your stuff with challenges.
Oh, by the way, when you buy the Dual Reality Challenge you can have every single email and every bit of influence and the psychology we build into our email campaigns. But this is only available at this price for 5 of 6 days from the date this episode goes live on the 13th October 2021. So if you're listening or reading in the future, this offer will have expired, and the only way to get this campaign will be to join our membership, The League. 
Subject line of the week 
This week's subject line of the week is "Leave me alone." This was done as part of a split test against another subject line, and "Leave me alone" was the winner. Why? Because it's an interesting contradiction, bearing in mind we are the email marketers bombarding with emails – not the other way round!
The whole premise of this email was about the fact most people get really annoyed by SMS text message marketing. This email was prompted by a particular situation when Rob got fed up with a marketing text message, and he went on to talk about the right way to use SMS marketing along with your email marketing. Quite interesting, right?
Useful Episode Resources
Related episodes
How to turn data into amazing outcomes – learn about Measuring Marketing with Chris Mercer.
How to amplify email marketing campaigns with SMS messages, Clate Mask from keap. 
17 No Cost Ways To Build Your Email List.
FREE list of the top 10 books to improve your email marketing
If you want to write better emails, come up with better content, and move your readers to click and buy, here's how. We put together this list of our Top 10 most highly recommended books that will improve all areas of your email marketing (including some underground treasures that we happened upon, which have been game-changing for us). Grab your FREE list here. 
Join our FREE Facebook group
If you want to chat about how you can maximise the value of your email list and make more money from every subscriber, we can help! We know your business is different, so come and hang out in our FREE Facebook group, the Email Marketing Show Community for Course Creators and Coaches. We share a lot of training and resources, and you can talk about what you're up to.
Try ResponseSuite for $1
This week's episode is sponsored by ResponseSuite.com, the survey quiz and application form tool that we created specifically for small businesses like you to integrate with your marketing systems to segment your subscribers and make more sales. Try it out for 14 days for just $1.
Join The League Membership
Not sick of us yet? Every day we hang out in our amazing community of Email Marketing Heroes. We share all of our training and campaigns and a whole bunch of other stuff. If you're looking to learn how to use psychology-driven marketing to level up your email campaigns, come and check out The League Membership. It's the number one place to hang out and grow your email marketing. Best news yet? You can apply everything we talk about in this show.
Subscribe and review The Email Marketing Show podcast
Thanks so much for tuning into the podcast! If you enjoyed this episode (all about how to get out of a sales slump) and love the show, we'd really appreciate you subscribing and leaving us a review of the show on your favourite podcast player.
Not only does it let us know you're out there listening, but your feedback helps us to keep creating the most useful episodes so more awesome people like you can discover the podcast. 
And please do tell us! If you don't spend time on email marketing, what do you really fill your working days with? We'd love to know!