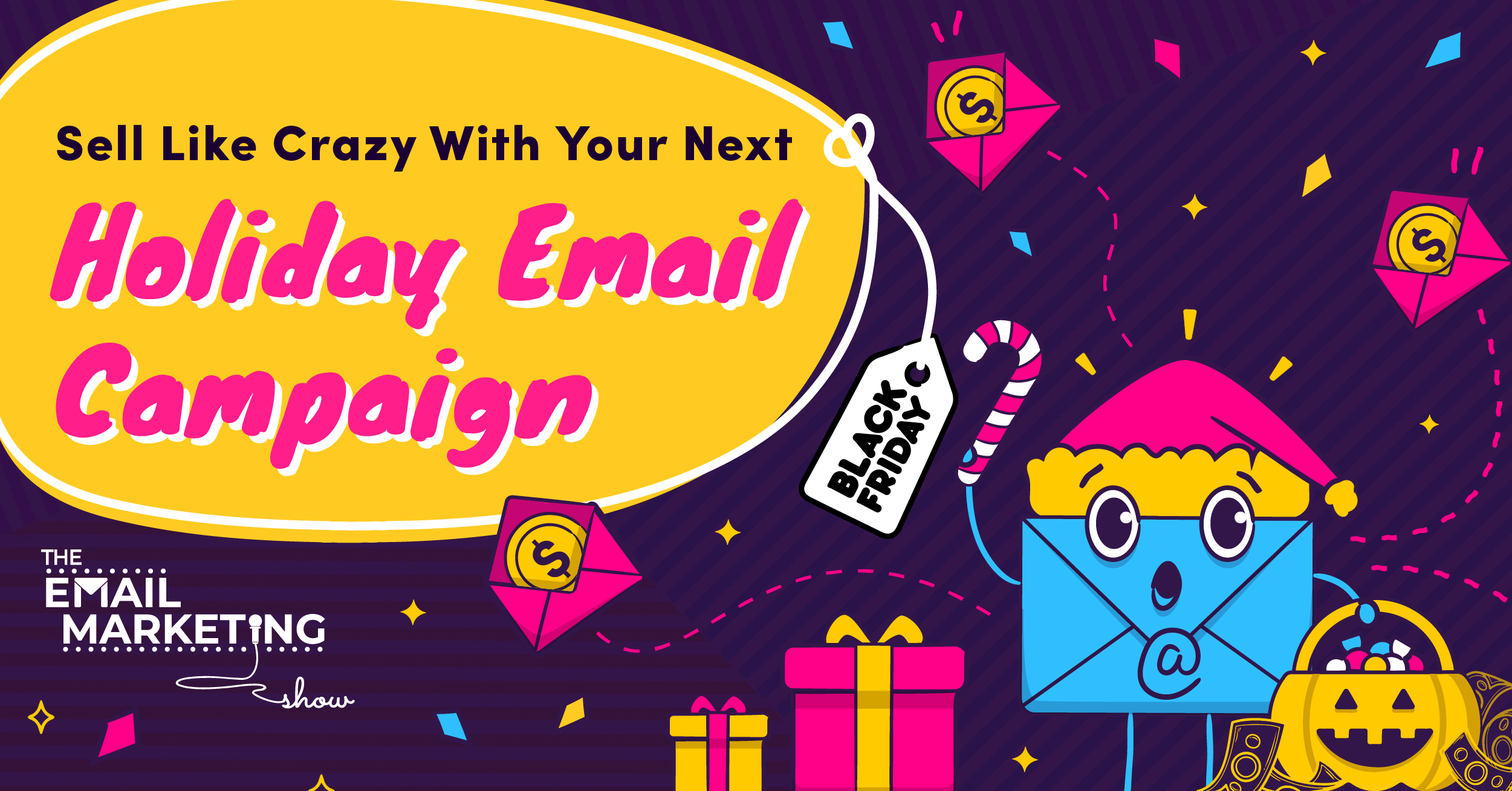 How To Create An Awesome Holiday Email Campaign That Gets Your Offer To Sell Like Hot Cakes So People Buy Like Crazy
Is it a good idea to launch a holiday email campaign to acknowledge Black Friday, Christmas, New Year's, Easter, Mother's Day, Father's Day, Back to School, and any other holiday or occasion you can think of? It could even be Tacos Tuesday if you want!
Yes, indeed it is.
So let's talk about holiday email marketing campaigns. Because you want to do these right.
Ready to find out how to get your subscribers to buy like crazy when you launch your next holiday offer?
SOME EPISODE HIGHLIGHTS: 

(0:08) Join our FREE Facebook group.
(3:32) Why are holidays a good time for email marketing?
(6:40) The psychology behind deals and promotions.
(9:20) Why holidays are a tricky time for email marketing?
(10:55) Create a dedicated offer for that specific holiday.
(14:40) Prep people for the offer in advance.
(17:13) Launch your holiday offer and surround the market.
(20:24) Running a successful holiday email marketing campaign.
(21:00) Get people to click on the links in your emails - check out Click Tricks!
(22:24) Subject line of the week.
Why are holidays a good time for email marketing?
Psychologically speaking, when you launch a promotion or a special offer to mark or acknowledge a holiday, you're creating momentum and giving people a reason to buy. A lot of copywriting advice emphasises the importance of using the word "because" in your copy. And we often talk about that too. If you're running a discount or a special offer, give people a reason why you're doing it. It could be anything, but make sure to have a reason. And a holiday is a reason in itself!
A great example of this is Prime Day. Amazon went and created their own time of year and reason for having a sale! And it's no coincidence that they run it in October, which is typically a quieter time for retail. They've effectively manufactured a holiday! Another example is Boxing Day, which is big in the UK but not everywhere in the world. A lot of people will wait until just after Christmas to buy discounted goods in the Boxing Day sale. And why wouldn't they?
The psychology behind deals and promotions
So why are holidays so good? Because people are in proactive, spending mode. It's the actual opposite of when they're scrolling on social media, and they suddenly see an ad – this is called interruption marketing. When a holiday is coming up, we're all out there looking for deals. And a holiday promotion (or a sale) is giving your customers an excuse to buy and justify to themselves why they're buying something.
Think about 3 for 2 deals, for example. When we see those types of promotions, we end up buying 3 products instead of the one we originally wanted! So spend more money but still feel like we got a great deal. We got something for free, right? Would we have spent that much money in the first place? Probably not! This shows the promotion worked – we spent more and feel great about it, too. It's because of the self-justification that happens when people grab a deal. And as business owners, we can tap into that.
Holidays are the perfect opportunity to get customers to feel good about their purchases. And that's not in a scammy, unethical, or dodgy way. Because you're definitely selling them something worthwhile, and they feel happy with that purchase.
Why holidays are a tricky time for email marketing?
Obviously, holidays are busy times when it comes to people's inboxes. As a consumer, you must have noticed the increase in email volume. Because everyone is doing a promotion! Think of all the emails we get about Black Friday deals in November, for example.
There's definitely a lot of noise, and if you're doing your own promotion and sending emails about it, you're competing for people's attention. Your job at this point is to try and stand out. And you want to do that by making sure that in the run-up to your holiday promotion, your deliverability is good.
For example, if you only email your list once a year on Black Friday, chances are that a lot of your emails won't be delivered on that day. Email platforms like Gmail, on those days specifically, know that there's going to be a higher volume of emails. And because of the increased security, a lot of them won't even make it to someone's inbox. So you need to make sure your sender's reputation is great by working on it all year round.
Create a dedicated offer for that specific holiday
So how do you stand out with your holiday email marketing campaigns? The first thing you can do is to put together a dedicated offer specifically for that holiday. That means you should avoid rolling the same thing out every year. Don't use every holiday opportunity to sell things from the same angle. If you use the same discount or offer, you're acting like the furniture store where the sale never ends! (You know the one).
In this time and age, you definitely want to be more thoughtful about the offers you create. So think about a way to tie your promotion to the specific holiday, rather than offering the same promotion again and again.
If you are the type of business that can do that, try and relate your offer to the occasion. A restaurant, for example, could have mums eating for free on Mother's Day. We understand that's not always possible or applicable to your business, but definitely keep it different and fresh every time. If you sell courses, for example, you could bundle a couple of them together, and then change that combination up for your next holiday promotion.
Prep people for the offer in advance
Another tip we can give you is to prime people in advance of your promotion. Don't just spring the offer on your list at the last minute! Instead, let them know a bit earlier. Tease them and build them up to the offer. You could do that by showcasing what's going on behind the scenes, for example. Build up their excitement so they're queued, primed, and ready for the day.
For example, a couple of days before the offer goes live you could run a piece of Facebook ad. Talk about something interesting that has to do with your niche (not your offer, necessarily), and try to build an audience around that. You just want people to get interested in what you do, so you can send them to a waiting list and ask them to opt in to hear more about your sale.
When you're ready, you start emailing the people on the waiting list and your usual subscribers, too. You could build excitement by showing the behind-the-scenes of what your offer is. That can be as simple as recording a video showing them what's in the sale but without telling them the price. You share when it's going live, what they're going to get, and how much it's worth. But you don't tell them how much they can get it for.
This way, you build up the hype so that people are ready and waiting for you. You effectively give them the heads up. You're telling them that there is going to be a sale for that particular holiday, and they can soon take advantage of it.
The Top 10 Books To 'Power Up' Your Email Marketing
10 book recommendations that will improve all areas of your email marketing (including some underground treasures that we stumbled upon which have been game-changing for us).
Launch your holiday offer
The next step is to launch the offer. To build up the anticipation for it, you send a few emails saying that the sale is coming. You can do a preview or some teasing to add anticipation and curiosity. You could even have people guessing what's going to be included in your offer and ask them to hit reply to get some engagement out of it.
You then send a bunch of emails about it (and probably more than you normally would), and that campaign will culminate with the announcement that the offer is finally here. You might feel uncomfortable with the amount of emails it takes to build anticipation and excitement for this promotion. But we guarantee you won't be uncomfortable with the amount of sales it generates and how much you put in the bank because of it! That's a good trade-off, don't you think?
To give you an idea, you might send a couple of emails every day in the lead-up to the launch and then even 3 emails on the day when the promotion closes. The last email on the last day is the final warning to say that the cart is about to close, and you'd hate for people to miss out and have to pay full price. So be comfortable with sending lots of emails to drive people towards your offer!
Surround the market
We use a strategy that we call surrounding the market. All it means is that you want to tell people everywhere about your promotion. So as you're building your waiting list of people, keep running ads to those who watched your videos and showed interest in your product, for example.
You want to create what we call an environment of zero competition through your email list and on your social media. In other words, wherever people look, they'll see your offer because that's all you're talking about at the moment. And the great news is that you don't need a huge budget for that – just a bit of forethought.
Running a successful holiday email marketing campaign
By now, we hope we convinced you that you don't want to wake up on the morning of a holiday and decide to run a promotion just because everyone else is. That's probably not going to be hugely effective for you. You missed the boat! If that's the case, just consider it a lesson learnt and get ready to launch a campaign for the next holiday. Start preparing, planning, and writing the material, and go out all guns blazing on the next campaign.
Not sure where to start? Pretty much all of the email marketing campaigns inside our membership The League will work for this. We have a dedicated Black Friday campaign, but this can be applied to any other holiday or period. And once you tie your offer with the work you're doing on other platforms (social media, ads, etc.) you've got the recipe for a successful holiday email campaign.
Get people to click on the links in your emails!
Obviously, to get people to see your offer, you first need to make sure they open your emails and click on the links inside to go check out the sales page. And in order to do that, you'll want to maximise your chances by training your subscribers to click on the links inside your emails. Because if they don't, they'll never get to the stage where they can enter their credit card information and buy from you! So don't let your audience become blind to the links in your emails and scroll past them simply because they always look the same.
That's why we created a FREE resource with 12 different ways of dressing up the links in your emails. It helps you capture people's attention and makes them want to click and go check out your offers. If you want to get your mitts onto this lovely free piece of content, go grab Click Tricks.
Make More Sales with our Psychology-Based Email Marketing Membership
Psychology-based email marketing.
Complete email campaigns.
Video training.
Group coaching sessions.
Exclusive AutomateHero app.
Subject line of the week
This week's subject line is "We've kept this secret (from you)." And it's an interesting idea because it sounds like we're building up to a surprise. But then because we added the bit "from you" in brackets, it makes the subject line sound almost sinister. It's like we didn't tell you, specifically, about this thing. Does it mean everyone else knows? No one wants to be the butt of a joke, right? So people will open the email driven by curiosity to find out what that's all about. Check it out!
Useful Episode Resources
Related episodes
How To Run A Smashing Flash Sale With One of The Best Email Marketing Campaigns In The World.
How To Get Back On The Email Wagon When You Fall Off (Back To School Edition)
The 2 Best Times Of Day To Send Promotional Emails – Making Bank With Paul Counts.
FREE list to improve your email marketing
If you want to write better emails, come up with better content, and move your readers to click and buy, here's how. We put together this list of our Top 10 most highly recommended books that will improve all areas of your email marketing (including some underground treasures that we happened upon, which have been game-changing for us). Grab your FREE list here.
Join our FREE Facebook group
If you want to chat about how you can maximise the value of your email list and make more money from every subscriber, we can help! We know your business is different, so come and hang out in our FREE Facebook group, the Email Marketing Show Community for Course Creators and Coaches. We share a lot of training and resources, and you can talk about what you're up to.
Try ResponseSuite for $1
This week's episode is sponsored by ResponseSuite.com, the survey quiz and application form tool that we created specifically for small businesses like you to integrate with your marketing systems to segment your subscribers and make more sales. Try it out for 14 days for just $1.
Join The League Membership
Not sick of us yet? Every day we hang out in our amazing community of Email Marketing Heroes. We share all of our training and campaigns and a whole bunch of other stuff. If you're looking to learn how to use psychology-driven marketing to level up your email campaigns, come and check out The League Membership. It's the number one place to hang out and grow your email marketing. Best news yet? You can apply everything we talk about in this show.
Subscribe and review The Email Marketing Show podcast
Thanks so much for tuning into the podcast! If you enjoyed this episode (all about how to run a super successful holiday email campaign over and over) and love the show, we'd really appreciate you subscribing and leaving us a review of the show on your favourite podcast player.
Not only does it let us know you're out there listening, but your feedback helps us to keep creating the most useful episodes so more awesome people like you can discover the podcast.
And please do tell us! If you don't spend time on email marketing, what do you really fill your working days with? We'd love to know!