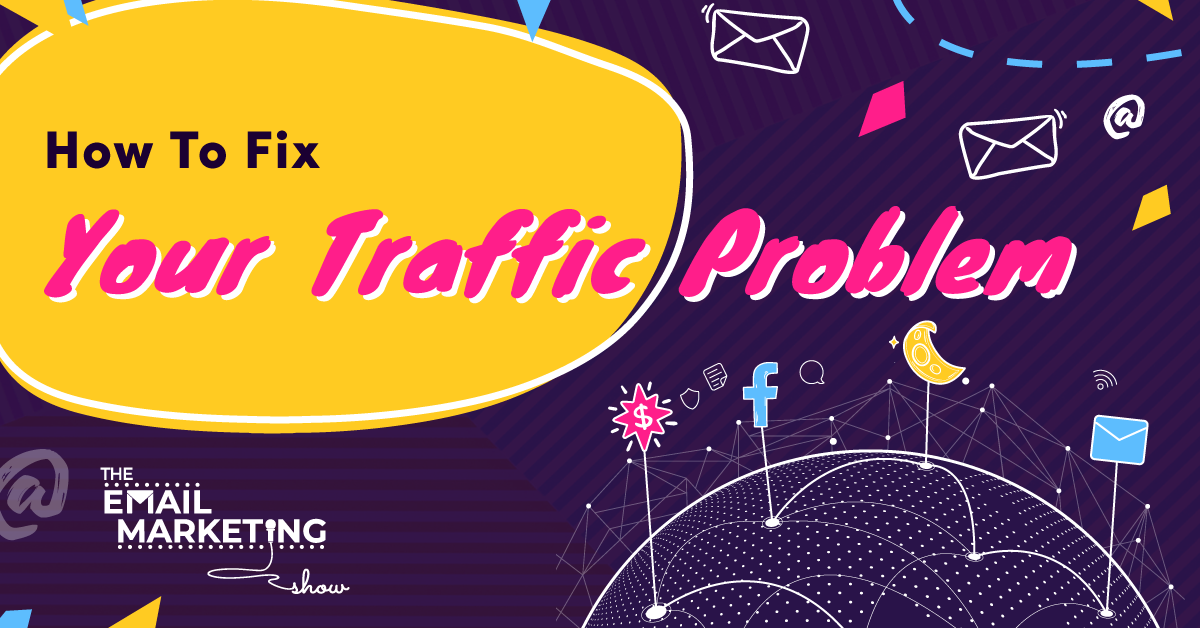 Fix Your Traffic Problem For Good, With Todd Brown
Are you struggling to build your email list? Do you think you have a traffic problem? Then think again! Because today, Todd Brown explains exactly why list building has absolutely nothing to do with traffic (zero, nil, null) and everything to do with maths and economics. Ready to learn how to fix your traffic problem for good?
If you do nothing else, just pay attention to this. You'll never look at your business the same way again. Honestly!
SOME EPISODE HIGHLIGHTS: 

(0:22) Join our FREE Facebook Group.
(2:44) Did Todd really work in a bakery?
(5:12) You are an investor in your own business.
(9:58) Is your traffic too expensive?
(13:58) The 'Golden Ratio'.
(18:28) The true economical foundation of your business.
(20:40) You don't have a traffic problem!
(23:09) Decrease costs or increase value?
(30:00) It's a game of iteration.
(37:23) Subject line of the week with Todd Brown.
You are an investor in your own business
This is probably one of the most important marketing principles you're going to learn. Ever. It doesn't matter what product you sell, in what marketplace, and at what price point. If you're an entrepreneur, you are an investor. Because you are investing in the acquisition and development of assets. And these assets are your customers or clients.
The day you acquire a new customer (or new buyer), they'll spend a certain amount of money with you in their first transaction, and that's the average value of that new buyer. If they buy from you more than once, that value increases – that's the future value of that asset.
There's also a cost (to you) attached to acquiring that customer. Maybe you're paying for social media ads? As a business owner and therefore an investor in your own business, you need to know these two numbers – the cost and the value of acquiring a new buyer.
Is your traffic too expensive?
So with that cleared up, it's easier to understand that when most entrepreneurs complain they have a 'traffic problem', they're really saying that the traffic to acquire a new buyer is too expensive. If it costs you $100 to run Facebook ads to acquire one buyer who only spends $50 with you, you're losing money. Simply because acquiring that customer is costing you more than what they'll spend with you.
But if you get that buyer to spend more with you in their first transaction (and also to buy from you again and again), then you increase the value of that asset to your business. And then you can easily pay for the traffic to acquire them in the first place.
So if your traffic is too expensive, you need to increase the value of your asset. And you no longer have a traffic problem! Because you're now able to pay to acquire that customer. It's a simple mathematical equation!
Conversion rates, opt-in rates, upsell rates, and lots of other performance metrics tell you whether a marketing campaign is working. But what they don't tell you is whether that campaign is financially viable. Because as an investor in your own business, something is only viable for you if you're making money back. And in order to know if you do, you need to know the cost and value of each asset.
When you're able to manipulate those two numbers, the game becomes easier. And it doesn't matter if you're paying an arm and a leg to get a click, a lead, or a sale. If the asset is worth that amount and more, you're winning. If your customers have a high lifetime value that's more than what you're paying to acquire them, you no longer have a traffic problem!
The 'Golden Ratio'
We think it's great that Todd talks about small and micro business owners such as the people we serve (i.e. those who sell courses, memberships, and coaching) as investors. Because it's important to emotionally detach yourself from the product or service you created. Sure, you want it to be good quality and good value. But if you were 'just a money person' investing money into your business, you'd only continue to do so if it made financial sense.
Todd talks about this concept of the 'Golden Ratio'. For every $1 you spend on Facebook ads (or other traffic sources), you want to make at least $1 in sales revenue. You can replace that $1 with any number, but as long as the two numbers in that equation match, you have your Golden Ratio, which means you're acquiring a new buyer for free.
Dan Kennedy once said something along the lines of "the typical marketer or entrepreneur will get a customer to generate a sale. But the savvy direct-response marketer thinks about generating a sale to make a customer. " This may sound like a simple play on words, but, as Todd pointed out, it's very profound! As direct-response marketers, we are running campaigns designed to turn prospects into buyers.
The point of all front-end marketing campaigns is to turn cold traffic, visitors, or prospects into new buyers. In other words, the aim of the front end is gaining the maximum number of new buyers – it's not about maximum profit or contribution to the bottom line. You're trying to acquire the highest number of buyers you possibly can. And if you adhere to the Golden Ratio, you're acquiring buyers for free – no matter what your numbers are.
The true economical foundation of your business
Mathematically, that would mean you're making no money. But you're acquiring buyers. And that's enormously valuable because the real heart and soul of the business are the subsequent transactions that a customer makes with you.
And because of that, the back end (i.e. your email marketing) becomes your primary vehicle to generate further transactions. This is the true economical foundation of your business. You're acquiring assets (at a cost) that have a future value to you. And then you're nurturing them by delivering value to them to increase that future value. Your job as a marketer is to acquire as many assets as possible. And your job as a business owner and investor is to make their future value greater than their cost.
You don't have a traffic problem!
Funnels, lead generation, and list building are maths problems. It's not about the fact you're not converting well. You probably are converting! But the numbers are making it impossible for you to win the game. You can never win if the economics don't work!
If you're paying $5 per click, and all you sell is a $19 eBook, you won't be making any money from this business. Because it would simply be too expensive for you to acquire new buyers. That's not a traffic, source, or marketing problem.
Even if you had a crazy high sales conversion rate of 10-15%, you'd still be losing money. You have to either change the price point or your whole business model in order to increase the value of each customer. Or it'll never work. This will never be fixed with better marketing because it's a numbers problem!
The Top 10 Books To 'Power Up' Your Email Marketing
10 book recommendations that will improve all areas of your email marketing (including some underground treasures that we stumbled upon which have been game-changing for us).
Decrease costs or increase value?
If you feel your traffic is too expensive, you might be tempted to try and reduce the cost per click (and get cheaper traffic). That's certainly one way to go in order to achieve the Golden Ratio. The problem is that the value of traffic is largely determined by the marketplace because it depends on supply and demand. So the bulk of what you pay for traffic is mostly out of your control, and there's only so much you can do to reduce your costs.
The second thing you can do (and the easier and smarter option because it gives you longevity) is to work on the value of a buyer. Increasing the value of an asset is easier than reducing the cost to acquire it. Also, getting buyers to spend more with you is much simpler than getting someone to buy from you for the first time. Increasing the average transaction is easier than converting more prospects. So what can you offer your existing customers to increase their average transaction size?
As Todd explained, it doesn't matter whether you only sell high-ticket products to low volumes or low-ticket products to large volumes – there's value in both business models. High-ticket items give you a tremendous advantage because you could have crappy marketing on the front end (and convert below average) and still continue to run your business. And that's because, in that scenario, your back-end campaigns only have to extract a large amount of money from a small number of buyers.
As an example, you could potentially grow a large business with a small 1.5% sales conversion – because it's all about the numbers! If a customer you acquired for $100 is worth to you six times more, you don't have to be a tremendous marketer to make that business model work.
It's a game of iteration
Don't you agree that this conversation is the single most important list-building and audience growth acquisition conversation you could ever have?
People often buy into this idea that you'll come up with a marketing campaign, launch it, and you'll have arrived. Unfortunately, that's not the game. It's a game of iteration. You track and test everything, and you improve over time. You shouldn't think that the day you launch your first campaign, you hit a home run!
And we all have fears when launching a campaign. Because no one wants to come across as obnoxious, pushy, sleazy, and slimy. The key is to have the intention to offer your buyers more value. There will always be people out there who love you, tolerate you, or can't stand you at all. And that's okay – your marketing and your business aren't for everyone. You have no control over what other people think about you. But despite how people feel about you and your marketing, it doesn't change who you are or your motivations.
Make More Sales with our Psychology-Based Email Marketing Membership
Psychology-based email marketing.
Complete email campaigns.
Video training.
Group coaching sessions.
Exclusive AutomateHero app.
Subject line of the week with Todd Brown
Todd shared the most jarring subject line he ever received in his life, which is something his once boss sent him a long time ago. Picture the fact that Todd received this email in his office (at the time) with glass doors all around. And the subject line said "naked pics of barry white". Todd was literally terrified of opening this email in case someone saw what was in it. In the end, he opened it, and the email had absolutely nothing to do with the subject line.
But there's a lesson there. The subject line worked because it broke a pattern and was unexpected. Now, don't go using this exact subject line (Todd says), but you get the point, right? So try it out!
Useful Episode Resources
About Todd
If you want to connect with Todd, you can find him on his website, where you can also find out more about the E5 Method.
Related episodes
Making Yourself Choosable with Belinda Weaver.
Lies You've Been Told That Are Stopping You From Making Money In Your Business.
Mistakes You're Making With Your Email Marketing Automation Strategy.
FREE list of the top 10 books to improve your email marketing
If you want to write better emails, come up with better content, and move your readers to click and buy, here's how. We put together this list of our Top 10 most highly recommended books that will improve all areas of your email marketing (including some underground treasures that we happened upon, which have been game-changing for us). Grab your FREE list here.
Join our FREE Facebook group
If you want to chat about how you can maximise the value of your email list and make more money from every subscriber, we can help! We know your business is different, so come and hang out in our FREE Facebook group, the Email Marketing Show Community for Course Creators and Coaches. We share a lot of training and resources, and you can talk about what you're up to.
Try ResponseSuite for $1
This week's episode is sponsored by ResponseSuite.com, the survey quiz and application form tool that we created specifically for small businesses like you to integrate with your marketing systems to segment your subscribers and make more sales. Try it out for 14 days for just $1.
Join The League Membership
Not sick of us yet? Every day we hang out in our amazing community of Email Marketing Heroes. We share all of our training and campaigns and a whole bunch of other stuff. If you're looking to learn how to use psychology-driven marketing to level up your email campaigns, come and check out The League Membership. It's the number one place to hang out and grow your email marketing. Best news yet? You can apply everything we talk about in this show.
Subscribe and review The Email Marketing Show podcast
Thanks so much for tuning into the podcast! Thanks so much for tuning into the podcast! If you enjoyed this episode (all about how to fix your traffic problem for good) and love the show, we'd really appreciate you subscribing and leaving us a review of the show on your favourite podcast player.
Not only does it let us know you're out there listening, but your feedback helps us to keep creating the most useful episodes so more awesome people like you can discover the podcast.
And please do tell us! If you don't spend time on email marketing, what do you really fill your working days with? We'd love to know!