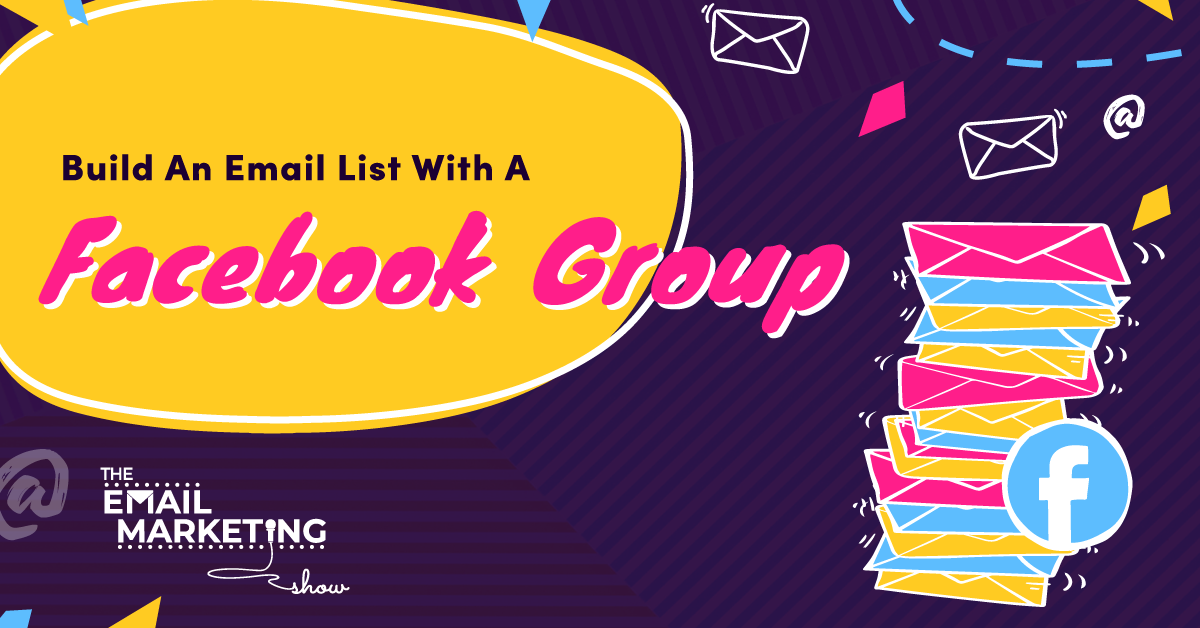 How We Used A Facebook Group To Build Our Email List From Scratch
Facebook group, email list. Can you use one to grow the other? We certainly did. And here's exactly how we built our email list to make the first $100k+ in this business in 12 months using a FREE Facebook group.
Want to know how you can do that too in your business?
Let's dive in.
SOME EPISODE HIGHLIGHTS: 

(0:15) Join our FREE Facebook Group.
(3:53) Our Facebook group - how we started.
(6:41) Our Facebook group - how we captured people's attention.
(10:36) Stop doing things that aren't working.
(12:34) Why we created a traffic loop.
(14:53) Try different types of posts.
(17:27) Your Facebook group is full of your ideal clients!
(19:47) Use traffic loops to make more sales. 
(22:31) Check out our new course - Group Loops.
(24:45) Subject line of the week.
Our Facebook group – how we started
When we first started our business, we thought having a Facebook group was a cracking idea. And the reason for that was (and still is) that we wanted to leverage Facebook's massive audience. Because there are billions of people on the platform! And we wanted some of those people to see our offers.
Back then, we couldn't afford to pay for ads though. And in order to do what we do, we had to build our email list.
So we started a free Facebook group. Then we bought a bunch of courses to learn about the conventional wisdom that other people were teaching. We even put a member of staff in charge of our Facebook group.
But the whole thing just failed. Our Facebook group was tumbleweed – a ghost town. People weren't joining, there was no engagement, and the Facebook group wasn't doing anything for us.
Of course, we didn't want to have a Facebook group for the sake of having one. We wanted to leverage the algorithm by genuinely doing what Facebook wants to do. And that's to attract people to communities and keep them on the platform. We wanted to leverage Facebook to build an email list. So what we're sharing here is how to create and run a Facebook group that helps you get people onto your email list and make sales.
Our Facebook group – how we captured people's attention
At first, we couldn't get the Facebook group to work for us. People simply wouldn't engage or post. So we gave up.
But then we realised that in the previous 18 years of running various businesses, we'd never been able to make a lot of conventional wisdom work for us – certainly not around email marketing. And the same happened with Facebook marketing.
So we decided to figure this Facebook group thing out ourselves. We needed people to join our email list and having a Facebook group seemed to be the only thing that would allow us to do that for free and at scale – in a way that would bring in people consistently and could be scalable. Unfortunately, we didn't have the luxury of having a large email list that would allow us to launch a Facebook group and make it popular. We were at a disadvantage there. So Kennedy took on this task – he made it his obsession to figure it all out.
He started out by making two posts every single day, even if at first he was shouting into the void because the community wasn't engaged. Often, Kennedy would post twice a day and get no responses. But he kept going. And it wasn't until we hit 100 members that people started to comment. When we hit 300 members, people started to post themselves, and that was a real milestone.
We got to that point by posting consistently and talking about our Facebook group wherever we were – during podcast interviews, training in other communities, etc. We treated our Facebook group as our lead magnet and started mentioning it in every conversation. Eventually, it all started working. Facebook started recommending our group to people as something they might want to join, and that's when we started capturing people's attention.
Stop doing things that aren't working
Another thing we did was to stop doing the things that were not working. A lot of conventional wisdom was giving us tips that weren't working for us for any sustained period of time. So we started testing other strategies instead. And that's what made all the difference.
One of the things we wanted was to make sure we didn't rely on just one method of getting people's email addresses. We knew that the Facebook group wasn't going to be our business model – we wanted people inside our email list! So we'd ask people who joined our Facebook group to also give us their email addresses and join our list.
And as the group started growing, we started thinking of different ways to move people from the group and onto our list. We'd give people the option to give us their email addresses when joining the group, but would also create specific posts in the Facebook group to recommend our lead magnets so people would join our list by downloading those. In other words, we'd give people more opportunities to join our list because that's our ultimate destination. That's how we grow our business.
Of course, you have to get the balance right here. You don't want to pitch your products all the time, even if they're free. So we looked at creating the right balance of value, questions, engagement, and pitches for free lead magnets.
Why we created a traffic loop
The advice from experts about Facebook groups was very one-directional. But that didn't work for us, so we created what we call a traffic loop, which is something critical to get the maximum return on your investments.
We created a loop where people come into the Facebook group and join our email list. But we know that Facebook relies on people engaging – they want people to comment and post. Because that's what makes Facebook recommend your group to more people. So to leverage that, we started emailing our list (that we'd grown mainly through our Facebook group) by signposting content we'd shared in the Facebook group and asking them to go and check it out and share their opinions. That way, we'd create a surge of comments and engagement on the posts that, in turn, got Facebook's attention.
And what happened then? Facebook started recommending the group to more people. So we used the Facebook group to grow our list and our list to create more engagement in the Facebook group and reach a bigger audience – we created a traffic loop. Moving people from your Facebook group onto your email list and then aiming to sell to them from there isn't everything. You need to create this traffic loop and perpetual growth. Because that's what will work this year and beyond.
The Top 10 Books To 'Power Up' Your Email Marketing
10 book recommendations that will improve all areas of your email marketing (including some underground treasures that we stumbled upon which have been game-changing for us).
Try different types of posts
Another thing we did in the early days of driving engagement inside our Facebook group was to run live training sessions. Kennedy went live in the group daily for a period of around two months by delivering content that was repurposed from our emails and by sharing some sort of story. In other words, we used the same framework we teach with daily email marketing but with Facebook live videos inside our group.
We even did a 24-hour podcast lunacy (not once but twice!) where we stayed awake and had guests and interviews to drive interest and engagement to the group. Now, we wouldn't recommend you do that, as in all honesty, it didn't make a huge impact on the group. But find different reasons to post and go live. You want to show people the person behind the group, and live training sessions are a great way of doing that.
Now that our group has grown and is more engaged, we don't need to do that anymore, but in the early days, it was a good way to kickstart things and get the ball rolling. It's something that gets people's attention and prompts them to join the group.
We have 30+ different types of posts!
Did you know we use 30+ different types of posts inside our Facebook group to drive engagement and encourage people to take various types of action? We may ask them to invite other people to the group, for example. Or prompt them to buy. But the key is to be varied.
This is one of the things we learnt and tested out. We even tried different themes for the various days of the week that would dictate the post for the day, like a Monday Motivation post. Initially, this got us great engagement, but after a while, things died down because people got used to it. And that's why you need variety.
Your Facebook group is full of your ideal clients!
The other thing we love about having a Facebook group (and the reason why recommend you have one) is that it's a great way of understanding the people you're selling to. Your group is full of your ideal customers, i.e. the people who are going to buy from you and grow your business. What they post or ask in the group and the way they comment will give you ideas for more content.
But also, how you present your product and services is completely informed by how people communicate about the problems that they are trying to solve. This means you can present what you sell in a way that you know for a fact will resonate with the people who want to buy from you. Plus, you can also run research through surveys and polls, which is another way of communicating with people outside of email marketing. It's a different channel that will help you collect information and in a much more valuable way than creating an abstract customer avatar!
Seeing what kind of people are attracted to (and stay in) your group is super powerful to you. And so is looking at what type of content they engage with and having the ability to survey them and ask them questions. In fact, this is infinitely more powerful than trying to artificially create an avatar and hoping for the best. You want to make sure your ideal client is accessible – and the people inside your Facebook group are! They came into your world, so you now have access to them and can find out more about them.
Use traffic loops to make more sales
Having a Facebook group also helped us test selling in there. It became a way to find out how to get people to buy from us and amplify what we're already doing by email. We were able to get people to raise their hands and express interest before putting together an offer, for example. So a Facebook group can be a low-pressure, non-salesy way to check whether people are interested in something you want to put together. If there's no response or very little engagement, you'll know it's not a great idea. But if you see a sudden rush and people jumping onto the post to say they're interested, it gives you a better indication that something's worth pursuing.
This is exactly how we made our first six figures in this business. And the reason why it worked so well is that through our Facebook group, we were able to build much deeper relationships with every email subscriber. On top of being the people who'd show up in their inboxes, we were also people they'd see when scrolling on Facebook. And that helped us increase our level of know, like, and trust with our subscribers. That is exactly how we were able to make such a high amount of sales from every email subscriber on our list – by using this traffic loop system.
Running a Facebook group helped us make over $100,000 in our first year of this business. And that's because it gave us more engaged and higher-converting subscribers than we'd ever had from any traffic source, including Facebook ads. And our Facebook group wasn't huge – we had under 2,000 people at that point! That proves you don't need a huge group or a huge email list (our list was smaller than that at the time!)
Check out our new course – Group Loops
If you also want to build a Facebook group that is attractive to people and gets recommended by no other than Facebook to its own users, and if you want to know:
How to set up your personal profile so it enhances your group.
All the different techniques to grow, engage or re-engage a dead group.
The 30+ types of posts that we used to grow the group and get people to take action, raise their hands, and buy from us.
How to monetise your group, grow your list, and help you make significant sales.
And a lot more…
We have an awesome programme called Group Loops that is based on the idea of creating an infinite traffic loop where your email list feeds your Facebook group, and your group feeds your email list.
If you want to take a look, the link is here. And with the cost of advertising going up and gaining organic traffic getting harder, you do want to leverage the audience that's already on Facebook. That will help you create your own community where you can be seen as the thought leader.
Make More Sales with our Psychology-Based Email Marketing Membership
Psychology-based email marketing.
Complete email campaigns.
Video training.
Group coaching sessions.
Exclusive AutomateHero app.
Subject line of the week
This week's subject line is "Peekaboo (I see you)" and the emoji of the little eyes. Here we used a classic, familiar expression that people use.
But we could have also flipped the phrase on its head and done the opposite. For example, we could have combined the word "Peekaboo" with something completely different. And that would also work because it creates what we call a 'pattern interrupt'. That's when the words used aren't what you expected. But in this case, this subject line got engagement because it creates a feeling of familiarity and intrigue. Try it out!
Useful Episode Resources
Related episodes
How Facebook Groups and Webinars Make Matthew Harrington a Happy Man.
Build A Facebook Group To Build Your Email List With Arne Giske From Group Funnels.
Stop Wasting So Much On List Building by Using Traffic Loops.
FREE list of the top 10 books to improve your email marketing
If you want to write better emails, come up with better content, and move your readers to click and buy, here's how. We put together this list of our Top 10 most highly recommended books that will improve all areas of your email marketing (including some underground treasures that we happened upon, which have been game-changing for us). Grab your FREE list here. 
Join our FREE Facebook group
If you want to chat about how you can maximise the value of your email list and make more money from every subscriber, we can help! We know your business is different, so come and hang out in our FREE Facebook group, the Email Marketing Show Community for Course Creators and Coaches. We share a lot of training and resources, and you can talk about what you're up to.
Try ResponseSuite for $1
This week's episode is sponsored by ResponseSuite.com, the survey quiz and application form tool that we created specifically for small businesses like you to integrate with your marketing systems to segment your subscribers and make more sales. Try it out for 14 days for just $1.
Join The League Membership
Not sick of us yet? Every day we hang out in our amazing community of Email Marketing Heroes. We share all of our training and campaigns and a whole bunch of other stuff. If you're looking to learn how to use psychology-driven marketing to level up your email campaigns, come and check out The League Membership. It's the number one place to hang out and grow your email marketing. Best news yet? You can apply everything we talk about in this show.
Subscribe and review The Email Marketing Show podcast
Thanks so much for tuning into the podcast! Did you enjoy this episode about having a Facebook group and email list – can you use one to build the other? If you did and love the show, we'd really appreciate you subscribing and leaving us a review of the show on your favourite podcast player.
Not only does it let us know you're out there listening, but your feedback helps us to keep creating the most useful episodes so more awesome people like you can discover the podcast. 
And please do tell us! If you don't spend time on email marketing, what do you really fill your working days with? We'd love to know!