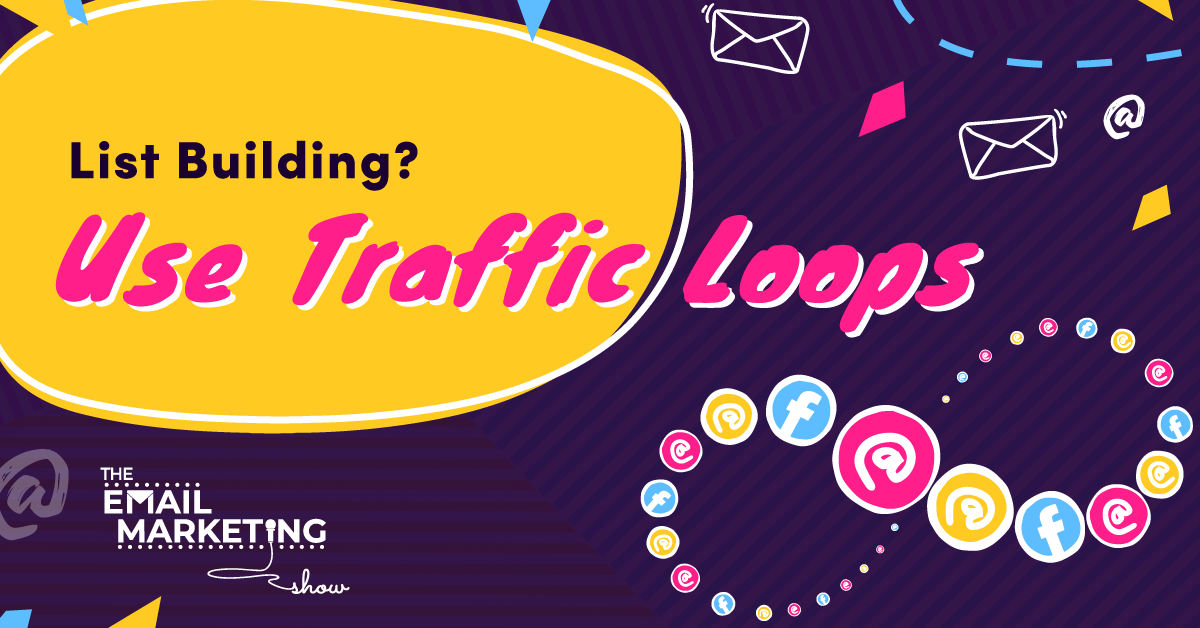 Stop Wasting So Much On List Building by Using Traffic Loops
What's the secret to building email lists in less time? Well, it's easy. If you want to save money and time with list building, you need to use Traffic Loops.
Want to know what that's all about?
Let's find out!
SOME EPISODE HIGHLIGHTS: 

(0:11) Join our FREE Facebook Group.
(5:22) You need both social media AND an email list to grow an audience.
(7:48) Social media and email marketing amplify each other.
(10:44) Make sure people see your offers at different times and in different states.
(12:04) How traffic loops increase engagement.
(14:16) People buy when they're ready - let them go!
(16:43) When you use traffic loops you can sell more in your emails.
(19:21) Grab our new course - Group Loops.
(20:04) Subject line of the week.
You need both social media AND your email list to grow an audience
We used to think that social media is what you need in order to build an audience. Then somehow you move people to your email list and sell them things. The problem is that we used to see this relationship between social media and email marketing as a one-way road when in reality it's a two-way road.
What do we mean by that? That the best way to build a big social media following is to leverage your email list. It's a loop. Your email should be helping you grow your social following, and your social following can help you grow your email list.
Think about it. Sending an email is the best way to send traffic to anything – not just your sales page, but your podcast, your social media, your webinar, or whatever you're trying to enhance. The absolute best way to build a social media following is with an email list. And the best way to build an email list is from the traffic that includes social media.
So as you can see, this becomes a lovely circular relationship where one element supports the other and helps you deepen the relationship with your audience. That way, you get to become a three-dimensional influencer, personality, or business to follow.
Social media and email marketing amplify each other
When you do that, email amplifies social media and vice-versa. So if you're launching a new programme, for example, you'll post about it on social media and then also send emails to your list. That means you're minimising the chances of someone in your world missing the fact you're launching something. And yet, how many times have you launched and promoted a product or service, and within a matter of days or weeks someone got in touch to say they missed it? It happens. Because the social media algorithms didn't show someone your posts on a particular day. Or maybe that person didn't see your emails. So your job is to do both – social media and email. Because one amplifies the other.
This is getting more and more important as we're seeing the cost of getting people into our world skyrocketing through the price of advertising. Even organic growth is difficult – it's now a lot harder to get your posts seen by a good number of people. Both the financial cost and the cost of your efforts are increasing.
Let's say you're running ads to get people to join your Facebook group. That money is now spent, and there's nothing you can do to recoup it unless you keep that effort and impact going by creating a loop. In other words, you want to keep this process in momentum and give it motion. And the way to do that is by moving someone who joins your social media onto your email list.
Also, when people come through a lead magnet, a freebie, or sign up to your email list to get your newsletter, you want to move them to your social media. That way, they end up in a loop. This helps you amplify the size of the audience but also their engagement.
Make sure people see your offers at different times and in different states
When you post about your products and services on social media and also send emails, people are seeing your offers in different ways through different media and modalities. This could easily mean different times, different places, and while in different mindsets.
A lot of the time, the places where people check their email are going to be different from when they're casually scrolling on social media. Checking emails could be a more regimented activity and something you do less frequently and with a bit more intent. Or maybe for some people it's the other way around – they might check their emails mindlessly and pay more attention to social media.
Whichever way, you want your subscribers to see your offers in different places and in different states. Because sometimes they're in a passive state (just scrolling) and others in a more active one (with their credit card in hand and ready to buy).
How traffic loops increase engagement
When it comes to engagement, if someone reads your email, you can send them to your Facebook group to check out a post. Once they're there, they might leave a comment. And your Facebook group suddenly becomes more active. That, in turn, makes your group stand out with the Facebook algorithm, which means Facebook will start suggesting your group to more people. As more people join, you also encourage them to jump onto your email list, and the cycle continues. It's an amplifying cycle – a traffic loop.
The days of linear traffic and one-way streets are over because the cost (in effort and money) of getting traffic has increased exponentially. It's so difficult to get people to take one action that you want to turn every action into a loop action – one which amplifies the results of the other.
That way, you can get a return on ad spend and effort and not feel like you're shouting into a black hole on the Internet. You want people moving from one place to the other, engaging more on social media, giving you more exposure, growing your email list, and clicking on the links in your emails and buying your products. This is the only way any of us can successfully continue to grow our audiences.
The Top 10 Books To 'Power Up' Your Email Marketing
10 book recommendations that will improve all areas of your email marketing (including some underground treasures that we stumbled upon which have been game-changing for us).
People buy when they're ready – let them go!
A few months ago, we had an email from someone who said that she'd finally joined our membership The League after being in our world for a while. She said it was finally the right time for her to start focusing on email and she thanked us for persevering with her while she joined and left our list a few times. And she did that until she was ready to buy.
This is an important example because we know it's always a bit depressing to see people unsubscribe from your list. But sometimes it's not a permanent departure. People may get off your email list because they need a break or they're not ready to buy at that point in time – they might have other priorities.
But they may come back when the time is right. In the meantime, your job is to continue to show up by email to your existing subscribers. Because unless you've done something awful and offended someone, most people who unsubscribe from your email list will stay in your world on social media. They might still see some posts from you about what's going on, and at some point, they'll feel reinvigorated to go back to your list or even to buy.
So, for example, if you spend $10-12 to acquire a new subscriber, and within a few days, weeks, or months they unsubscribe, you want them to stay on your social media. Because by staying in your world, at some point they might come back to your list.
When you use traffic loops you can sell more in your emails
Another benefit of using traffic loops is that it allows you to be more direct in your emails. When someone is in your Facebook group, for example, they're there for the community feel. But an email list is different, which is why social media and email work so nicely together. When your social media and your email list work in a loop, you can be more salesy in your emails and more social, fun, casual, and engaging in your Facebook group.
If you don't use social media in conjunction with your list, and your emails are always salesy, you may come across as more aggressive. But when you use both in a traffic loop, you have more leeway – you can be more direct and "talk business" in your emails because you still have your social media as the place where you focus more on things that are relevant and emotionally interesting to people.
So moving people from one place to another is hugely beneficial. Because if you've spent money getting someone onto your Facebook group, and they decide they want to take a break from social media (as we all do from time to time), you'll never get a return for that person. You will only get that return if people are also on your email list and are still receiving your emails. In a nutshell, as long as they're still in your world, you have a chance to re-engage them and reignite them, so they eventually buy from you. And you won't have lost your investment.
Check out our new course – Group Loops
Traffic loops are such a powerful technique! If you want to use this technique in your business, we have something special happening right now. We're excited to reveal this course we've been working on for a long time. It comes after years of frustrations in trying to build a Facebook group. Because we couldn't get it to work for us – not until we eventually cracked the code! And that's what we're sharing with you here. Check it out – it's called Group Loops.
Make More Sales with our Psychology-Based Email Marketing Membership
Psychology-based email marketing.
Complete email campaigns.
Video training.
Group coaching sessions.
Exclusive AutomateHero app.
Subject line of the week
This week's subject line is "Annoying the other passengers". This subject line had a great open- and click-through rate. Why? Because it's full of curiosity. In fact, it has this compound curiosity we always talk about.
People want to know who the other passengers were, where we were travelling, and generally what this is all about. What's the story here? Why were we annoying the other passengers? The subject line is intriguing. Plus, it uses a provocative word, which is powerful and emotional – the word annoying. We don't even remember what the story was all about, but try the idea out! 
Useful Episode Resources
Related episodes
Advanced Psychology: Using Compound Curiosity.
Build A Facebook Group To Build Your Email List With Arne Giske From Group Funnels.
Why You Shouldn't Worry About Your Unsubscribe Rate.
FREE list of the top 10 books to improve your email marketing
If you want to write better emails, come up with better content, and move your readers to click and buy, here's how. We put together this list of our Top 10 most highly recommended books that will improve all areas of your email marketing (including some underground treasures that we happened upon, which have been game-changing for us). Grab your FREE list here. 
Join our FREE Facebook group
If you want to chat about how you can maximise the value of your email list and make more money from every subscriber, we can help! We know your business is different, so come and hang out in our FREE Facebook group, the Email Marketing Show Community for Course Creators and Coaches. We share a lot of training and resources, and you can talk about what you're up to.
Try ResponseSuite for $1
This week's episode is sponsored by ResponseSuite.com, the survey quiz and application form tool that we created specifically for small businesses like you to integrate with your marketing systems to segment your subscribers and make more sales. Try it out for 14 days for just $1.
Join The League Membership
Not sick of us yet? Every day we hang out in our amazing community of Email Marketing Heroes. We share all of our training and campaigns and a whole bunch of other stuff. If you're looking to learn how to use psychology-driven marketing to level up your email campaigns, come and check out The League Membership. It's the number one place to hang out and grow your email marketing. Best news yet? You can apply everything we talk about in this show.
Subscribe and review The Email Marketing Show podcast
Thanks so much for tuning into the podcast! If you enjoyed this episode (all about building email lists in less time using Traffic Loops) and love the show, we'd really appreciate you subscribing and leaving us a review of the show on your favourite podcast player.
Not only does it let us know you're out there listening, but your feedback helps us to keep creating the most useful episodes so more awesome people like you can discover the podcast. 
And please do tell us! If you don't spend time on email marketing, what do you really fill your working days with? We'd love to know!