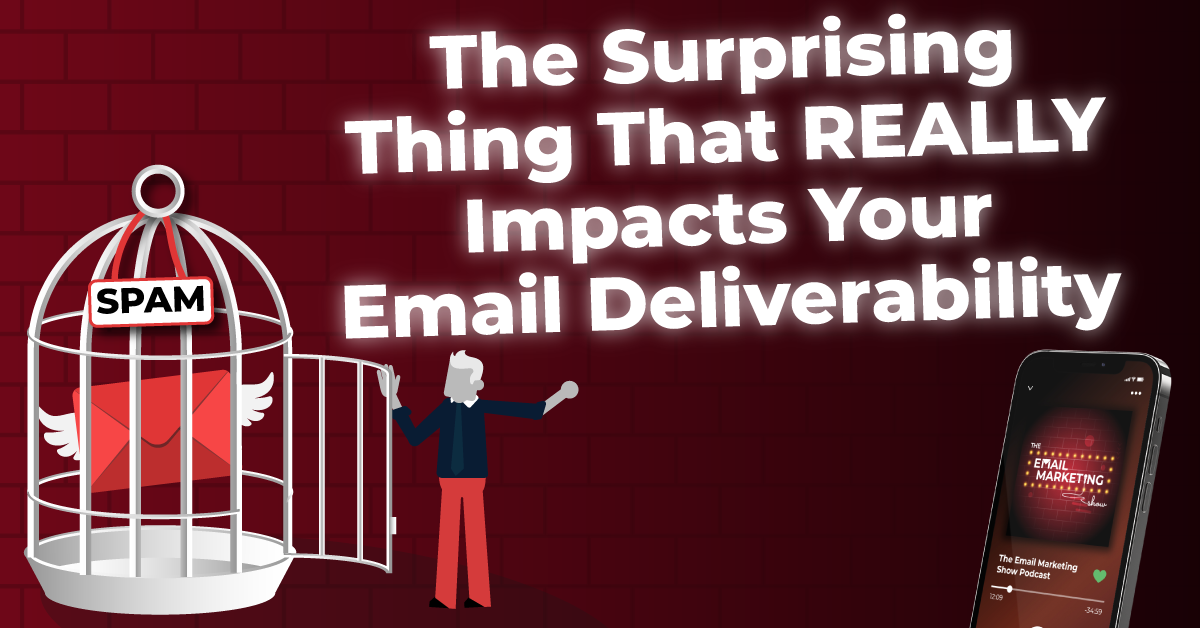 The Surprising Thing That REALLY Impacts Your Email Deliverability
Are your emails getting delivered? Do your subscribers get them? Email deliverability is a big thing, right?
What's the point in putting all this work into your email marketing, if you can't be sure your subscribers are going to receive your emails? We all want to make an impact. And if our email marketing doesn't actually reach anybody, it all seems a bit pointless!
But what REALLY affects your email deliverability? What should you look out for, do, or not do?
Let's get into this!

SOME EPISODE HIGHLIGHTS: 

(3:33) Fancy a 14-day FREE trial with Keap?
(4:37)  Do emojis really impact your email deliverability?
(6:10) The technical aspects that impact your email deliverability.
(7:18) Why you want your list to engage with your emails.
(9:22) Your email deliverability works like your credit score.
(12:14) How do you improve your email deliverability score?
(13:22) Why you don't want inactive subscribers on your email list.
(14:05) Lack of engagement impacts your email deliverability. 
(16:04) Want to wake up your list? Join our FREE LOL Revival Challenge. 
(17:29) Subject line of the week.
Do emojis really impact your email deliverability?
We hear all the time about things that trigger spam filters or 'spam traps' and reduce your email deliverability. Things like including emojis, or the word FREE in your subject lines, or adding images or GIFs to your emails. We also hear that some email marketing automation platforms have better deliverability than others.
And this might all be true.
But theoretically, none of that makes that much of a difference if treat your list well. Sure, if you're doing everything else wrong, these behaviours will knock your chances. But if the basic things are in place, and you send relevant content, an emoji won't be a problem!
The technical aspects that impact your email deliverability
There are definitely a couple of technical things you should take care of first. For example, you should sort out your domain name and set up your SPF record and your DKIM record. If you're a member of our membership The League we recommend you watch Adrian Savage's amazing guest workshop. It's about email deliverability, and it helps with all the tech stuff you need to know about. Or you can listen to this podcast episode.
Once you've got the basics covered, you can avoid spam traps and improve your email deliverability rate by doing good email marketing. It's all about the emails you send, when and how often you send them, and who you send them to.
The Top 10 Books To 'Power Up' Your Email Marketing
10 book recommendations that will improve all areas of your email marketing (including some underground treasures that we stumbled upon which have been game-changing for us).
Why you want your list to engage with your emails
If you want good email deliverability, you need a high level of engagement with your email list. This means you want people to open your emails but also clicking and replying – in other words, engaging with your content.
We like to look at email deliverability like a scoring system. If you do something that's considered good practice, you get a good point. But if you do something that's not so great, you get a naughty point. And it all adds up!
So if you keep doing 'naughty things' in your email marketing (and then also add the word FREE in your subject line), that might be what pushes you over the edge. And your email might not be delivered.
But that word in your subject line isn't your biggest problem – there's probably something much bigger behind all that that you need to address and fix. What really happened over time is that you gained too many naughty points that have caused your email to go into someone's spam folder. Or maybe it didn't even make it as spam!
Your email deliverability works like your credit score
Another good way of looking at email deliverability is to think of it like a credit score. A credit score is what allows you to borrow money – getting a new credit card or a mortgage, for example. When you first come out of college you haven't borrowed much money yet, so you need to start building a credit score from scratch. You need to earn the ability to get credit.
You'll start with small things – like getting a credit card that you pay in full at the end of the month or a phone contract. But if you don't pay the money back, you'll break your credit score very quickly. It's only when you keep on top of all your payments that your credit score starts to build. And every time you do anything that has to do with money, it will either negatively or positively impact your credit score. If you have a good credit score and want to borrow some money, you have good chances of your credit being approved because you've developed trust over time.
It's the same thing with your email deliverability. If your deliverability score is good, generally speaking, you have good chances of your email being delivered into someone's inbox. And that will work regardless of whether you added an emoji in the subject line or not!
But if your deliverability score is generally bad, you have a low chance of your emails getting delivered into many people's inboxes. They're likely to end up in someone's Promotion or Spam folder or not make it at all (and being discarded server-side). So keeping that score high is really what gives you a good chance of making it into someone's inbox. 
How do you improve your email deliverability score? 
But what if your deliverability score isn't so good? Well, just like credit score, there are things you can do to improve your email deliverability score.
And one of the best ways to do that is to give the email systems receiving your emails (Gmail, Yahoo, etc.) more evidence that you are worthy of inboxing (just like you can give signals to the credit companies that you're worthy of their credit).
And the way to do that is by emailing more often. Even though we can't always get precise data on open rates, Gmail knows for sure how people are opening those emails, so by sending more emails you're giving them more data.
For example:
Do people open your emails and reply?
Do they click on the links?
Or do they mark them as spam?
Do they just leave your emails unopened and do nothing with them?
Is what happens to your emails positive or negative?
If you email more often, you allow these services to collect data more quickly.
Why you don't want inactive subscribers on your email list
The problem we all have is that some people on our email lists disengage. They don't open your emails, they don't reply, and they do… nothing! But they don't unsubscribe. And this is telling Gmail and other providers that your emails aren't that fascinating or compelling as you think they are. Because your subscribers don't engage, your emals aren't seen as great quality content and don't boost to the most prominent position in someone's email inbox.
On the other hand, if everyone's engaging with your emails and enthusiastically forwarding, sharing, and replying, then Gmail will soon realise these emails are important to people and treat them as such. They'll make sure that your emails get delivered!
Lack of engagement impacts your email deliverability
But if you have a bunch of people who for whatever reason have changed direction in life or business and are ignoring your emails (or if your emails are bouncing or people are no longer opening them) that lack of engagement is going to affect your deliverability.
Your emails will first be delivered to someone's Promotion folder initially, and if never dragged back to the Primary tab, they'll end up in the Spam folder. They might even end up on a black list and never delivered altogether!
In fact, it could get to a point where your reputation as a sender becomes so bad that you might receive a virtual knock on your door from your email marketing service to say you have to move elsewhere. And if you download your list (because you own that data) and go elsewhere, the same thing might happen there.
So the people who aren't engaging with your emails are affecting your ability to get in front of those who want to hear from you. Email deliverability is all about your email reputation. And the people who are slumbering and snoozing on your list are damaging you. So you want to make sure you re-engage them!
Join our FREE LOL Revival Challenge 
Are you ready to re-engage your disengaged subscribers? Do you want to wake up and 'shake' your email list to improve your email deliverability score? This is the first thing we get new members of The League to do in our Success Track. And it's the first thing you should do right now if you want your email marketing to start working for you. 
If you want to do it with us, we're running a FREE five-day challenge (the LOL Revival Challenge), where we walk you through the entire campaign we use to keep our list permanently engaged and clean of people who aren't paying attention. Registration closes on the 23rd of January 2022, and you can sign up here.
Make More Sales with our Psychology-Based Email Marketing Membership
Psychology-based email marketing.
Complete email campaigns.
Video training.
Group coaching sessions.
Exclusive AutomateHero app.
Subject line of the week
This week's subject line of the week is "Two slices of toast's time." This is one that Kennedy used, and the point of the email was to talk about how quickly you can write emails. Kennedy put two slices of bread in the toaster, and in the time it took for them to get ready, he smashed out a quick email to his list.
The interesting lesson about this subject line is that it's saying it only took Kennedy two minutes to write that email – not long at all. But he created an interesting comparison here. So rather than delivering your message in a way that's boring and mundane (and simply saying that sending an email doesn't take long), you can say what you need to say by comparing it to something else. Something specific – in this case, the specificity of the time it takes to toast two slices of bread. And that's how this subject line got such a good response. Brilliant, right? 
Useful Episode Resources
Related episodes
How Will iOS 15 Change Email Marketing?
How to Email Your Abandoned Email List.
Get Your Emails Delivered (And Avoid The Spam Folder) With Adrian Savage.
FREE list of the top 10 books to improve your email marketing
If you want to write better emails, come up with better content, and move your readers to click and buy, here's how. We put together this list of our Top 10 most highly recommended books that will improve all areas of your email marketing (including some underground treasures that we happened upon, which have been game-changing for us). Grab your FREE list here. 
Join our FREE Facebook group
If you want to chat about how you can maximise the value of your email list and make more money from every subscriber, we can help! We know your business is different, so come and hang out in our FREE Facebook group, the Email Marketing Show Community for Course Creators and Coaches. We share a lot of training and resources, and you can talk about what you're up to.
Try ResponseSuite for $1
This week's episode is sponsored by ResponseSuite.com, the survey quiz and application form tool that we created specifically for small businesses like you to integrate with your marketing systems to segment your subscribers and make more sales. Try it out for 14 days for just $1.
Join The League Membership
Not sick of us yet? Every day we hang out in our amazing community of Email Marketing Heroes. We share all of our training and campaigns and a whole bunch of other stuff. If you're looking to learn how to use psychology-driven marketing to level up your email campaigns, come and check out The League Membership. It's the number one place to hang out and grow your email marketing. Best news yet? You can apply everything we talk about in this show.
Subscribe and review The Email Marketing Show podcast
Thanks so much for tuning into the podcast! If you enjoyed this episode (all about what impacts your email deliverability and how you can improve it) and love the show, we'd really appreciate you subscribing and leaving us a review of the show on your favourite podcast player.
Not only does it let us know you're out there listening, but your feedback helps us to keep creating the most useful episodes so more awesome people like you can discover the podcast. 
And please do tell us! If you don't spend time on email marketing, what do you really fill your working days with? We'd love to know!