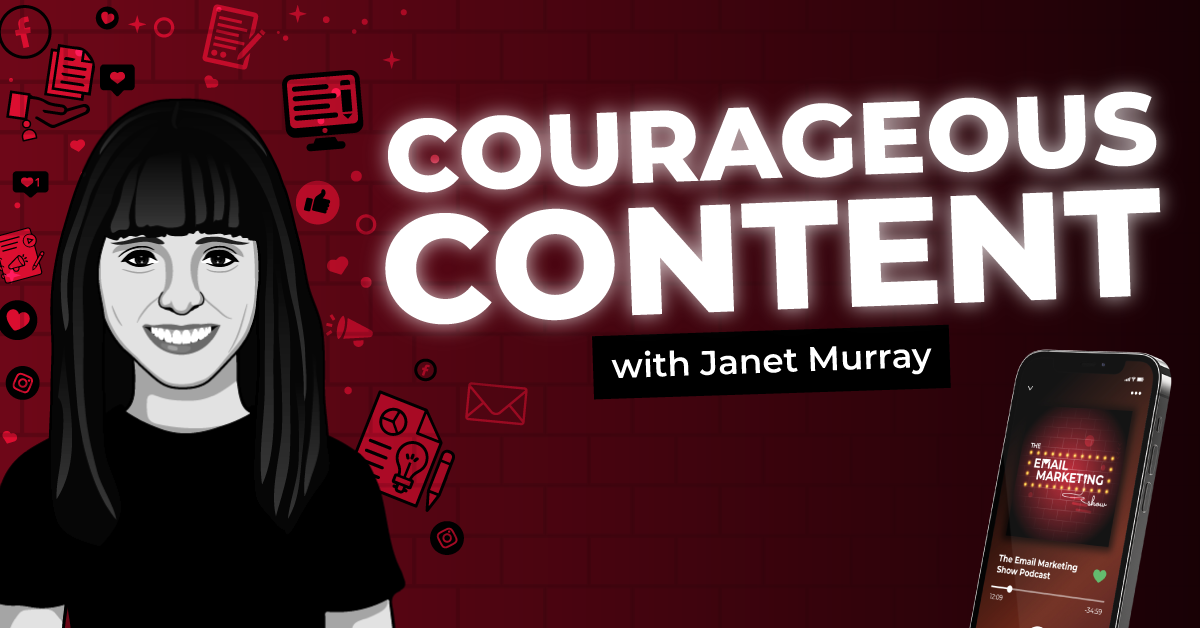 Courageous Content with Janet Murray
Janet Murray is the Queen of Courageous Content. This week she's back on the show as our first returning guest – talking about how to come up with content ideas to promote your products and services. So, are you ready to find out how to create courageous content, with the amazing Janet Murray?
Grab pen and paper (or whatever you make notes on) and get ready for this. There's some awesome stuff in this episode that you just don't want to miss!
SOME EPISODE HIGHLIGHTS: 
 (2:13) How Rob REALLY feels about Email Marketing Wednesday! 
 (3:00) Did Janet think her car had been stolen (but something else really happened)?
 (5:18) How does Janet create so much epic content so easily? 
 (7:38) Always start with what you're selling - your products or services.
 (9:00) How to look at the bigger picture first and then break it down. 
 (11:56) Why you should always start with the end in mind. 
 (13:10) Janet's framework for courageous content creation.
 (20:36) How to use awareness days to come up with courageous content ideas. 
 (27:12) What percentage of our content should be sales content?
 (30:10) Subject line of the week with Janet Murray.
The Top 10 Books To 'Power Up' Your Email Marketing
10 book recommendations that will improve all areas of your email marketing (including some underground treasures that we stumbled upon which have been game-changing for us).
How does Janet create so much content so easily?
Creating tonnes of amazing content is what Janet does best. It's what she's known for. But how does she do it so well and so easily?
Well, first of all, Janet says she enjoys it – she loves creating content. And that's got to make a difference, right? But she's also so good at this because she has a background in journalism. And when you're a journalist, she says, you can't just say you have no good ideas for a piece. It just doesn't work like that! So in her previous career, Janet came up with processes and systems to ensure that she'd always have content ideas to pick from. Isn't that clever?
So what are some of these amazing strategies that Janet uses to come up with courageous content?
Always start with what you're selling
The first thing that Janet recommends (and something a lot of business owners don't do) is to start with what you're selling. So every year Janet works out what she's going to be selling over the upcoming year. She calls this 'overhead planning', and she teaches her clients this exact method too. Except that some of them struggle with this. And when they do, Janet says, it's because they have a business problem, rather than a content problem. Why? Because, quite simply, if you're a business owner and don't know what you're selling in the next 3-6 months or over the next year, do you really have a business? (Something to ponder here!)
Thinking about what you're going to be selling in the short to medium term allows you to look at the bigger picture – at the 'wide shot view' of your business. And once you have that, you can then break that down into quarters, then months, then weeks. This is where planning your content becomes a lot easier to do. It's also less overwhelming than doing what Janet calls 'linear planning', where you look at the month ahead to work out what you're going to share on a daily basis. Overhead planning also gives you plenty of time to get organised to ensure you're able to create the right type of content.
Isn't that super cool? For us, it's a bit like when we try and teach our members to write email subject lines. A lot of people focus on trying to come up with interesting and engaging subject lines before they've even worked out what the point of the email is going to be. Starting with the end in mind is a lot easier. Once you know what the email is all about, writing the subject line is a walk in the park!
A 4-step framework for courageous content, with Janet Murray
According to Janet, a lot of entrepreneurs create too much content, which is part of what makes the process so overwhelming. This is why Janet thinks it helps to have a structure, and on this note, she's created a framework based on 4 different types of content:
Educational content. This is content that helps your clients solve a problem and answers their questions.
Inspiring content. As the name suggests, this is all about sharing stories or anecdotes that will encourage your audience to take some sort of action.
Community content. Something that people do really well on their own personal social media accounts is building relationships with others. But sometimes people forget to do that on their business pages! You can't just jump in and ask for the sale all the time – it's about creating content that helps you build relationships with people first.
News and trends. The final type of content is all about news and trends that relate to your industry, niche, or product and service. Janet recommends you regularly check the media for interesting pieces that relate to your industry that you may be able to share or interpret for your audience.
So if you were to create just 4 pieces of content a week (one for each type), Janet says, that would be more than enough content over the course of a month and then a year. You'd find it less overwhelming and much easier to do because you'd be following a structure. Using a framework like Janet's might also help you become more consistent with your content, rather than yo yo all year round by posting frequently for a few weeks and then disappearing for months, for example.
Of course, in order to do this, you also need to know your audience, what they're interested in, and what they need help with. You'll also find different people on different platforms, so it helps to do a bit of experimentation and testing. But once you have a structure to work with, you can then bend the rules to suit your audience and your business.
How to use awareness days to come up with courageous content ideas
Make More Sales with our Psychology-Based Email Marketing Membership
Psychology-based email marketing.
Complete email campaigns.
Video training.
Group coaching sessions.
Exclusive AutomateHero app.
Janet is amazing at using awareness days to create awesome content ideas, but a lot of people don't do it the right way, Janet says. If every other business decides to ask their audience about their favourite type of sausage on Sausage Day, it can get boring very quickly, especially if the topic isn't even relevant to your business, right? So how can you stand out from the crowd and use awareness days to create courageous content?
The key, Janet says, is to use awareness days as jumping-off points to produce content that relates to your business. Always add a business angle to it. If the awareness day has to do with sleep, for example, we could talk about how to 'wake up' your email list. Or it could be about asking what skills people can do in their sleep. It doesn't have to be exactly about sleep. Consider awareness days as prompts that you need to think about creatively, and it'll make things more fun for you as a content creator and for your audience too.
What percentage of your content should be sales content?
We asked Janet what her take is on sales content, and she told us content should be 100% related to your products or services. Every piece of content you create should be leading towards the products you want to sell. 
A lot of Janet's content, for example, is about educating people on why they might need a content planner (because she sells one!). She won't just constantly ask people to buy her planner, obviously, but months in advance she'll share educational content about why people might need it. Or she'll ask her audience for feedback about her artwork, for example.
Every piece of content needs to have a call to action to help you move that relationship with your audience further. That doesn't mean creating 'salesy' content every time. It's about producing deliberate content that moves your audience towards taking a specific action.
Subject line of the week with Janet Murray
In Janet's experience, any subject line that has a poo emoji tends to get better open rates. But also more unsubscribers! (Would you be offended by the poo emoji? We're definitely not!)
But one of Janet's better subject lines is "you might regret this". And it's something she uses fairly regularly when she's about to close the cart for a launch, for example. Can you believe she's had people accusing her of bullying with that subject line? But that's the key to why it works. And no, not because it's bullying, but it because it triggers strong emotions in people, and it's one that always tends to do well for Janet. Interesting stuff, right?
Useful Episode Resources
About Janet
If you enjoyed this episode aboput courageous content with Janet Murray and would like to connect with Janet, head over to her website (where you can buy her Courageous Content Planner), Instagram, or tune into her new podcast.
Related episodes
Email Content That Hits A Nerve – Journalism Hacks From Janet Murray.
What should I talk about in my emails? Email marketing content ideas you'll use.
How To Plan 3 Months Of Email Content In An Afternoon.
FREE list of the top 10 books to improve your email marketing
Want to write better emails? Come up with better content? Influence and move your readers to click and buy? Well, you can do that with this list of our Top 10 most highly recommended books! They will improve all areas of your email marketing (including some underground treasures that we happened upon, which have been game-changing for us). Grab your FREE list here.
Join our FREE Facebook group
We know your business is different, so come and hang out in our FREE Facebook group, the Email Marketing Show Community for Course Creators and Coaches. We share a lot of training and resources, and you can talk about what you're up to.
Try ResponseSuite for $1
This week's episode is sponsored by ResponseSuite.com, the survey quiz and application form tool that we created specifically for small businesses like you to integrate with your marketing systems to segment your subscribers and make more sales. Try it out for 14 days for just $1.
Join The League Membership
Not sick of us yet? Every day we hang out in our amazing community of Email Marketing Heroes. We get to share all of our training and campaigns and a whole bunch of other stuff. If you're looking to learn how to use psychology-driven marketing to level up your email campaigns, come and check out The League Membership. It's the number one place to hang out and grow your email marketing by applying everything we talk about in this show.
Subscribe and review The Email Marketing Show podcast
Thanks so much for tuning into the podcast! If you enjoyed this episode (all about creating courageous content, with Janet Murray) and love the show, we'd really appreciate you subscribing and leaving us a review on your favourite podcast player.
Not only does it let us know you're out there listening, but your feedback helps us to keep creating the most useful episodes. And, you know what? We also get to be discovered by more awesome people like you!