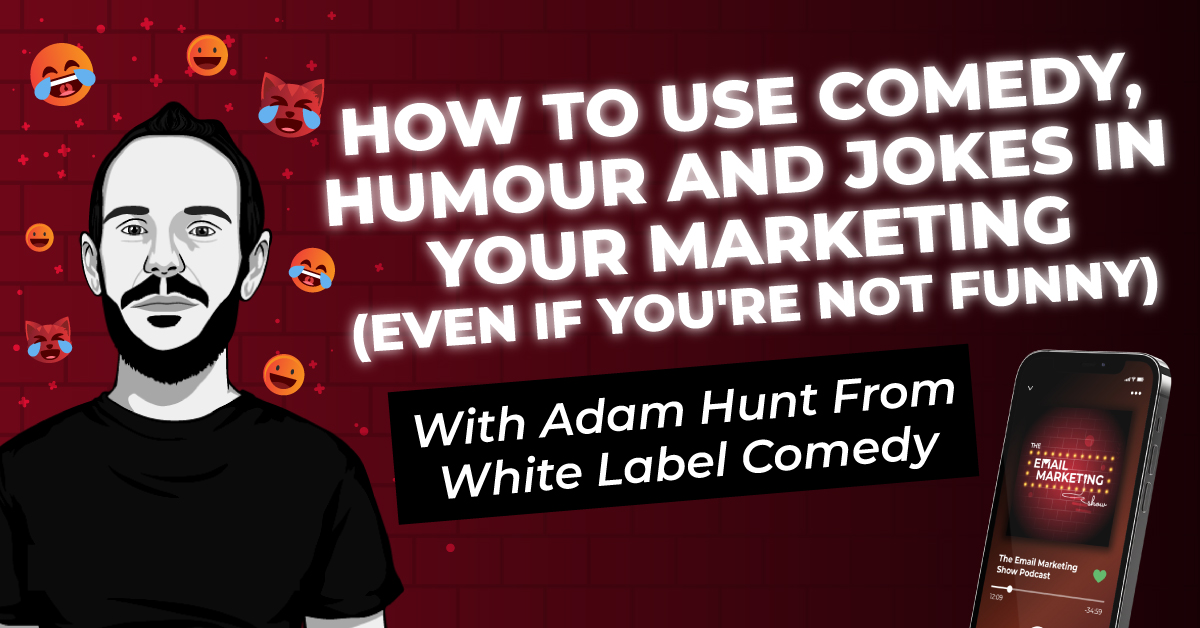 How To Use Comedy, Humour, and Jokes in Your Marketing (Even if you're not funny) with Adam Hunt from White Label Comedy
Should you use comedy and jokes in your marketing? Should all brands be funny? Is that the right thing to do? We asked Adam Hunt, who helps brands and businesses do exactly that – be funny. So let's hear it from the man himself – how do you use humour in your marketing?
SOME EPISODE HIGHLIGHTS: 
(2:15) Does Kennedy really know what a Vespa is?
(3:50) Should all brands try and be funny?
(4:50) How to find the humour that's right for your brand.
(7:00) Why you need to start from the truths that matter to your audience in the context of what you do.
(10:06) How to sprinkle humour on top of your message.
(12:15) Adam's easy process to find humour in things (and write jokes from them).
(15:40) How to be a bigger and bolder version of you. 
(18:08) Why you shouldn't let the jokes get in the way of the message.
(20:40) How to use humour for all the right reasons. 
(22:34) Subject line of the week with Adam Hunt.
The Top 10 Books To 'Power Up' Your Email Marketing
10 book recommendations that will improve all areas of your email marketing (including some underground treasures that we stumbled upon which have been game-changing for us).
How can you find humour that's right for your brand?
Should all brands try and be funny? Well, according to Adam, they should be funny in the right way. And what that means is that the right kind of humour for your business comes from brand essence and everything you stand for. Comedy done the right way is relatable content that happens to be funny.
But how do we find the type of humour that's right for us?
Adam explained that a joke is made of two things that shouldn't fit together but do, thanks to a cleverly placed twist. And the key to the twist is that it needs to be a truth that you're using to bridge the gap between those two things.
When you're trying to make jokes that appeal to a specific audience, you need to go after their truth. In other words, what could you say to your audience that will make them go, "That is so true!"
Use humour in your marketing by starting from your audience's truths
Jokes are clever comparisons. And if you make the right comparison, you'll get the right reaction.
So your first job here is to work out what matters to your audience in the context of what you do and how and why that helps them and their world.
Adam and his team use a tool call Relatability Matrix, which is a grid that contains a brand's USP and values to start with. But it also looks at key ideas from sales pages and other types of content and at relatable truths for that brand's audience that can be combined with other elements on the grid.
We can do this too! Adam's tip is to start by working out what you need to say to your audience in order to achieve your objectives. Then, you can come up with ways to express that in such a way that will move people to the right kind of action.
If you tell jokes for the sake of it – if you use humour in your marketing in a way that doesn't serve your brand's purpose – then you're just being funny for the sake of vanity or engagement. And you could actually get the opposite effect of putting people off.
How to find humour in things (and write your own jokes)
The first step is to find a clever comparison. So start by making a list of relatable truths that you know your audience is going to agree with.
Then make another list. It could be things that are going on in the world, or things that are relevant to your business – it doesn't matter what this is.
The third step is to go through both lists together and try and connect two of the things you've got on them.
You're not trying to be funny here – you're just trying to come up with some basic parallels, similarities, or differences. Once you've done this freewriting exercise, you'll end up with ideas that you can then develop and polish. Add your clever twist in the right place, and you've got your joke.
Simple, right?
Using humour in your marketing means being a bigger and bolder version of you
Make More Sales with our Psychology-Based Email Marketing Membership
Psychology-based email marketing.
Complete email campaigns.
Video training.
Group coaching sessions.
Exclusive AutomateHero app.
Jokes can be used to reinforce someone's awareness of the pain points they're dealing with. You can use jokes to help your audience focus on their struggles and make them bigger. You want to use jokes sparingly though – to encourage your subscribers to open your emails, for example. But don't overdo it.
You don't need to put Michael McIntyre in someone's inbox because that's not you. Just put a bigger and bolder you in their inbox. 
You do that by starting with the messaging that matters and then layer additional thoughts on top. Come up with a way to explain why something is bigger and bolder with a comparison that can feel like a joke.
But don't let the jokes get in the way of your copy. You want people to read, then read some more, and read some more until they're ready to buy. That's your goal. There is such a thing as a joke too many. And you don't want to trivialise your message. Never let a joke get in the way of your message. Instead, let the jokes support the message. 
The key is to use humour in your marketing for the right reasons. Make the right jokes with the right angle, using the brand's ingredients that speak to your audience, and you'll get something that works for you.
Make jokes about the things that unite your audience.
Find the truths they all agree on.
And remember that comedy in itself isn't offensive – only offensive comedy is offensive! Use humour to bring people together, to show them you share their views, and to make them feel seen.
Pretty awesome stuff, don't you think?
Subject line of the week with Adam Hunt
Adam's subject line of the week is "Video for [First Name]".
Adam had to reluctantly admit that this works every time – reliably and flawlessly. If you need someone to watch a video, this is the right subject line to use. It drives that curiosity that makes you want to watch this video, just in case the person sending it created this video just for you, and not for everyone else too.
Genius, right?
Useful Episode Resources
About Adam
Want to connect with Adam? You can find him over at White Label Comedy.
Related episodes
Customer Archetypes To Inject Personality Into Your Marketing – Nate Wright.
What should I talk about in my emails? Email marketing content ideas you'll use.
Write Emails Like A Boss – Even If You Think You're A Crap Writer.
FREE list of the top 10 books to improve your email marketing
Want to write better emails? Come up with better content? Influence and move your readers to click and buy? Well, you can do that with this list of our Top 10 most highly recommended books that will improve all areas of your email marketing (including some underground treasures that we happened upon, which have been game-changing for us). Grab your FREE list here.
Join our FREE Facebook group
We know your business is different, so come and hang out in our FREE Facebook group, the Email Marketing Show Community for Course Creators and Coaches. We share a lot of training and resources, and you can talk about what you're up to.
Try ResponseSuite for $1
This week's episode is sponsored by ResponseSuite.com, the survey quiz and application form tool that we created specifically for small businesses like you to integrate with your marketing systems to segment your subscribers and make more sales. Try it out for 14 days for just $1.
Join The League Membership
Not sick of us yet? Every day we hang out in our amazing community of Email Marketing Heroes, where we get to share all of our training and campaigns and a whole bunch of other stuff. If you're looking to learn how to use psychology-driven marketing to level up your email campaigns, come and check out The League Membership. It's the number one place to hang out and grow your email marketing by applying everything we talk about in this show.
Subscribe and review The Email Marketing Show podcast
Thanks so much for tuning into the podcast! If you enjoyed this episode about how to use humour in your marketing with Adam Hunt and love the show, we'd really appreciate you subscribing and leaving us a review on your favourite podcast player.
Not only does it let us know you're out there listening, but your feedback helps us to keep creating the most useful episodes and get discovered by more awesome people like you.