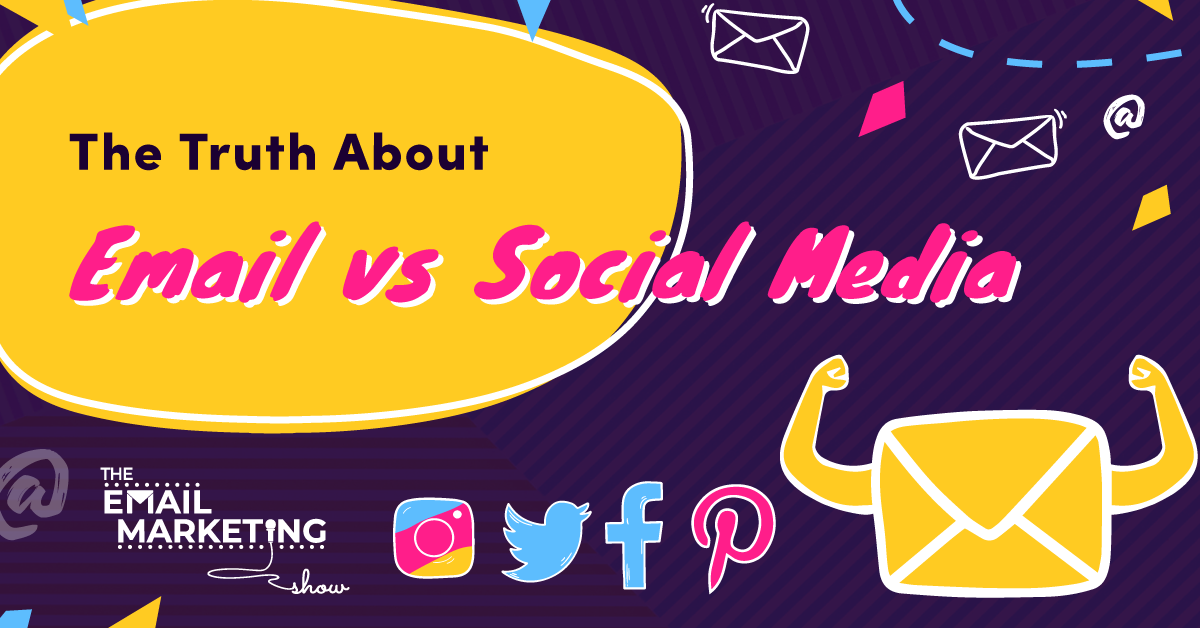 Email Marketing vs Social Media (Why We Keep Ditching Our Social Media)
Social media vs email marketing. Is one better than the other? Want to know what we really think about all this?
And yes, we might be a bit biased towards email, but there are specific reasons why we keep ditching social media platforms – want to know what they are?
Let's find out!
SOME EPISODE HIGHLIGHTS: 

(0:32) Join our FREE Facebook Group. 
(5:10) We don't hate social media!
(7:54) Why knowing your numbers matters.
(10:36) Find out what your top sources are.
(12:15) What is social media really good for?
(15:18) Social media vs email marketing in action.
(18:15) Don't have time for email marketing? Think again!
(20:35) Do email marketing first.
(22:53) Subject line of the week.
We don't hate social media!
We always get accused of being haters of social media. But we're not! We are on social media. Daily! If anything, we love hanging out in our free Facebook group. And we recognise that social media has its place (and its own set of rules) when it comes to making sales and growing your business.
Some people may use email marketing to build their lists and tap into an audience, while others use it to nurture their community. Inside the private Facebook group for our membership, The League, for example, we discuss how people use our email marketing campaigns, and we help them refine their work. So we don't hate social media – we actively use it. We even used to run a Twitter chat, and we've certainly dabbled with Instagram.
But the only social media we use now is our Facebook group. And that's because that allows us to nurture relationships and keep the conversation going. Facebook isn't an outbound platform for us. Instead, it's something that allows people to lean into us. We get to connect with the people who are excited about our work and want to come into our world to learn from us.
Why knowing your numbers matters
Having said that, we keep ditching social media platforms. We stopped our Twitter chat and don't invest in our Instagram as much anymore. And that's because of what the numbers are telling us. We always look at data to see what's working and what isn't. We track everything we do by using UTMs. These are bits of code that we add at the end of every link we share. So when people subscribe to our email list or become customers, we know how they came into our world.
Can you say the same about your subscribers or customers? Where are they coming from? If you're a member of The League, we have some training on UTMs and tracking in the Battle Plans area. We even have some specific tools within our Automate Hero software to help our members track their numbers. (And it's all free!)
Why does looking at data matter? Because if you know how people come into your world, you can do more of what's working. And if you don't, it means you're running blind. Without tracking, you won't know if you're moving in the right direction and towards your destination. Because you can't fully rely on gut instinct to do that. You need to know for a fact that what you're doing is working.
Find out what your top sources are
In our business, we check our numbers every 90 days to identify the top 10-15 traffic sources that brought subscribers into our business. We evaluate our sources based on how much money they brought in, i.e. on how many paying customers they generated.
And a lot of the time, you'll see the 80/20 rule apply here. That means that approximately 80% of the sales come from two or three of your traffic sources. And that tells you where you can zero in so you can focus on what's helping you grow your business.
When we recently looked at our figures, we noticed that barely any of our sales came from Instagram or Twitter – less than 1% of our members originally came from these social media platforms. For us, the truth when it comes to social media vs email marketing is that people who come through our social media channels don't buy from us quickly enough to give us a return on investments. And that meant we had to think about social media differently because our Facebook group and our podcast, for example, work really well for us.
What is social media really good for?
We think of social media as a way to tap into an existing audience so we can get in front of people and then move some of them onto our email list. Because your email list is where the selling happens.
And at the start, we were worried about only having our Facebook group. But then we realised that many businesses that are wildly successful don't close any sales on social media – not without having an email list as well. Because with email marketing you have full control – you won't be a victim of the latest algorithmic changes. And those are happening all the time!
We believe social media gives you a pool of people you can tap into, but in order to make sales and make your business successful, you need to sell by email.
And that's where the argument between social media vs email marketing happens. Because if you put 10% more of your time into email marketing, you'll make more sales and have a bigger impact than if you put 10% more of your efforts into any social media channel. This is undeniable. You could have about 100 people on your email list, and make sales from sending them an offer. But you'd need a lot more followers on your social media platforms to make any sales!
The Top 10 Books To 'Power Up' Your Email Marketing
10 book recommendations that will improve all areas of your email marketing (including some underground treasures that we stumbled upon which have been game-changing for us).
Social media vs email marketing in action
As an example of this, one of our members recently shared with us that he'd decided to only promote his upcoming launch on Instagram. Three days from the launch, he started to get a bit worried though because he found he wouldn't get the reach he needed to get conversions. Eyeballs weren't landing, the clicks weren't moving from Instagram to the sales page, and the sales just weren't coming in!
So with only a few days to go, he launched one of our email campaigns (choosing to shorten a 5-day automation to 3 days because he was short on time), and he told us he ended up switching off sales notifications because they were coming in so quickly that they were interrupting his other work!
What's worth noting is that a lot of the people who eventually bought via his email list were probably some of the same ones who also followed him on Instagram. But the big flurry of sales only came in when he switched on the email campaign.
This proves that only posting on social media isn't a good sales generation tactic. And it might be if you have a couple of million followers, but generally speaking, if you have an ordinary-sized audience, social media alone doesn't move the needle. 100 subscribers on your email list are worth a lot more than 100 followers on any social media platform. Because when it comes to social media vs email marketing, email is always going to convert more. If all we had were social media followers, we wouldn't even have a business to speak of!
Don't have time for email marketing? Think again!
We always find it interesting when people tell us they don't have time to do email marketing. What are they doing instead? And is whatever they're doing making any sales? Because you could be getting a lot of engagement and comments, but that isn't worth a thing if you're not moving people to your email list so you can make sales.
If you're not generating a profit (which is the one job any business has), then wouldn't you be better off diverting any time you're currently investing in other activities into email marketing instead? Because that would make you sales – email is the most direct line to sales.
And once you have money lining your pockets, you'll have time to do other things, such as social media. At that point, you'll have a predictable system where you don't have to worry about where the sales are coming in from. And with more sales, you have more time. So focus on the things that make you sales first and then add other activities because by that point you can afford to do that.
Do email marketing first
In other words, if you only have time for just one thing, do email marketing. Because you'll want to do the thing that makes you sales first. When it comes to how social media and email marketing fit together, you prioritise what makes you money and then use the time you have left to do anything else – including social media.
Because let's not forget that creating social media content can be very time-consuming. Every platform works in a different way, and various types of content won't perform in the same way. But compare that with the time it takes you to write an email. That's a lot faster, right? And if that makes you sales directly, it's also a lot more efficient!
So if you're not a member of The League yet, go and check it out. We give you a plan and the most predictable system to turn people into customers – day and night, wherever you are, and whatever you happen to be doing.
Make More Sales with our Psychology-Based Email Marketing Membership
Psychology-based email marketing.
Complete email campaigns.
Video training.
Group coaching sessions.
Exclusive AutomateHero app.
Subject line of the week
This week's subject line is "Making waaaaaay less money?" This one had a great click-through rate because it has that general sense of being contradictory to what people would expect us to talk about.
The story was about the fact we had a call with one of our lovely subscribers, and when we asked her how much more money she wanted to make in her business, she told us she was making enough. We pointed out she had the capacity to make more, but she said she said that wasn't her goal. She had other objectives.
So the email was about the fact you shouldn't make assumptions about your audience. We naturally assume that everyone in our world wants to make more money, but some people have other goals. They might just want to master their skill or email marketing, for example, or be interested in different things.
Want to know how this might work in your business? Try and come up with some sort of contradictory subject line based on what you do. Say you teach weight loss, for example. A contradictory subject line could be something like "Piling on the pounds!" Try it out.
Useful Episode Resources
Related episodes
How We Used A Facebook Group To Build Our Email List From Scratch.
How Facebook Groups and Webinars Make Matthew Harrington a Happy Man.
Tricks To Grow Your Email List With Pinterest – With Meagan Williamson.
FREE list of the top 10 books to improve your email marketing
If you want to write better emails, come up with better content, and move your readers to click and buy, here's how. We put together this list of our Top 10 most highly recommended books that will improve all areas of your email marketing (including some underground treasures that we happened upon, which have been game-changing for us). Grab your FREE list here.
Join our FREE Facebook group
If you want to chat about how you can maximise the value of your email list and make more money from every subscriber, we can help! We know your business is different, so come and hang out in our FREE Facebook group, the Email Marketing Show Community for Course Creators and Coaches. We share a lot of training and resources, and you can talk about what you're up to.
Try ResponseSuite for $1
This week's episode is sponsored by ResponseSuite.com, the survey quiz and application form tool that we created specifically for small businesses like you to integrate with your marketing systems to segment your subscribers and make more sales. Try it out for 14 days for just $1.
Join The League Membership
Not sick of us yet? Every day we hang out in our amazing community of Email Marketing Heroes. We share all of our training and campaigns and a whole bunch of other stuff. If you're looking to learn how to use psychology-driven marketing to level up your email campaigns, come and check out The League Membership. It's the number one place to hang out and grow your email marketing. Best news yet? You can apply everything we talk about in this show.
Subscribe and review The Email Marketing Show podcast
Thanks so much for tuning into the podcast! If you enjoyed this episode (all about social media vs email marketing) and love the show, we'd really appreciate you subscribing and leaving us a review of the show on your favourite podcast player.
Not only does it let us know you're out there listening, but your feedback helps us to keep creating the most useful episodes so more awesome people like you can discover the podcast.
And please do tell us! If you don't spend time on email marketing, what do you really fill your working days with? We'd love to know!