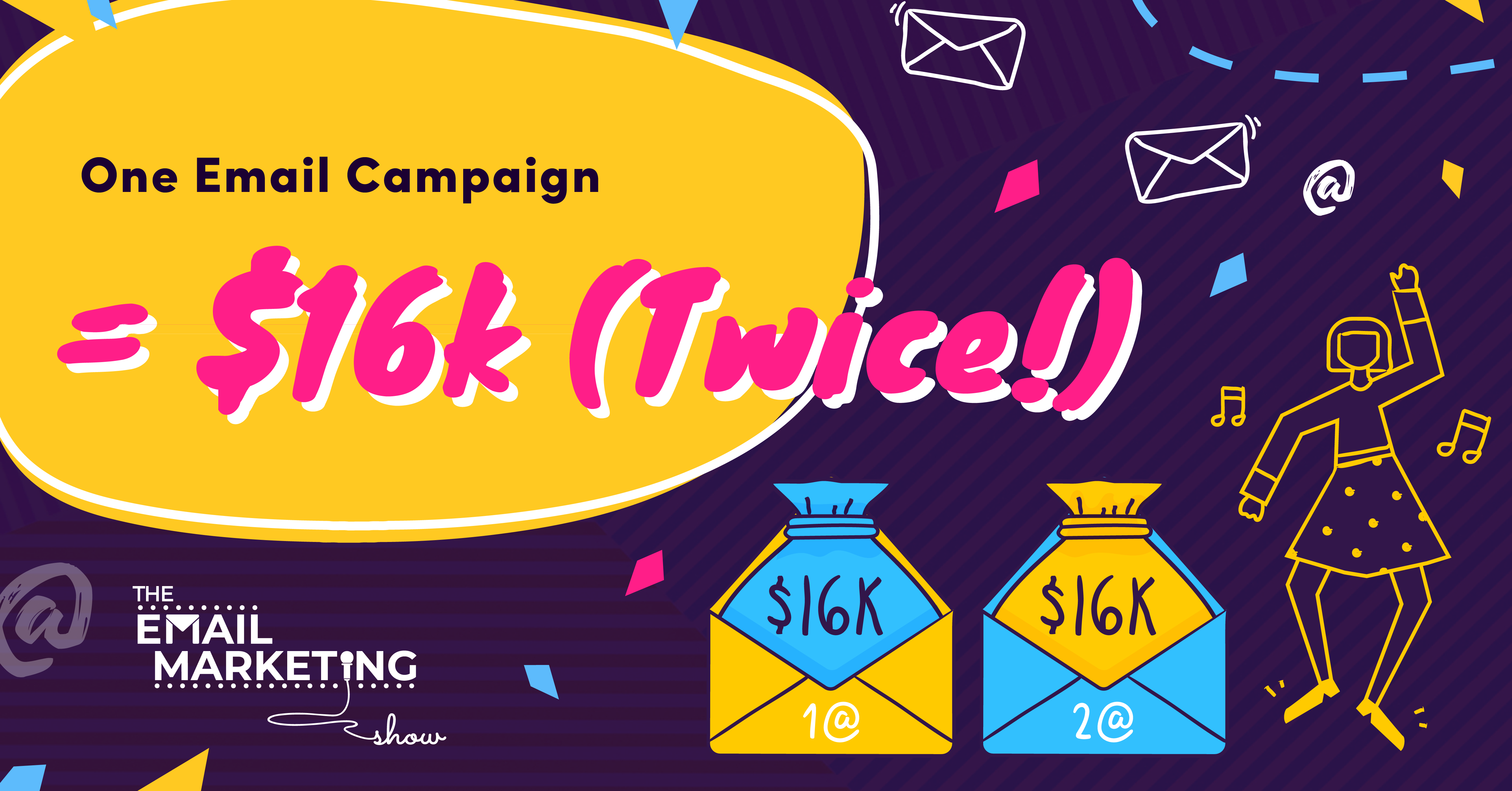 How Our Client Hillary-Marie Made $16k With ONE Email Marketing Campaign (And Then Did It Again!)
Our awesome client Hillary-Marie recently made $16,000 worth of sales with an email marketing campaign she implemented from being part of our membership The League. And you know what's even better? She copied and pasted that campaign, ran it again for a different segment of her list, and made another $16,000!
Want to find out Hillary-Marie's success story?
SOME EPISODE HIGHLIGHTS: 

(0:18) Join our FREE Facebook Group. 
(3:45) Check out our sponsor Poster My Wall.
(4:25) Who is League member Hillary-Marie?
(7:14) When did email marketing become a part of Hillary-Marie's business?
(9:55) What did Hillary-Marie's email marketing look like before she joined The League?
(13:47) What was the first change Hillary-Marie implemented when she joined The League?
(17:59) What results did Hillary-Marie experience in her business?
(22:55) What ONE action had the most impact on Hillary-Marie's email marketing?
(24:21) What's next for Hillary-Marie and in her business and email marketing?
(26:31) Subject line of the week.
Who is League member Hillary-Marie?
Hillary-Marie (here she is on Instagram) runs a business called iTapOnline – an online tap dance school where she helps teachers and adults around the world unlock the joy of tap dance. Hillary-Marie has a membership that gives people access to all her courses and classes and also runs a certificate 10-week programme for teachers once a year.
What Hillary-Marie sells is a super affordable B2C proposition. It can be a hobby for some people, but for the teachers who are enrolling in the certificate programme, their participation often comes from a desire to serve the needs of their students while enjoying their own tap dance journey along the way.
Hillary's students are anywhere from absolute beginners to advanced and are often people who don't have access to a local tap class at their speed or level. So Hillary-Marie tapped (see what we did there?) into the opportunity to segment her two audiences (adult students and teachers) and serve them both simultaneously with the same exact offer.
When did email marketing become part of Hillary-Marie's business?
Hillary-Marie started her membership in 2016, and email marketing was always a part of her journey. From the start, she used email marketing to ask people to buy from her, so she started collecting email addresses straight away. But at that time, she was only reaching out to her audience when she had something free to offer or a product she wanted people to buy. Looking back, Hillary-Marie can see that only getting in touch when she had something to sell wasn't the best approach.
About a year ago Hillary-Marie came to a crossroads in her business. As an artist and a dancer, she had always relied on social media quite heavily. But she came to the realisation that she'd either have to 'sell her soul' to social media (and spend all her time on Instagram, TikTok, YouTube, etc.) to churn out as much organic content as possible, or she could invest her time, energy, and money into email marketing instead. And not sell her soul!
Thankfully, email marketing is the route that Hillary-Marie decided to take. And she's glad she did because email has given her an opportunity to share stories in a way that feels honest and genuine, rather than just playing the game of the algorithm in social media.
What was Hillary-Marie's biggest barrier to doing email marketing?
Hillary-Marie can see now that she tried to make email marketing more complicated than it needed to be. When she joined The League, she started sending out our daily 'snowball' emails. But (contrary to our advice to write and send the emails daily), she decided to write and schedule 30 emails at a time. That was not the easiest option. And we're all glad to report that Hillary-Marie switched to our way of thinking and now writes and sends her emails live on a daily basis.
In hindsight, she knows now that she was trying to make things more systemised and complicated than they needed to be. And while there's definitely a place for systems, software, integration, and segmentation, she didn't need all of that to get started.
What did Hillary-Marie's email marketing look like before she joined The League?
Before joining The League, Hillary-Marie was following the product launch formula for her certificate programme once a year. So she'd create a lot of pre-launch content and send that out via email with multiple videos. It involved a lot of content creation that didn't yield great results. And because this was only done once a year, there was a lot of pressure on this process – Hillary-Marie felt she couldn't really mess this up!
Hillary-Marie also hosts a podcast, and back then she was using email marketing to ask people to check out her latest podcast episode. Or, whenever she created a free lead magnet, she'd email her list to let them know so they wouldn't miss out on the free goodness. But she wasn't even promoting her membership – she only had a very soft ask in her emails (i.e. to head over to the podcast). Hillary-Marie felt that people on her list already knew what she did, so if they were choosing not to buy it was because they didn't want to participate. And she knows now that's not necessarily the case!
In a nutshell, Hillary-Marie was sending out a lot of broadcasting emails and only using automation for onboarding her students. She knew about systems and automated campaigns but wasn't using them for marketing purposes. Not yet, anyway!
Before she started working with us, Hillary-Marie was sending out emails once a week and didn't have any real feelings about her email marketing. She just knew it wasn't successful because it wasn't bringing in sales and results. It simply wasn't working for her.
What was the first change Hillary-Marie implemented when she joined The League?
When she found us, Hillary-Marie started sending out daily snowball emails, but she recognises now that she overcomplicated the process unnecessarily. She decided to batch-write her emails and have someone in her team send them out. And, naturally, she got a lot of pushback on that. Because they didn't think there was value in sending emails every day. But Hillary-Marie went ahead and put her foot down – convinced that daily emails would make a difference to her business and determined to give it a go.
And she did see a change! Not only her business didn't go under, but she also started making more money! People didn't unsubscribe from her list, and she didn't start getting nasty responses from those who didn't want to hear from her. In fact, her open rate, her click rate, and her sales increased! And Hillary-Marie got to a point where she felt quite pleased with her email marketing. It's no coincidence that she now has a strong emotional connection to it!
Thanks to the daily emails alone, Hillary-Marie was able to increase the clients signed up to her membership from 120-130 to over 250. She simply achieved this by contacting people and telling them she had something they might be interested in.
Looking back, Hillary-Marie thinks it was very ignorant of her to think that her audience would know about her products and that if they chose not to participate it was because they weren't interested. That's just not how it works – you can have people on your list who aren't aware of what you have to sell. People simply aren't listening quite as much as you think they are, which is why daily emails are beneficial.
The Top 10 Books To 'Power Up' Your Email Marketing
10 book recommendations that will improve all areas of your email marketing (including some underground treasures that we stumbled upon which have been game-changing for us).
What results did Hillary-Marie experience in her business?
After implementing the daily emails, Hillary-Marie started building her email engine and using our campaigns. She decided, as a priority, to focus on people who were already on her list but hadn't bought from her yet. And she did that because every year she offers 50 spots on her certification programme, and she wanted to fill the cohort. Her approach was something that unfortunately a lot of people find terrifying and shy away from – i.e. selling harder to their existing list. And that's exactly what the people on her list needed from her.
It's great to see this principle in action with Hillary-Marie because it's exactly what we teach. Businesses build and grow over time (especially if you sell a membership), but there's something to be said about complementing that growth with big spikes in income.
Making $16k over a few days… twice!
When she implemented our sales campaigns Hillary-Marie made $16,000 in sales over the course of a few days. And she achieved this because she wasn't afraid of selling. She knew that the people on her list had joined it because they'd seen something they were interested in. So she thought it was time to let them know exactly what they could buy, and perhaps those who weren't interested in the membership would want to join the certification programme.
Hillary-Marie achieved these amazing results by implementing our Paparazzi flash sale campaign – a super easy one. It's relatively short with simple and not long-winded emails. Over a few days, she got a 3% conversion rate from people who had never purchased from her before.
The icing on the cake is that Hillary-Marie took that same exact campaign and duplicated it to send to her Level Two programme for previous graduates and made another $16k in sales with just some minor alterations to her emails. Isn't this mindblowing?!
What ONE action had the most impact on Hillary-Marie's email marketing?
The one action Hillary-Marie would recommend people take is to email your list to let them know what you have to offer. She adds that it's important to do that in a way where you're curating a specific campaign and an experience via email to help them decide that what you sell is truly the best thing that's out there for them. Because otherwise they just don't know!
"Don't just send any email," Hillary-Marie says. But curate a campaign experience and put people through it in a way that's mindful and thoughtful. So you can convert easily.
What's next for Hillary-Marie in her business and email marketing?
Because her certification programme is converting so well, Hillary-Marie wants to start launching it twice a year. In her words, she 'eats our campaigns for breakfast' because she's always looking for the next campaign she can automate and add to her email engine. While she continues to dedicate herself to the automation of her email engine, doing two launches a year will be Hillary-Marie's main focus going forward.
Does Hillary-Marie feel like email marketing has taken over her life?
While email marketing does take some time and work upfront to implement campaigns, that's an investment of a couple of hours to build an asset that can be reused in her business and that will continue to serve her for time to come. She knows she can do it once, invest the time, and then enjoy the benefits of that later. And that's a win in our eyes!
Make More Sales with our Psychology-Based Email Marketing Membership
Psychology-based email marketing.
Complete email campaigns.
Video training.
Group coaching sessions.
Exclusive AutomateHero app.
Subject line of the week
This week's subject line is "When I get high…" This subject line works because there's an obvious assumption that people make when they read it. But if they know your personality (and people on our list know Rob's), they'll also know that there's got to be another meaning to those words.
So the subject line throws them off-piste a little. It's only when they read the email that they find out it was about being on a plane up in the air. It works because it generates intrigue and curiosity, so check it out!
Useful Episode Resources
Related episodes
Everything You Need To Know About Our Membership The League (THE Behind The Scenes!)
How A League Member Made Over $10k With Just ONE Email Campaign – Case Study With Aidan O'Sullivan.
Tell Me You're A Member Of The League Without Telling Me You're A Member Of The League.
FREE list to improve your email marketing
If you want to write better emails, come up with better content, and move your readers to click and buy, here's how. We put together this list of our Top 10 most highly recommended books that will improve all areas of your email marketing (including some underground treasures that we happened upon, which have been game-changing for us). Grab your FREE list here.
Join our FREE Facebook group
If you want to chat about how you can maximise the value of your email list and make more money from every subscriber, we can help! We know your business is different, so come and hang out in our FREE Facebook group, the Email Marketing Show Community for Course Creators and Coaches. We share a lot of training and resources, and you can talk about what you're up to.
Try ResponseSuite for $1
This week's episode is sponsored by ResponseSuite.com, the survey quiz and application form tool that we created specifically for small businesses like you to integrate with your marketing systems to segment your subscribers and make more sales. Try it out for 14 days for just $1.
Join The League Membership
Not sick of us yet? Every day we hang out in our amazing community of Email Marketing Heroes. We share all of our training and campaigns and a whole bunch of other stuff. If you're looking to learn how to use psychology-driven marketing to level up your email campaigns, come and check out The League Membership. It's the number one place to hang out and grow your email marketing. Best news yet? You can apply everything we talk about in this show.
Subscribe and review The Email Marketing Show podcast
Thanks so much for tuning into the podcast! If you enjoyed this episode (all about how our client Hillary-Marie made $16k worth of sales with an email marketing campaign… twice!) and love the show, we'd really appreciate you subscribing and leaving us a review of the show on your favourite podcast player.
Not only does it let us know you're out there listening, but your feedback helps us to keep creating the most useful episodes so more awesome people like you can discover the podcast.
And please do tell us! If you don't spend time on email marketing, what do you really fill your working days with? We'd love to know!