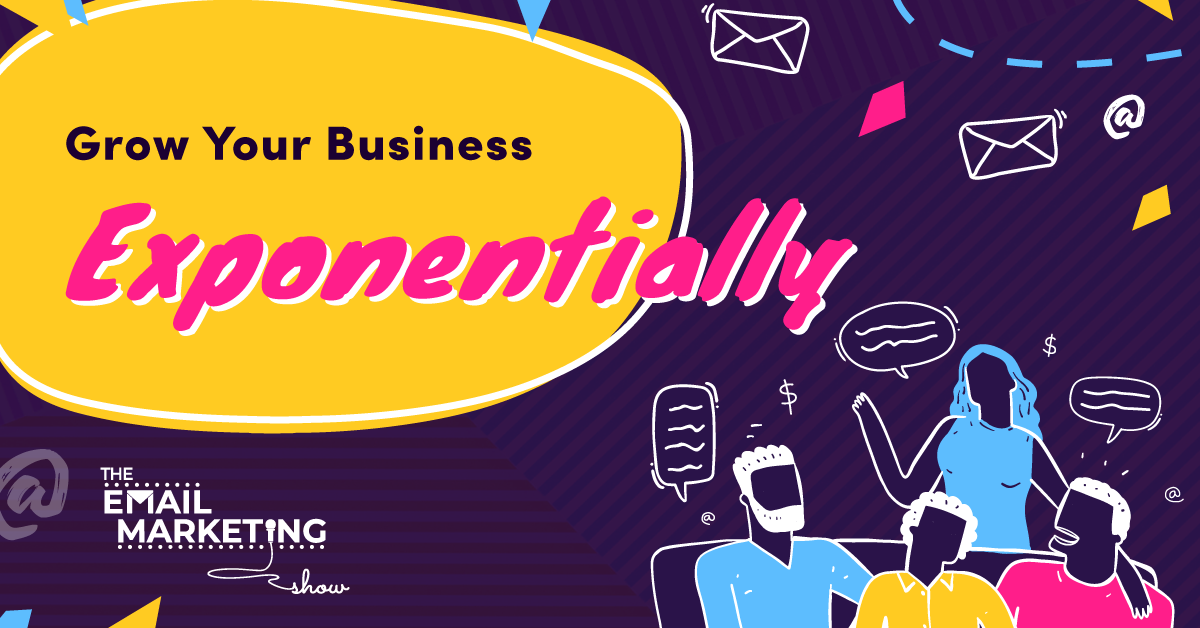 Turn Every Client Into Two More Using Simple Referral Marketing
How do you grow your business by turning each and every client into two more? Today we share our proactive referral marketing strategy, which is something that will help you grow your business exponentially.
Ready to go through the steps to do this?
SOME EPISODE HIGHLIGHTS: 

(0:13) Join our FREE Facebook Group. 
(6:03) Creating a memorable hook.
(8:59) Creating more memorable hooks.
(12:32) Step One - planting the seeds.
(17:43) Step Two - watering the seeds.
(20:05) Step Three - asking for the referral.
(22:14) Rewarding the referral.
(24:09) Sending a gift that doesn't fit in a drawer.
(27:30) Offering double-ended incentives.
(30:12) Subject line of the week.
Creating a memorable hook
Having a referral strategy is a great way to grow your business, especially if you work with clients on a one-to-one basis or in small groups. If you have a service-based high-touch business that serves a small number of clients, this referral strategy works like a dream. But we're going to show you how to use this strategy that Kennedy's been using for his entertainment business for over 15 years for a membership, course, or programme as well.
The first thing you want to do is to create a memorable hook for your products, services, or brand. For example, for our podcast (The Email Marketing Show) we have a tune that sticks in your head. It's annoying and simple, and that's done on purpose. Because that's the whole point of marketing – you want to create something that people will talk about.
Creating more memorable hooks
With our podcast, we didn't stop at the tune. That's why we came up with a secondary memorable hook – Email Marketing Wednesday. It's so obtuse and weird (and purposely a bit crap) that it becomes memorable. It also allows to create some tension and conflict, which is memorable in people's minds. We don't disagree much on our show otherwise. While we might not agree on everything in business and life, there's no tension or friction between us – there's no real drama on the show. So we created some through a memorable hook.
Also, at the start of each episode, we read out a fact about each other. And we know that some of these things stick in people's minds because they come up to us at events and tell us they remember! And having something that people remember about your product or your brand helps you create more referrals because it means they have something to tell their friends and family about.
Another thing we do on the podcast is to play a game with our guests where one of us has to guess one true fact about our guest. It's something interesting to describe the podcast by, so think about giving people a pre-loaded 'script' to talk about you and your products or services.
But memorable hooks aren't the only thing you need. If you want to grow your business exponentially, you need a proactive referral strategy. Your intention here is to turn every gig or client into two more. So how will you do that?
Step One: Planting the seeds
The first stage of Kennedy's referral marketing technique is all about planting seeds. And you do that as soon as someone gets in touch to enquire about becoming a client. You ask them how they heard about you. And if they say they found you on the internet or via an ad, you act surprised and let them know that actually most of your work comes from customers recommending you to others.
That does two things for you. First of all, it plants the seed that people do refer you. That means that once you've worked with this client and you ask them for a referral, you're going to feel less bad for asking them. Plus, they're going to be more open and less guarded about your request because you already informed them that people normally refer you.
The second thing you do when you tell someone that most of your work comes from referrals is to give them social proof. If people recommend you, you must be really good! You're having this conversation with someone before they've even worked with you, so by telling them that your existing and previous customers refer you all the time, you're encouraging this client to go ahead and work with you.
So don't overlook the importance of asking this question and talking about referrals, but also acting surprised. It helps the conversation stand out, and they're more likely to remember it.
Step Two: Water the seeds
When you're working with this client, make sure you mention referrals again. Did someone actually refer you to this client? Ask them who it was again and tell them you want to make sure you send a little Thank You note or a gift to that person.
Right now, you're watering the seeds and reminding this person again that referring you is something that people do all the time. It helps build that belief that you're someone who gets referred again and again.
The Top 10 Books To 'Power Up' Your Email Marketing
10 book recommendations that will improve all areas of your email marketing (including some underground treasures that we stumbled upon which have been game-changing for us).
Step Three: Asking for the referral
If you mention referrals before you start working together and then while you're working with them (as per the previous two steps), it's a lot easier for you to ask for that referral at the end of the work. And it'll be more straightforward to get one because you'll have done the groundwork in advance.
When you get to this stage, you can even create an automated email sequence that goes out when the work is complete to ask your client for a testimonial and a referral. This helps you amplify the number of people who refer you.
Rewarding the referral
A step that a lot of people miss out on is rewarding the referral. The reason why this works (psychologically) is that you're giving someone praise for the action of referring you.
So you could send the person a gift, for example. Before you do that though, make sure you consider the legality of gifting people within your industry. In some sectors, you'll find there's a price point you need to stay under if you want to send a gift to a client. But broadly speaking, as long as the gift isn't a high-price item that can be misinterpreted as a bribe, you're good to go.
Sending a gift that doesn't fit in a drawer
When thinking of Thank You gifts, we like to send things that cannot be put in a drawer – we call them un-drawerables. A card, for example, fits in a drawer. And if you send someone a card, it'll be effective there and then – the person receiving it will think it's a nice and thoughtful gesture, but eventually, that card is going to end up in a drawer and out of sight/out of mind.
A gift that doesn't fit in a drawer (like a mug, water bottle, or flowers, for example) means people get to show off or are reminded that someone appreciates them. That not only makes them feel good, but it means your brand gets talked about over and over (especially if the person works in an office and people see and ask about the gift!)
As long as that gift stays visible and on someone's desk, for example, you're amplifying the emotional response of that person feeling acknowledged and good about the referral. This emotional, positive feedback will encourage them to refer you again and again.
Offering double-ended incentives
The other thing we do where possible and appropriate is offering what we call a double-ended incentive. This is something that rewards both parties – the new customer and the existing one.
For example, members of The League who refer others will get 50% off their next month while the new member gets 50% off their first month. This is a generous discount, and of course, if you have a high-ticket service, you might not be able to offer 50%, but maybe you could offer 10% off?
Want to join The League?
If you want to find out more about creating a consistent stream of sales in your business and build what we call a core email engine to support that, come and join us inside our membership The League. We'll help you get amazing results with your email marketing while building your business and making sales more consistently.
Make More Sales with our Psychology-Based Email Marketing Membership
Psychology-based email marketing.
Complete email campaigns.
Video training.
Group coaching sessions.
Exclusive AutomateHero app.
Subject line of the week
This week's subject line is "we waited." (purposely all in lower case and with a full stop at the end). The story is about waiting for something, and it has a bit of an ominous feel to it. As it happens with most of our emails, this one was about promoting The League, but we pulled the subject line from that story.
Useful Episode Resources
Related episodes
Best Email Marketing Campaign To Get Your Customers To Buy Again (And Again).
Advanced Psychology: Using Compound Curiosity.
7 Email Marketing Things That Shouldn't Work (But Do).
FREE list of the top 10 books to improve your email marketing
If you want to write better emails, come up with better content, and move your readers to click and buy, here's how. We put together this list of our Top 10 most highly recommended books that will improve all areas of your email marketing (including some underground treasures that we happened upon, which have been game-changing for us). Grab your FREE list here.
Join our FREE Facebook group
If you want to chat about how you can maximise the value of your email list and make more money from every subscriber, we can help! We know your business is different, so come and hang out in our FREE Facebook group, the Email Marketing Show Community for Course Creators and Coaches. We share a lot of training and resources, and you can talk about what you're up to.
Try ResponseSuite for $1
This week's episode is sponsored by ResponseSuite.com, the survey quiz and application form tool that we created specifically for small businesses like you to integrate with your marketing systems to segment your subscribers and make more sales. Try it out for 14 days for just $1.
Join The League Membership
Not sick of us yet? Every day we hang out in our amazing community of Email Marketing Heroes. We share all of our training and campaigns and a whole bunch of other stuff. If you're looking to learn how to use psychology-driven marketing to level up your email campaigns, come and check out The League Membership. It's the number one place to hang out and grow your email marketing. Best news yet? You can apply everything we talk about in this show.
Subscribe and review The Email Marketing Show podcast
Thanks so much for tuning into the podcast! If you enjoyed this episode (all about referral marketing) and love the show, we'd really appreciate you subscribing and leaving us a review of the show on your favourite podcast player.
Not only does it let us know you're out there listening, but your feedback helps us to keep creating the most useful episodes so more awesome people like you can discover the podcast.
And please do tell us! If you don't spend time on email marketing, what do you really fill your working days with? We'd love to know!