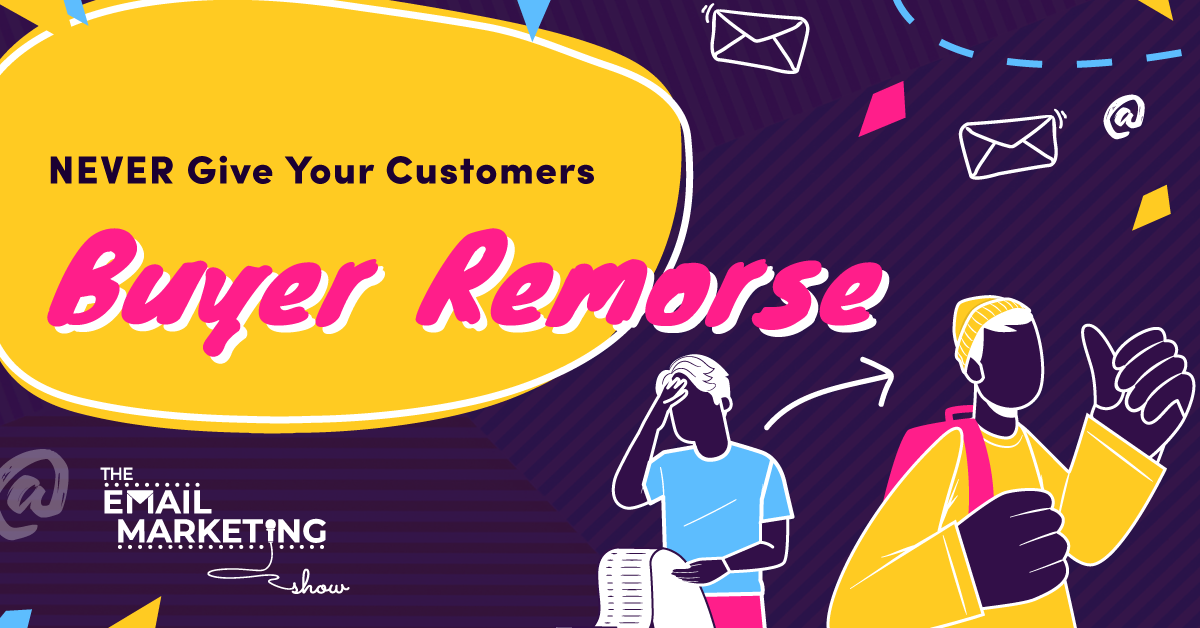 How To Prevent Buyer Remorse And Turn Customers Into Raving Fans!
How do you prevent buyer remorse and get your customers to buy from you over and over again? What can you do to make sure the people who buy from you never regret it? And how exactly do you turn them into repeat buyers and raving fans?!
We spill ALL the beans today.
Are you ready for it?
SOME EPISODE HIGHLIGHTS: 

(0:33) Join our FREE Facebook Group. 
(4:34) Check out our sponsor ZeroBounce. 
(6:22) What is buyer remorse?
(7:43) What's the psychology behind buyer remorse and why does it happen?
(11:44) Remorse is a natural physiological response.
(15:48) How the heck can email marketing help with buyer remorse?
(16:39) Resell people on the product to gain the ability to sell more to them!
(21:03) Teach the best bits first!
(22:49) How to prevent buyer remorse in your onboarding sequence.
(25:44) Subject line of the week.
What is buyer remorse?
Buyer remorse is a sense of regret that happens at the back of people buying something. It can happen immediately, as soon as they bought the product, or after it's been delivered. But it can also kick in quite a long time down the road, like a year later, for example.
What's the psychology behind buyer remorse and why does it happen?
Buyer remorse can happen for a number of reasons.
People don't have confidence in themselves
If you sell a course, a membership, or coaching, buyer remorse could happen when someone loses confidence in themselves. Doubt creeps in and the person who bought your product suddenly isn't sure whether they can do the work.
You (as the vendor) may have done everything you needed to do to sell it, but your customers are now doubting their own ability to get the work done. And so they start to regret buying your product.
People have been burnt out before
Another reason why people experience buyer remorse could be that the minute the money leaves their account, they're triggered into a time when they were burnt in the past.
Maybe they bought something, but the person who sold them the product didn't deliver on their promise. Or maybe the product wasn't good. We've all had bad experiences in the past, and we're all jaded somehow. So sometimes people regret buying from you, but it's not because of something you did. Rather, it's because someone else may have done something not as ethical or good as you.
The product isn't what it promised to be
What could also happen is that someone buys a course, and they're excited about it. But then they get started and realise the programme isn't what it said in the advertising. Sure – any good marketing is meant to get people excited. But that should never be to the detriment of content.
People worry about what others might think
Another reason for buyer remorse is that people buy something but then start worrying about what others might think. This is all to do with the fear of being judged by others!
Remorse is a natural physiological response
Remorse can also be a natural physiological response to all the tension and excitement that kicks in if you've been thinking about buying something for a long time, for example. At some point, you may feel apprehension, and that can be disguised as excitement. Because, physiologically, we have very little ability to tell the difference between terror, tension, or anxiety and excitement – they feel the same to us! So it's when we've paid for something (and the money's gone) that suddenly all the doubts appear, and we feel remorse.
For a lot of people though, buyer remorse boils down to that moment when they start to realise that what's standing in between them and getting the results they want is their own ability to do the work – to make time to prioritise, study, and apply whatever it is they bought. People might start to understand that it's up to them to make your teachings work in their situation, and suddenly they doubt themselves.
How the heck can email marketing help with buyer remorse?
Over the years, we've come up with a few strategies to use email marketing to prevent buyer remorse. The first one is to make sure we do a really damn good job of reselling how amazing the product is. We want to tell them how it's going to help them get the outcome they want.
How do you do that? You repaint the transformation you promised them. We do that in our series of Thank You videos but also in our follow-up sequence called the Refund Reduction campaign, which is available inside our membership The League. The campaign is designed to get people to consume your product. But even if they don't consume it, they'll still feel the benefits and won't ask for their money back.
Resell people on the product in order to gain the ability to sell more to them!
Basically, your marketing doesn't stop when someone buys. Because, first of all, you want to make people feel great about what they just bought. But also, you want them to buy something else from you in the future. And it's going to be a lot harder to get someone over the hump of buying something else if they wish they hadn't bought anything at all! In order to buy from you again, people need to love the fact they bought from you in the first place!
So in the follow-up emails that deliver the product, we signpost people to its various elements. Over a few days, you want to show people how good your product is – even if they never look at it. Why? Because you want to increase the customer value by selling more offers to the same people. That's how businesses become successful – by selling multiple products to the same customers.
If someone buys from you, but you never resell them on that product, there's a chance they won't buy from you again. So your job is to remind your customers of the problem you solve. Be specific and tell them exactly how and where in your programme they can find the answer to their burning question (which ideally is what sold them on your product in the first place). Remind people that they've got access and give them all the details again.
Teach the best bits first!
Also, remember that when people buy courses, they don't always go through them or complete them. So make sure you pick the sexiest bits of your programme and tell your audience about them in your post-purchase sequence.
In fact, teach the sexy bits first! Place them at the start of your programme to make it more interesting. The unsexy bits that naturally every course will have can go later, but let people get excited about the greatest parts first. They can always do the unsexy work later.
For example, when people join our membership The League, we send them a link to our Getting Started videos. We tell them to watch these videos in order to get the best results. We know our customers feel good about this content because it reminds them that our programme is great and tells them what's going to happen next, what to expect, what the outcome is going to be, and why it's important.
The Top 10 Books To 'Power Up' Your Email Marketing
10 book recommendations that will improve all areas of your email marketing (including some underground treasures that we stumbled upon which have been game-changing for us).
How to prevent buyer remorse in your onboarding sequence
When someone joins The League, we first map out what the different elements of the membership are. We talk about our email campaigns, the automated software suite of tools that you can plug into your email marketing system, our two coaching calls a month, our members-only podcast, the video training, etc.
And then we map out all the actions that we want someone to take. For example, we ask people to subscribe to the members' only podcast, register for the next group call, get into our Facebook group, etc. After that, we need to figure out where people should start because we want to make their journey easy. Our membership has a lot of material in there, so we need to tell people where to start, in order to reduce their feelings of overwhelm.
This is why, after our three Getting Started videos, we tell people to jump onto our Success Track. We don't want to leave people with no place to go. The idea is to guide them through and help them figure out what to do next because they're new to the content, and it can feel intimidating. So we give them a bit more direction. Your onboarding sequence needs to keep people moving along the path.
And if you want to find out more about this, here's the episode How To Create A Member Onboarding Sequence That Your Members Will Love. So remember to address the key questions that someone might have when they join your programme – do this to prevent buyer remorse!
And if you want all the details of our onboarding sequence and our Refund Reduction campaign, they're all inside our membership The League. If you're not already a member, go and check it out, and you'll get instant access.
Make More Sales with our Psychology-Based Email Marketing Membership
Psychology-based email marketing.
Complete email campaigns.
Video training.
Group coaching sessions.
Exclusive AutomateHero app.
Subject line of the week
This week's subject line is "100% discount (sort of)". The "sort of" adds much more believability and credibility to the subject line. Plus, it makes the context of the email more curious.
The email was about our campaign called The Golden Cloak, which has a bribe built into it. It talks about the fact we have this free thing, but it's "sort of" free because it's only really free when you buy something else. So check it out!
Useful Episode Resources
Related episodes
6 Things You Didn't Know Your Email Marketing Platform Could Do.
Use THIS Free-Trial Email Sequence To Turn Your Subscribers Into Paying Customers.
Everything You Need To Know About Our Membership The League (THE Behind The Scenes!)
FREE list to improve your email marketing
If you want to write better emails, come up with better content, and move your readers to click and buy, here's how. We put together this list of our Top 10 most highly recommended books that will improve all areas of your email marketing (including some underground treasures that we happened upon, which have been game-changing for us). Grab your FREE list here.
Join our FREE Facebook group
If you want to chat about how you can maximise the value of your email list and make more money from every subscriber, we can help! We know your business is different, so come and hang out in our FREE Facebook group, the Email Marketing Show Community for Course Creators and Coaches. We share a lot of training and resources, and you can talk about what you're up to.
Try ResponseSuite for $1
This week's episode is sponsored by ResponseSuite.com, the survey quiz and application form tool that we created specifically for small businesses like you to integrate with your marketing systems to segment your subscribers and make more sales. Try it out for 14 days for just $1.
Join The League Membership
Not sick of us yet? Every day we hang out in our amazing community of Email Marketing Heroes. We share all of our training and campaigns and a whole bunch of other stuff. If you're looking to learn how to use psychology-driven marketing to level up your email campaigns, come and check out The League Membership. It's the number one place to hang out and grow your email marketing. Best news yet? You can apply everything we talk about in this show.
Subscribe and review The Email Marketing Show podcast
Thanks so much for tuning into the podcast! If you enjoyed this episode (all about how to prevent buyer remorse with email marketing) and love the show, we'd really appreciate you subscribing and leaving us a review of the show on your favourite podcast player.
Not only does it let us know you're out there listening, but your feedback helps us to keep creating the most useful episodes so more awesome people like you can discover the podcast.
And please do tell us! If you don't spend time on email marketing, what do you really fill your working days with? We'd love to know!