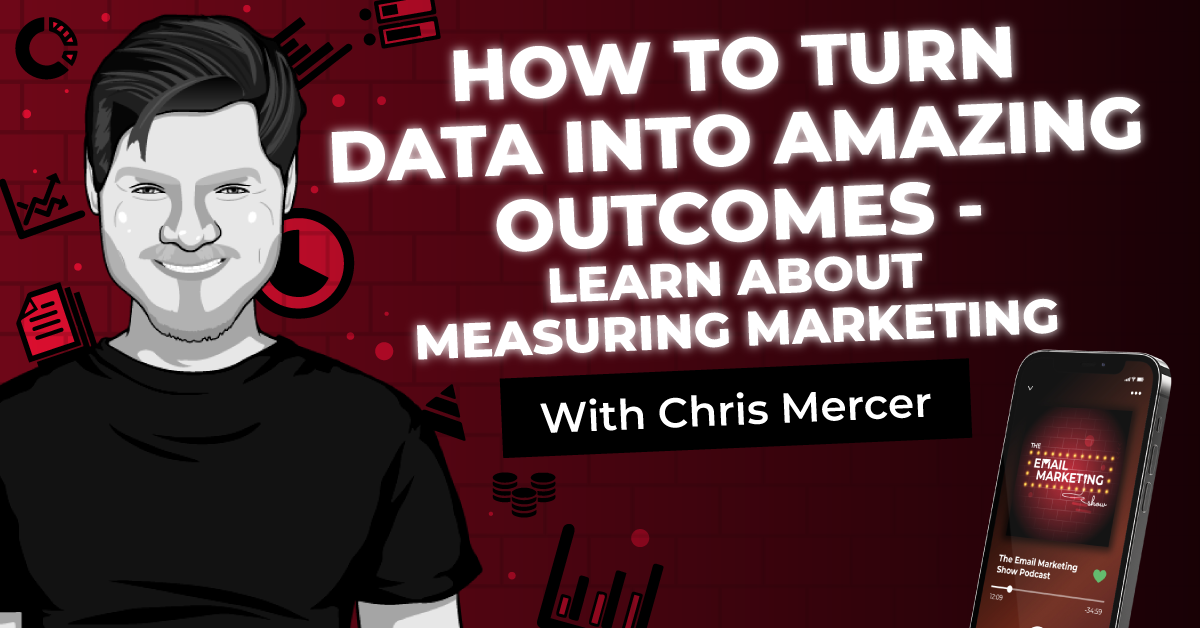 How to turn data into amazing outcomes – learn about Measuring Marketing with Chris Mercer
Do you want to learn how to turn some super simple data into amazing insights and even better outcomes? Today's episode teaches you everything you need to know about measuring marketing with Chris Mercer.
If just hearing the mention of Google Analytics makes you break up in hives, this episode is for you. Because you might not see yourself as a number person, but you can still absolutely gather data that will help you make better decisions in your business.
Ready for all the juicy stuff?
SOME EPISODE HIGHLIGHTS: 
(2:44) Does Chris Mercer really want to open a guitar shop when he retires?
(4:51) Measuring marketing - why every business should start doing it.
(5:50) What you should be tracking when it comes to email marketing.
(6:41) Why digital marketers should start using Google Analytics.
(7:21) How you can start using Google Analytics (even if you're not a number person!)
(13:00) Why you should start using UTM parameters right now.
(16:29) Recommended tools to build UTMs. 
(18:10) How time-consuming is measuring marketing?
(22:21) How big does your email list need to be for you to start measuring marketing? 
(25:53) Subject line of the week with Chris Mercer.
The Top 10 Books To 'Power Up' Your Email Marketing
10 book recommendations that will improve all areas of your email marketing (including some underground treasures that we stumbled upon which have been game-changing for us).
Measuring marketing – why every business should start doing it
Are you one of those people who run their business on a wing and a prayer, hoping it will all work out? Are you trying (and struggling) to figure it all out as you go?
We know that a lot of people use email marketing because it's a fantastic channel. But do you tap into the functionality offered by your email provider and measure the results of your email marketing campaigns? A lot of people don't.
And that's not just in terms of sales but also in terms of the customer journey and how you're moving people through a conversation that eventually leads your subscribers to buy your products. If you don't do this – like many others – it's probably because you don't know you should and you don't know you can.
And that's about to change. Because if you're a business owner, you absolutely can and should measure your customer journey.
What should you be tracking when it comes to email marketing?
The top two pieces of information every business should be measuring, Mercer says, are open rates and click-through rates. Open rates matter because they tell you how interesting your email might be for your marketplace. While click-through rates tell you how efficient your emails are at getting people to take the next step you want them to take.
But once you've got your subscribers off their email app and onto your web page, the data from your email provider isn't enough anymore. You need tools like Google Analytics to help you tell another part of the story. What happens now that your subscriber is on your website?
So let's say you had 100 people who opened your email. Ten of them clicked through the link, but only one bought from you. What happened to the other nine? Google Analytics can provide the information you need to close that gap.
Should digital marketers start using Google Analytics?
A lot of people think of Google Analytics as something confusing and overwhelming they can't make any sense of. So the first thing that needs to happen is a mindset change – you need to shift the way you look at it.
Mercer explained this with an easy example. Let's imagine you've walked into a shoe shop. The sales assistant will walk up to you, ask you questions, direct you to the right product for your needs, and possibly even try and upsell you. That's a completely natural conversation that would be happening in this scenario and interaction.
Let's now move back to the online world. The way that your customers interact with your web pages is the equivalent of the conversation that would take place in a physical store with an actual person. But unless you intentionally try and check what happens in that interaction (with a tool like Google Analytics) you have no idea of what would take place in that conversation.
The greatest mindset shift is to realise that that you may be selling online, but that conversation is still there. Measuring marketing is how digital marketers listen to the interaction between their customers and their website. And you should absolutely do this because you'd never ignore a customer in the brick-and-mortar world, would you?
How to make sense of Google Analytics
Make More Sales with our Psychology-Based Email Marketing Membership
Psychology-based email marketing.
Complete email campaigns.
Video training.
Group coaching sessions.
Exclusive AutomateHero app.
Once you set up Google Analytics, you get access to a lot of data. But this information is not stitched together – it's not in any organised shape or form. It's the equivalent of you picking up a storybook where a bunch of pages has been ripped up. You can totally still read the book because the fact it's missing pages doesn't mean you've suddenly lost the ability to read! But it won't make much sense as a story.
The same happens with Google Analytics. Setting it up gives you access to lots of data, but that information isn't joined together and utilised properly. Investing the time to do it (i.e. embracing measuring marketing) allows you to respond to that information. So you can, for example, adjust email subject lines or change body copy to try and move the conversation the way we want it to go. And once you decide to start working with Google Analytics, you will see impressive results quite quickly.
Why you should start using UTMs
A tactic Mercer recommends you use is UTM parameters. So when you have UTM parameters set up and someone clicks on one of your emails, you can identify where that traffic came from, what type of traffic it was, and what the purpose of it was. So, as an example, you can use UTM code through your email provider and start looking at your customer journey. Because UTMs help you understand which path the person who clicked on a particular link came from and the route they took.
You can look at information such as what the purpose of the email was. Was it to make someone aware of the product? Was it to engage them? Or to help them close and buy? Once you can pinpoint what emails are generating the type of actions you're interested in, you'll also know what works and what doesn't and be able to change things as a result. 
Recommended tools to build UTMs
Google has its own UTM builder, which is a nice and neat browser extension. But Mercer also recommended two different tools to build UTMs. One is utm.io. The other one is the free UTM Builder that Mercer offers as part of his Traffic Tracking Toolkit on his website measuringmarketing.io, together with an eBook and a video to help you set it all up.
How time-consuming is it to set your business up for measuring marketing?
Setting Google Analytics up and getting started with UTMs and measuring marketing doesn't need to take long. Sure, Google Analytics can be complicated in terms of the data you can access through the tool. But, Mercer says, you can start things up and always improve at a later date.
Setting up UTMs with your email provider will take minutes, and the payoff in terms of visibility into your customer journey is incredible, so there's no real excuse not to do it!
After all, you can only read data at a later date if you've been collecting it in the first place. And once you get started and have measuring marketing set up, you can then focus on doing more of what works. In other words, stop trying to pull up the troughs and focus on the peaks instead!
How big does your list need to be for you to be able to start with measuring marketing?
Mercer says that the truth is in the trend and the power is in the pattern. If you're looking for a pattern or a trend, then 100 people on your list is a good number to get started because you can judge pretty quickly if an email is working or not.
Of course, the more that number grows, the more you can rely on trends becoming more stable – the bigger the sample, the better. But that doesn't mean you can't embrace measuring marketing when your list is still on the small side. As long as you can see a consistent pattern over time, you're doing measuring marketing. 
Subject line of the week with Chris Mercer 
Mercer recently changed a measurement marketing certification they were offering to partners. So he sent out an email with the subject line: "Your certification…"
This worked well for Mercer's business for a particular campaign in the context of changing the messaging around the certification. The subject line was successful because it made the recipients wonder what the content was all about – it used curiosity as a hook. It got a huge open rate and the format worked really well. Pretty cool stuff!
Useful Episode Resources
About Mercer
Did you enjoy this episode about measuring markeing with Chris Mercer? If you want to connect with the amazing Mercer, head over to his website measuringmarketing.io. Chris has a free membership called Toolbox membership that offers a lot of free tools to help you improve your marketing. Head over to measuringmarketing.io/emailmarketingshow/ to gain access to a range of tools to measure your traffic throughout the customer journey, guides and frameworks to improve your measurement system, and a free library of templates, scripts, resources, and awesome toolkits.
And if you're a member of The League don't forget to go and check out the battle plan that Mercer did for us called Using Google Analytics to Measure your Email Tracking.
Related episodes
How To Track Your Email Sales – UTM Tracking With Tatiana Belim.
Increase Your Email Open-Rates: 13 Email Subject Line Tips to Stand Out in An Overcrowded Inbox #2018.
Email AMP and the future of email marketing with Aweber CEO Tom Kulzer.
FREE list of the top 10 books to improve your email marketing
Want to write better emails? Come up with better content? Influence and move your readers to click and buy? Well, you can do that with this list of our Top 10 most highly recommended books that will improve all areas of your email marketing (including some underground treasures that we happened upon, which have been game-changing for us). Grab your FREE list here.
Join our FREE Facebook group
We know your business is different, so come and hang out in our FREE Facebook group, the Email Marketing Show Community for Course Creators and Coaches. We share a lot of training and resources, and you can talk about what you're up to.
Try ResponseSuite for $1
This week's episode is sponsored by ResponseSuite.com, the survey quiz and application form tool that we created specifically for small businesses like you to integrate with your marketing systems to segment your subscribers and make more sales. Try it out for 14 days for just $1.
Join The League Membership
Not sick of us yet? Every day we hang out in our amazing community of Email Marketing Heroes, where we get to share all of our training and campaigns and a whole bunch of other stuff. If you're looking to learn how to use psychology-driven marketing to level up your email campaigns, come and check out The League Membership. It's the number one place to hang out and grow your email marketing by applying everything we talk about in this show.
Subscribe and review The Email Marketing Show podcast
Thanks so much for tuning into the podcast! If you enjoyed this episode (all about measuring marketing with Chris Mercer) and love the show, we'd really appreciate you subscribing and leaving us a review on your favourite podcast player.
Not only does it let us know you're out there listening, but your feedback helps us to keep creating the most useful episodes and get discovered by more awesome people like you.