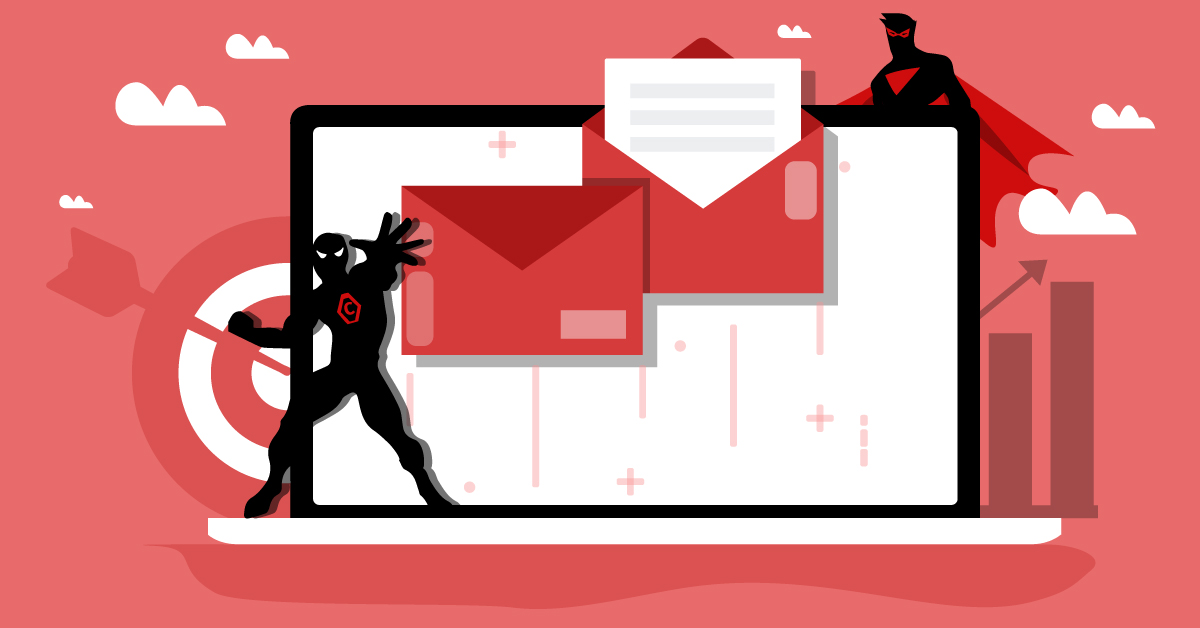 Increase Your Email Open-Rates: 13 Email Subject Line Tips to Stand Out in An Overcrowded Inbox #2018
We've put together some subject line tips and tricks to help you increase your email open rate.
NOTE: The strategies we are about to share with you are focused on increasing your email open rate but do not take into consideration the impact of spam filters.
1. USE EMOJI'S
There has been a huge increase in the use of emojis and icons in subject lines for email marketing campaigns recently, and there's a good reason for that.
A recent report from Campaign Monitor shows that 56% of brands using emoji's in their subject lines noticed an increased email open rate.
That's because the emoji adds colour and personality to the email subject line.
Although icons and emoji's look fun, there are also a few other clever reasons to use them in your subject line.
[su_list icon="icon: check-circle-o"]
You can replace actual words with emoji's, helping to keep your subject line short and snappy.
They make your subject line instantly more emotive, helping to draw attention.
They can be used to emphasise the topic of your subject line, it's a sneaky way to repeat yourself without looking like you are.
[/su_list]
TIP: If you are using emoji's or icons in your subject lines, remember to test that they display correctly before you send. Send a test email to yourself to make sure that your emoji looks good.
2. DON'T GET TOO PERSONAL
Having the ability to merge the names from your mailing list is a useful tool to have, but before using it you need to consider whether it will work for you.
It's a great function but the more you use it, the less effective it could be.
At Response Suite, we found that personalising the subject line can reduce the open rate of an email, but that personalising the preview text can increase open rate.
If you're working on a jaw dropping and eye catching subject line, you don't want to restrict it with the need to fit a name in somewhere.
Some of the best performing subject lines are shocking, daring and entertaining.
Often there isn't a good place for a name to fit into these without compromising the performance of your email campaign.
3. SHOW SOME EMOTION
Why not use fun ways to emphasise your message in order to draw people in and stand out.
A really simple trick to try is to add some personality and emotion in brackets.
You probably already have some quirky phrases or words that people will associate with your brand, fun language traits that you're known for.
Pop these in brackets to add some brand personality.
You want people to hear your voice in their head when they read your emails!
Another great tactic for showing emotion and personality is using common interests.
If you have a mailing list filled with American Football fans you could use something like this:

[su_spacer size="20″]
4. WORD PLAY & INNUENDOS
Daring and entertaining subject lines can increase your open rate by 25% if done properly.
This statistic alone should be enough to make you want to throw in an innuendo or two.
By turning your subject line into a brilliant play on words or a relevant innuendo, you are more likely to grab your readers attention. The main aim is to provide enough entertainment factor that your subscriber just can't help but want more.
In other words, if you can make someone LOL then you're onto a winner!
Don't worry, you don't have to be a professional comedian, it's easier than you think!
5. SET EXPECTATIONS
It's important to set expectations from the get go.
When you send out your initial welcome email, you can let people know when they will receive emails from you, how often they will receive them and what kind of content they will be getting.
It's also important that your emails are being sent from the same person in your business each time. People will remember the 'from' name on your emails and will recognise it when it pops into their inbox.
If this isn't possible for you, try to make sure that your business name is included.

6. KEEP IT RELEVANT
A really important part of getting someone's attention is talking about something relevant to their interests.
You should already have a good idea of what your list find interesting and what they want more knowledge about. Use this to your advantage!
The easiest way to do this is by mentioning related key words and phrases in your subject line and preview text.
If someone is specifically interested in weight loss, chances are they wouldn't notice an email from you about:
But they would most definitely notice an email from you about:
7. SHOW THEM THE BENEFITS
If you had 10 unread emails in your inbox, chances are you will read the one that gives you something you want or need.
Some people just don't have the time to filter through their inbox for emails that will be helpful or beneficial to them, so be direct.
Shout it at them. Nudge them. Tell them what you have and why they want it.
If you can explain the benefits offered up in your email, in your subject line, you are instantly more likely to create intrigue and get noticed!
You also have a better chance of getting people to click on the links inside your email if they already know they will benefit from it.
For some ideas on different ways to place your links take a look at our FREE guide '6 Ways to Dress Your Links for Increased Clicks'
 [su_spacer size="10″]
8. USE CELEBRITY & POP CULTURE
Let's not underestimate the love for celebrity gossip!
So why not apply this to your emails to make then jump out from the rest in an inbox?!
You can use this simple formula to create hundreds of engaging subject lines:
Celebrity/trend + action + product/service
[su_highlight background="#f88379″]What Britney Spears Knows About Vitamin C[/su_highlight]
Alternatively, if you don't want to take advantage of the public need for celebrity gossip, mentioning film and music is also great for boosting open rate and getting noticed.
Research by Marketing Land shows that using film quotes or song titles can help your emails stand out and increase open rate by 26%
9. USE INTERESTING GRAMMAR AND PUNCTUATION
Just by paying extra attention to the spelling, grammar and punctuation you can increase the chances of getting noticed instead of being moved straight to trash.
The main reason this works is that it breaks up the text and makes it more eye catching.
Using capital letters and punctuation correctly helps you avoid any auto spam filters on inboxes, as well as making it less likely for you email to be manually deleted or moved to a junk inbox.
You can also use these techniques to your advantage to draw attention to an action or benefit of your email. Have fun with it.
10. USE A TRENDY ACRONYM
People love a LOL!
Stand out by using on trend acronyms. You can use this strategy to convey emotions, personality and entertainment factor.
Don't overdo it. Keep it short, snappy and relevant. You won't get far if you just drop a random LMAO where it doesn't belong.
JIC (just in case) your brain library isn't stocked full of trendy acronyms, here is a list of 33 cool abbreviations put together by Huffington Post.
11. GO AGAINST THE GRAIN
One of the best ways to stand out is to go against the grain and do something different.
During big national events, customers are inundated with emails basically saying the same thing, because all companies want to capitalise on big news.
For example, during the Black Friday sales the majority of marketing emails sent will be about promotions, discount and saving money.
In fact, a recent study showed that during the Black Friday period (25th Nov – 28th Nov), 52% of email subject lines contained the words BLACK FRIDAY or CYBER MONDAY.
A further 28% of emails contained the word SALE, meaning that a full 80% of subject lines referred directly to the topic of discounts. (Read the full report from Omnisend here)
Be different.
Find something different to talk about that your audience won't be expecting, provide a nice breath of fresh air amongst the thick fog of sales pitches.
Who knows, perhaps becoming the only company purposefully NOT offering Black Friday discounts could make you stand out more!
12. SAY SOMETHING RIDICULOUS
We would never advocate lying to your mailing list.
But, making a bold, outrageous (and clearly untrue) statement is a sure fire way to grab people's attention.
The aim is to spark curiosity and play with the shock factor of untrue statements.

13. TAKE IT OUT OF CONTEXT
This involves similar tactics to above, curiosity and entertainment.
The best way to think about this is, finding new ways to describe what you are offering.
If you email contains a great image of your latest product, your subject line could read:
'Do Not Bend! [Important Photo Inside]'
Or if your email was promoting your new blog post reviewing photography equipment, your subject line could read:
'Fragile! [Photography Equipment Inside]'
You need to be careful with this one though, you don't want to make your subject line so bizarre that people take no interest at all as they think it doesn't apply to them!
Which of these 13 tips do you think would work best for your business?
We'd love to hear your opinion in the comments…