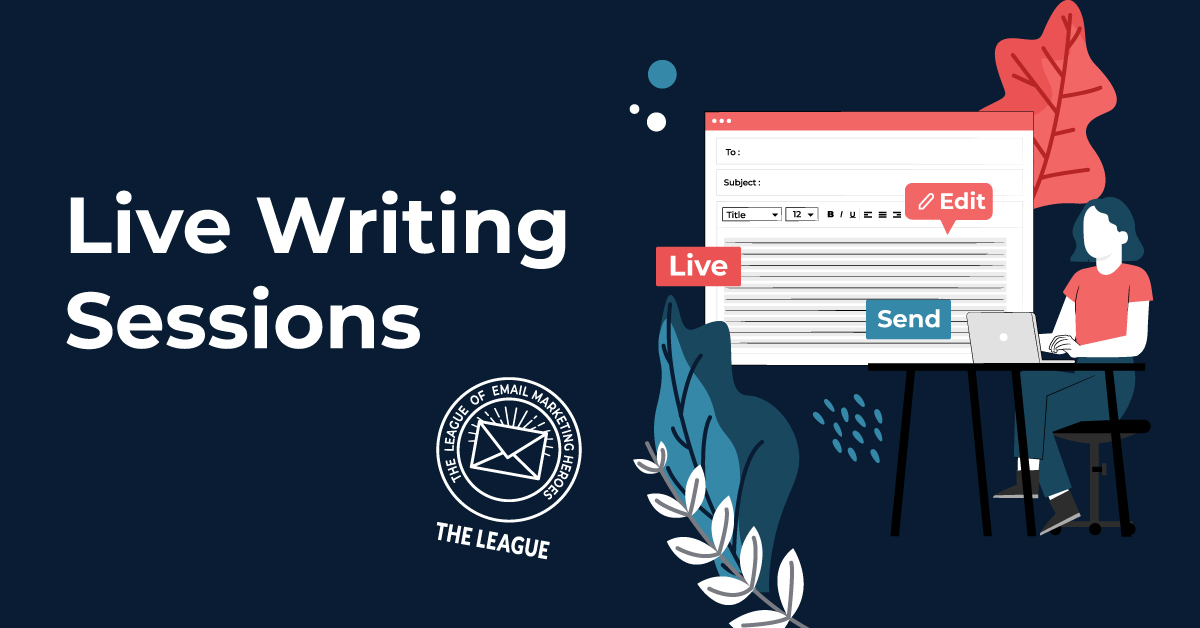 How to Use Live Writing Sessions as a Member of The League
Whether this will be your first Live Writing Session or you've been to a few and want a reminder – here's how they work, what to expect and most importantly how you can get the best results from them for you and your business.
In The League you get email campaigns to use, training and coaching calls but we know that with anything, the toughest thing to do is make the time to DO WHAT NEEDS TO BE DONE and use the amazing resources you have.
As a busy person you know that it's hard to commit the time to work on stuff sometimes. This is an appointment with yourself, with the added accountability of your fellow Email Marketing Heroes.
That is why we have Live Writing Sessions.
We set a day and time for a session every week. They're purposefully at different times and on different days each week to give you the best chance of making one.
Check the Members Events Calendar
Click the link in the Event Calendar and/or email we send you to join the Zoom call.
At the start we ask you to type into the Chat Box what it is you'll work on for the next 50-minutes **more ideas on this in a moment**
We set a timer for 50-mins and everyone is Muted.
You can leave your camera on for extra accountability, or turn it off if you're worried about unconsciously scratching your arse…it's up to you.
Once the 50-minute timer is up, we'll ask you what you got done.
And Hey Presto! you did it. You made the time to make progress with your email marketing.
What Can I Work On During a Live Writing Session?
If it makes progress, then do it. That could be working on a specific email campaign or sequence (either one from our library in The League or one of your own – because we do show you how to create your own too.).
Some people use the time to batch write newsletters, while others use it as Study Time to go study something inside The League. And since we also have some members who use The League resources for their clients – some also use the time to crank out some client work.
The whole point is really simple: it's work time. It's 'doing' time.
What Are The Rules?
The rules are pretty simple. This is a quiet working session. So we don't take and answer questions or give any input. This is doing time.
We've created this space for you to put in your calendar to make sure you not only use, but get RESULTS from your membership. To make success inevitable.