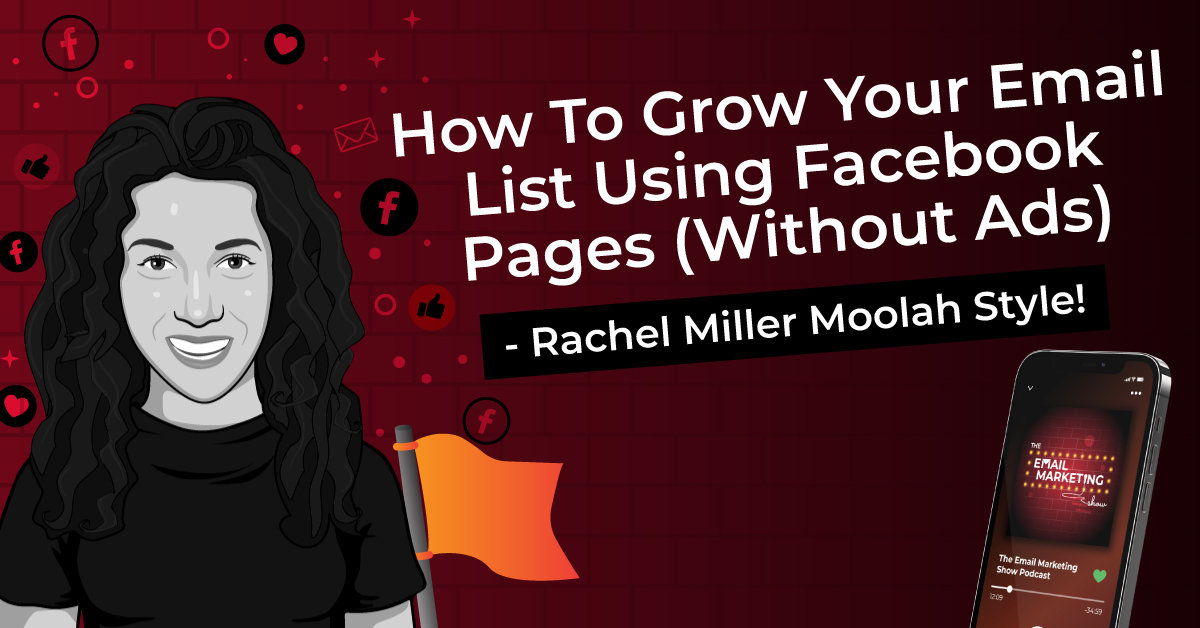 How To Grow Your Email List Using Facebook Pages (Without Ads) – Rachel Miller Moolah Style!
Are Facebook pages dead? Is trying to grow your email list using Facebook the ultimate waste of your time?
We asked Rachel Miller, a social media, organic growth strategist who has spoken at some of the industry's largest events and is famous for her awesome Moolah programme. With over 90 million views to her website, she's also a best-selling author who's helped over 50,000 small businesses grow their Facebook pages.
Bet you can't wait to hear what Rachel has to say about using Facebook to grow your email list, huh?
SOME EPISODE HIGHLIGHTS: 
(3:05) Two lies and a truth. Did Rachel really record two albums?
(4:13) Are Facebook pages still a thing?
(5:12) Why driving traffic organically to your list from your Facebook page is as easy as pie.
(6:27) If your Facebook page isn't growing, it's really not Facebook's fault...
(8:52) How to build an email list from your Facebook page.
(12:18) How to keep people on Facebook and build trust first.
(14:46) The 4 types of posts you should regularly share on your Facebook page to grow your audience.
(16:15) Where on Facebook should you include a link to your email list?
(17:18) How often should you post on your Facebook page?
(18:54) Subject line of the week (and an epic template) - Rachel style!
The Top 10 Books To 'Power Up' Your Email Marketing
10 book recommendations that will improve all areas of your email marketing (including some underground treasures that we stumbled upon which have been game-changing for us).
Is it still possible to build an email list on Facebook?
According to Rachel (and she's the expert here!) Facebook pages aren't dead. Far from it. We tried telling her that, and we cracked her up, so there!
We learnt from Rachel that Facebook pages are very much still a thing. People are still using Facebook, and the platform is most definitely driving traffic through pages. And in fact, with changes coming to iOS and Google Privacy, organic Facebook pages are going to be even more important than before. And that's because getting leads from ads is going to cost more while re-targeting capabilities are going to be reduced.
If you've optimised your Facebook page correctly, you can still drive organic traffic to your email list. That's awesome news, right?
But my Facebook page is not converting!
If you've tried to grow your email list using Facebook and got crickets, you're not alone.
But that's the problem.
According to our friend Rachel, if your Facebook page isn't converting, it's not the algorithm's fault. It's probably because you're not looking at solutions to fix it. Rachel regularly helps her clients create vibrant Facebook pages that grow, so if they can do it, can't we all?
Turns out we can! All it takes is to switch our mindset around and find a solution to make our content work.
So what are the easy peasy steps that Rachel suggests we take?
How to collect email addresses from a Facebook page
Rachel shared that one of the main traps people seem to fall into is to be too keen and ask for that email address too soon. We've all been there, haven't we?
People want to join our email lists when they're ready to find out more about who we are. But why would they want to know who we are if they don't know us from Adam in the first place?
The secret, according to Rachel, is to hold off that pitch. Make the time to build a relationship with your audience, help them relate to you, chat back and forth. It's about making them feel connected to you, part of the community, and building trust with them. Makes sense, right?
So by the time they decide to join your list, it's because they want to hear from you – because they feel like they know you. Not because you've bribed them with a freebie that promises to solve all their problems before even giving them the time of day.
Want to know how Rachel does it?
She connects with people personally on her Facebook page, then invites them to join her Facebook group, and at that point, she asks them if they want her to follow up on email. And 75%-50% of her Facebook group members give her their email addresses. Just. Like. That! Crazy, right?
What's even better is that she has an engaged list with high open rates and great interaction because she delivers the freebies and all that amazing value to her email list. They sign up for a follow-up from Rachel, and they stay for the value. Pretty sweet.
What type of content with help you to grow your email list using Facebook?
Make More Sales with our Psychology-Based Email Marketing Membership
Psychology-based email marketing.
Complete email campaigns.
Video training.
Group coaching sessions.
Exclusive AutomateHero app.
So what kind of content should you put out there, on your Facebook page, to get the sort of crazy results that Rachel and her clients get? Well, Rachel has this neat little formula that she calls 'engagement stacking'.
And it goes like this. You post:
A photo.
A video.
Then a conversation starter (i.e. a question that gets your audience talking).
And then you post your offer.
Repeat the cycle and in this order, and you've got yourself the perfect formula for growth.
Where should you include links to collect email addresses from Facebook?
The first thing Rachel told us is where you don't put your link. And that's in your cover. Because that's a bit too fast, too soon, and too heavy. No one likes that, right? We don't want to be sold to too soon – when we like a page, we want the chance to participate and engage first.
So include your email list sign-up link in your profile About section, your Page Description, and your Page About. And when it comes to Facebook groups, you can add it to your Group Description, the pinned post in your Facebook group, and, of course, on every fourth post.
Subject line of the week – Rachel style!
Rachel shared an epic template she uses to create all her subject lines. And it goes like this:
Open with a promise or proof (and stick a number to it).
Use an emotional word or two.
And then deliver the actual promise.
So here are some examples:
3 super simple video hacks.
5 freaking brilliant Facebook post ideas.
Or 10 totally amazing podcast shows.
Super easy, right?
Rachel's extra tip for growing your email list with Facebook
And just like that, at the end of this awesome interview, Rachel dropped this value bomb on us.
Turns out Rachel uses Facebook to test out her audience's reaction to her content. Once she knows something is performing well on Facebook, she uses that content in her emails. Every year she also removes or updates the worst-performing emails on her list, which leaves her with an amazing email sequence that lands every single time.
And isn't that just the best thing?!
Useful Episode Resources
About Rachel
Want to connect with the awesome Rachel? You can find her on her website, and, of course, rocking it on Facebook. And here's the link to Rachel's Post Deck App we mentioned in the episode.
Related episodes
Build a Facebook Group To Build Your Email List With Arne Giske From Group Funnels
How To Write Email Subject Lines For Sales Emails (That Actually Work)
How To Grow Your Email List – 6 Unusual Lead Magnet Ideas
Join our FREE Facebook group
We know your business is different, so come and hang out in our FREE Facebook group, the Email Marketing Show Community for Course Creators and Coaches. We share a lot of training and resources, and you can talk about what you're up to.
Try ResponseSuite for $1
This week's episode is sponsored by ResponseSuite.com, the survey quiz and application form tool that we created specifically for small businesses like you to integrate with your marketing systems to segment your subscribers and make more sales. Try it out for 14 days for just $1.
Join The League Membership
Not sick of us yet? Every day we hang out in our amazing community of Email Marketing Heroes, where we get to share all of our training and campaigns and a whole bunch of other stuff. If you're looking to level up your email marketing, come and check out The League Membership. It's the number one place to hang out and grow your email marketing by applying everything we talk about in this show.
Subscribe and review The Email Marketing Show podcast
Thanks so much for tuning into the podcast! If you enjoyed it, we'd really appreciate you subscribing and leaving us a review of the show on your favourite podcast player.
Not only does it let us know you're out there listening, but your feedback helps us to keep creating the most useful episodes and get discovered by more awesome people like you.