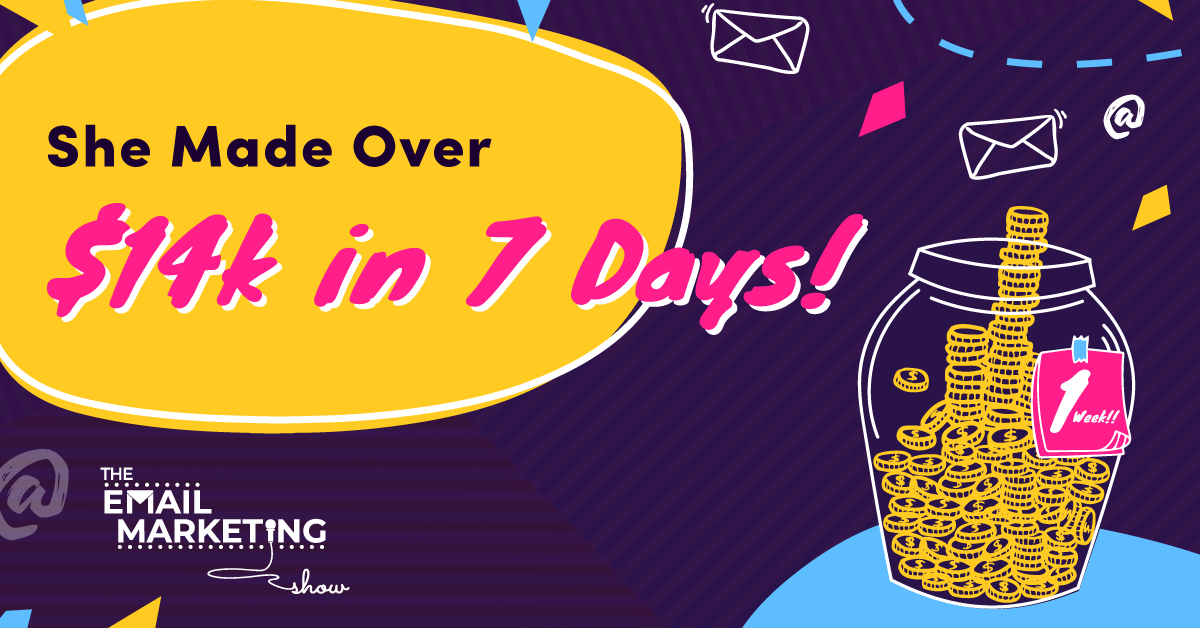 How Emily Made Over $14k In 7 Days With Just ONE Email Marketing Campaign
Would you like to find out how our member Emily Moncuit from Emily's Notebook made over $14k in only 7 days by using ONE of our email marketing campaigns?
It sounds too good to be true, doesn't it? You join a membership, do one thing, and make a whole bunch of money. And when you implement the next action, you make more money! Mindblowing!
But let's hear it from Emily…
SOME EPISODE HIGHLIGHTS: 

(0:20) Join our FREE Facebook Group. 
(3:25) Who is League member Emily Moncuit?
(5:59) When did Emily get started with email marketing?
(8:29) What was Emily's biggest barrier to making email work for her?
(9:35) What did Emily's emails look like before she joined The League?
(12:54) What were the first changes that Emily made when she joined The League?
(16:37) What impact has email marketing had on Emily's revenue and sales?
(19:03) How does Emily feel about her email marketing now?
(22:30) The one action that had the most impact on Emily's email marketing.
(25:12) Subject line of the week.
Who is League member Emily Moncuit?
Emily teaches people how to draw (step-by-step) with a particular emphasis on supporting their well-being and integrating a drawing habit into their day. Emily used to sell a high-level ticket offer in the form of a course, but she's now transitioning into a membership model. Her business is evolving because there's a massive demand for drawing, as people have been disconnected from their creativity.
Drawing is something we might be good at when we're in school, but traditionally and culturally at some point, it gets discouraged. And people are told to get "a proper job". That's when drawing becomes a hobby, and if we treat it like a hobby it's not part of our creative reasoning and evolution as human beings. So there's a deeply rooted psychological connection that people have with drawing.
When did Emily get started with email marketing?
Emily started drawing in 2019 after her divorce to find a way to cope. At the time, she worked as a director in a government position where she was involved in community regeneration. Overnight, she started her creative journey by drawing every day, and at some point, she decided to do this as a career.
Emily tells us her email journey before joining The League is pretty shocking. She would send emails sporadically and about once a week. Ironically, while she was used to doing a lot of face-to-face work to build communities on the ground, she didn't know how to translate that to the online space. She had a mental block to community building and thought she needed the face-to-face, live context every week. As a result, her emails were very unfocused and with no real call to action.
When she first implemented our first sequence of tasks, Emily says, it was like stepping into the light! She had a busy first month after she met us. In fact, she was as resentful as she was elated because she got results but also had loads of questions about how to do things.
What was Emily's biggest barrier to making email work for her?
The biggest barrier for Emily was psychological – she didn't believe she could connect with people via email because in order to do that, people need to open your emails. And what if they don't? So she thought she needed to do social media instead.
And this is no surprise because we know that everyone thinks their business and audience are different from everyone else's.
What did Emily's emails look like before she joined The League?
Before she started working with us, Emily wasn't truly understanding what her audience's challenges were or didn't know how to create a conversation with them. She was throwing spaghetti to the wall hoping it'd stick. And that approach gave her no real results and definitely no consistent revenue from email marketing.
Emily was only sending one email a week, and that wasn't frequent or consistent enough. Every week, she'd publish a blog post and then send an email out with the link, encouraging people to read her work and sign up for her free weekly event. But that was it. She had no direction or strategy, and her emails felt very random. Plus, these were all live emails – Emily didn't use any automation.
Speaking of automation and systems, that's one of the reasons Emily said she resented us when she first came into our world. She realised that her existing email marketing platform couldn't do what she wanted, and she needed to switch. Thankfully, through our amazing community, we were able to put her in touch with an expert who could help. And Emily attributes part of her success to our community as well as to our teachings.
What were the first changes Emily made when she joined The League?
The first thing Emily did when she joined The League was to change her email signature – she added links for paid products to her footer and found that people do click on those links! Adding links to the footer of your emails is one of the things we encourage people to do on our Success Tracker. That way, even if you have no particular way of making an offer, people can still go and check your products out. The Super Signature turns every email into a sales email.
After that, Emily ran our LOL Revival Campaign. This allowed her to remove anyone who wasn't engaging with her list, and as we always say, this helps with the deliverability of your emails.
At the time, Emily was selling a high-ticket offer and doing live launches 2-3 times a year. So she'd implement our campaigns in the lead-up to launching a course. And they work! At the time of this interview, Emily was in the middle of an Overture campaign – on day 3, she'd made 38 sales thanks to the automated sequence she implemented – all while going about her day. Because that's the beauty of an automated campaign – you set it up once and let it run without the chaos of having to post something at the last minute. We give people a strategy and a structure, and that's what email marketing is all about!
The Top 10 Books To 'Power Up' Your Email Marketing
10 book recommendations that will improve all areas of your email marketing (including some underground treasures that we stumbled upon which have been game-changing for us).
What impact has email marketing had on Emily's revenue and sales?
Emily has recently changed her business model from a high-ticket offer course to a membership and a self-liquidating offer, and by using our Overture campaign, she made £11,673 (over $14k) in 7 days. She also made around £5,600 (just under $7k) in 5 days' worth of emails in her Black Friday campaign.
Not bad for a few days worth of work, don't you think?
How does Emily feel about her email marketing now?
Doing email marketing has helped Emily with her community building. And while she'll admit she doesn't always understand some of the psychology that we use or implement, the interaction she's getting with her community happens privately in her own space – not on social media. Emily doesn't have a massive following, but she has grown her email list to just over 8,000 subscribers.
Emily feels excited about email marketing now – she looks forward to thinking about what she can say. Because while people may think email marketing is quite rigid, it's actually very creative. There's a lot you can do – including questionnaires and surveys. And it helps shape how you communicate with your audience going forward. So she's excited about email being another extension of the creativity she already has in her business. Email marketing allows her to drop into people's inboxes and send them on many wonderful journeys inside her world.
Emily has now built a system through email that she can put more and more people into and scale beautifully as her audience grows.
The one action that had the most impact on Emily's email marketing
The one thing that Emily recommends people focus on is growing their email list. A lot of people depend on social media, but it's really all about creating your own platform with email. So she advises people to look at their onboarding and how they're communicating with their audience from the get-go.
Did email marketing take over Emily's entire life?
A lot of the emails in our campaigns, Emily says, only take 3-4 sentences, so it doesn't take Emily long to create an email sequence. Plus, the emails and campaigns are built into a structure and automated. Emily pointed out it takes less time to send an email than to do social media, so once you know what you sell and how to build it, you treat email as your sales team. Regardless of what type of trial you're running, what should your email campaign look like?
Make More Sales with our Psychology-Based Email Marketing Membership
Psychology-based email marketing.
Complete email campaigns.
Video training.
Group coaching sessions.
Exclusive AutomateHero app.
Subject line of the week
This week's subject line is "I'm leaving." It has the curiosity element that leaves people wondering what is going on. Is someone leaving the business? Or what is he leaving? Why? When? And who exactly? So it's all about compound curiosity. Check it out!
Useful Episode Resources
Related episodes
How Brad Brown Made $90k By Automating Webinars.
How Facebook Groups and Webinars Make Matthew Harrington a Happy Man.
And How A League Member Made Over $10k With Just ONE Email Campaign – Case Study With Aidan O'Sullivan.
FREE list to improve your email marketing
If you want to write better emails, come up with better content, and move your readers to click and buy, here's how. We put together this list of our Top 10 most highly recommended books that will improve all areas of your email marketing (including some underground treasures that we happened upon, which have been game-changing for us). Grab your FREE list here.
Join our FREE Facebook group
If you want to chat about how you can maximise the value of your email list and make more money from every subscriber, we can help! We know your business is different, so come and hang out in our FREE Facebook group, the Email Marketing Show Community for Course Creators and Coaches. We share a lot of training and resources, and you can talk about what you're up to.
Try ResponseSuite for $1
This week's episode is sponsored by ResponseSuite.com, the survey quiz and application form tool that we created specifically for small businesses like you to integrate with your marketing systems to segment your subscribers and make more sales. Try it out for 14 days for just $1.
Join The League Membership
Not sick of us yet? Every day we hang out in our amazing community of Email Marketing Heroes. We share all of our training and campaigns and a whole bunch of other stuff. If you're looking to learn how to use psychology-driven marketing to level up your email campaigns, come and check out The League Membership. It's the number one place to hang out and grow your email marketing. Best news yet? You can apply everything we talk about in this show.
Subscribe and review The Email Marketing Show podcast
Thanks so much for tuning into the podcast! If you enjoyed this episode (all about how to create the perfect free-trial email sequence for your email marketing) and love the show, we'd really appreciate you subscribing and leaving us a review of the show on your favourite podcast player.
Not only does it let us know you're out there listening, but your feedback helps us to keep creating the most useful episodes so more awesome people like you can discover the podcast.
And please do tell us! If you don't spend time on email marketing, what do you really fill your working days with? We'd love to know!