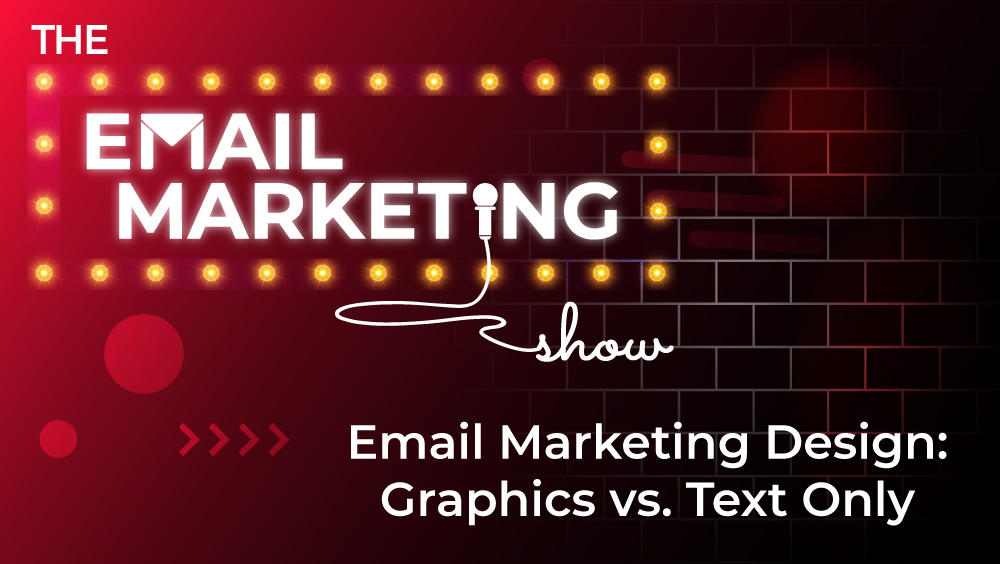 Email Marketing Design: How To Choose Between Graphics vs. Text Only
We talk a lot about email content but how much time do you spend thinking about your email marketing design?
It would be an easy assumption to make that the prettiest and most eye-catching design would get the most engagement but that's not always the case.
What people find attractive and appealing when it comes to design can be very subjective, so it can be tricky deciding how your emails should look.
We could sit and argue over what color your links should be, or if your email signature should show your face, but one of the biggest debates in email marketing is whether to go graphic-heavy or whether to stick to good old text-only emails.
Let's hash it out…
Email Marketing Design
Episode Content
(3:02) The research and results behind graphic vs. text only emails
(4:10) How graphics in email can affect your deliverability
(5:35) Does email intent and call to action change how you should format your email design?
(6:30) Rob tells a terrible joke!
(7:31) How 'text only' should your text-only email be?
(9:32) Where should your brand logo fit?
(10:54) How you can mix graphics/text-only to spice up your content
(12:14) Fun alternatives to using brand graphics in your emails
(17:52) How including graphics in an email can increase your open rates
Subject Line Of The Week
Listeners Question
Do you recommend keeping all your lists separate based on a certain topic, or combining them after a certain length of time?

Leslie Zengler – lesliezengler.com
Rob: This really depends on whether you have an email platform that divides your subscribers into lists or tags, or a combination of both. With the list-based platforms, I've always been inclined to have a different list for every different thing somebody can do, what they opted in for, what they've purchased, did they attend a webinar, etc. The other way of doing it is to create main lists and then use tags to separate people based on the specific action they took or the product they opted-in for. It means you can keep your lists really tidy and makes it easy to send broadcasts to specific groups of people.
Kennedy: The most important thing here is to look at what is the best thing to do for how you market your products so that you can deliver a really personal email experience for every person on your list. So, use tags, use lists, it's totally up to you as long as you're able to deliver the right message, to the right people, at the right time.
Episode Resources
NiftyImages
Giphy
YouTube
ActiveCampaign
ResponseSuite
The Email Marketing Strategy Every Business Should Steal – Blog Post
6 Techniques To Segment Your Email Subscribers – Podcast Episode
Writing The Perfect Welcome Email With Gavin Bell – Podcast Episode
INBOX 2020 Event – Buy your ticket
Download The Email Marketers' GamePlan
FREE Email Marketing Webinar
Check out our Youtube channel for a behind-the-scenes look at The Email Marketing Show
Follow us on Instagram for daily email marketing advice and ninja tips
Connect with us on Twitter for podcast updates and email marketing content