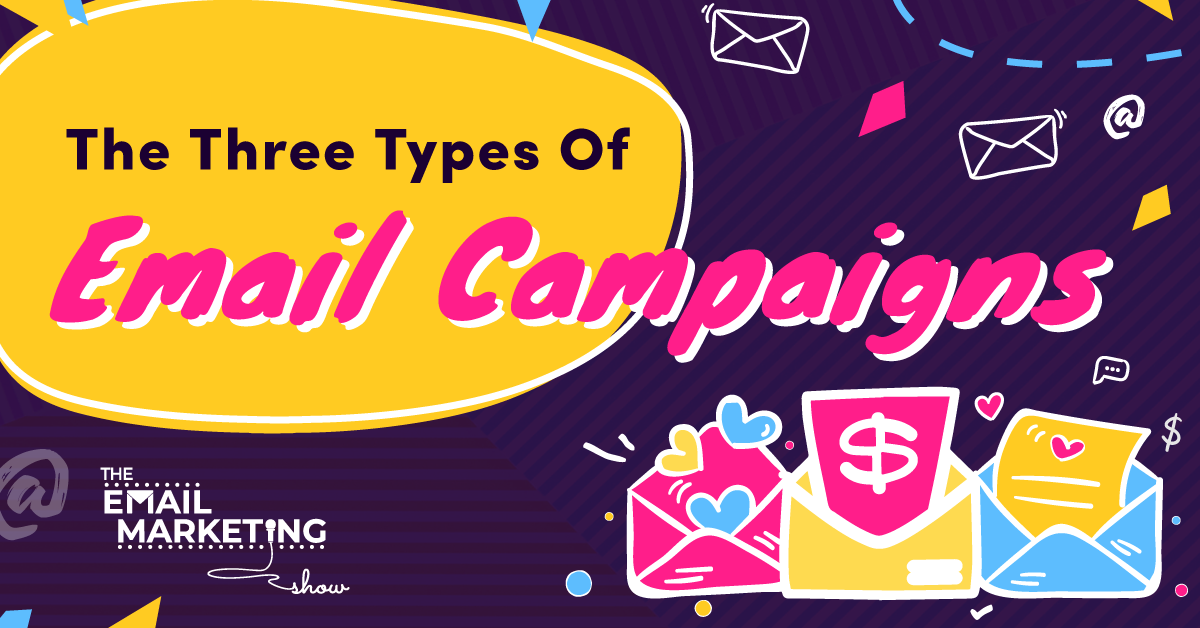 The Only Email Marketing Campaign Types You'll Ever Need
Did you know there are only THREE email marketing campaign types you'll ever need to know about and use in your business?
That's right. Inside our membership The League we have more than 30 email campaigns that our members can literally copy and deploy in their own businesses. But they all come down to these three main types.
And once you understand these, you'll see your emails in a completely new way.
Ready to find out more?
SOME EPISODE HIGHLIGHTS: 

(0:10) Want to make your sales from your email marketing? Grab our Click Tricks.
(4:48) The only THREE types of email marketing campaigns.
(6:13) Examples of functional campaigns.
(7:30) Collect testimonials and get paid on time. 
(9:33) Direct sales campaigns.
(10:44) How to sell in a valuable way.
(12:19) The advantage of running different direct sales campaigns.
(13:06) Content-led campaigns.
(15:31) Want access to all our email marketing campaigns? Join The League.
(17:31) Subject line of the week.
Want to get more sales from your email marketing?
We put a little something together for you. It's really cool and it's FREE (yes, it's cool and free – we're nice like that). If you want to make more sales from your email marketing, you need more clicks on the things that you're selling!
That's why we're giving you 12 creative ways to help you get more clicks in every email you send. It's a FREE download, and it's called Click Tricks. You can grab it here.
The only THREE types of email marketing campaigns
Running email marketing campaigns can seem overwhelming and complicated. But at a basic level, there are only THREE types of campaigns you'll ever need in your business.
And they are:
Functional campaigns.
Direct sales campaigns.
Content-led campaigns.
Examples of functional campaigns
Functional email marketing campaigns are those that relate to the core functions that need to take place in your business.
For example, you'll need some sort of funnel campaign that delivers your lead magnet when someone opts in to download it. When you run a campaign of this type, you don't just want to deliver the product – you want to do it with purpose. You want to remind your subscribers about the value they're going to get from your download. They were so excited to get your lead magnet that they gave your their email address. Now your job is to remind them of that excitement and that value – tell them how implementing your teachings will help them solve the problem they might have, for example. This email delivery sequence marks the start of building a relationship with people, and that's super important.
Collect testimonials and get paid on time
Another functional email marketing campaign you can have in your business is one that helps you collect testimonials. Why have a campaign for this? Because you want to systemise and automate the process of reaching out and getting testimonials that you can then use to sell your product to other people. Doing manually isn't very efficient – you might forget to ask, or too much time will have passed. So you need to have an automated process to reach out to your existing customers to ask for testimonials, and a campaign will help you do that.
You also want to have systems in place to make sure you get paid on time. If you're invoicing your customers, you want to email them a bill. And if that bill is overdue or if someone's payment has failed, you need a system in place to remind them or let them know. And that doesn't mean these (functional) emails can't be valuable or interesting!
So these are examples of functional campaigns you might want to implement. They will vary from business to business, which is why we have a whole range of them available inside our membership.
Direct sales campaigns
The second type we want to cover are direct sales email marketing campaigns. As the name suggests, in these emails, you'll have a link that someone's going to click to get to a sales page. While reading the email, people know that when they click on the link they'll be taken to an offer.
And of course, you have different categories of subscribers, i.e. people who are at different stages of their journey with you and who need different offers. Some people are ready to buy (we call them 'high-interest') – they already know what they want and just need the link. So when you put an offer in front of these types of subscribers, you don't need to do a great deal of marketing. In fact, you want to make sure you don't do anything that gets in the way of this person buying from you!
How to sell in a valuable way
A lot of marketing advice you'll find 'out there' will give you the idea that if someone joins your list today, you have to then nurture them for ages without selling them anything. At some point, 'reciprocity laws' will kick in, and they'll buy.
But we don't think that's how it works at all! What you want to do instead is to sell in a valuable way. You want to run direct sales campaigns that are valuable. And once you do that, you can reach out directly to the people who aren't ready to buy right now and get them over the line when the time comes.
Direct sales campaigns rely on ensuring that your offer is tightly dialled in. In other words, a direct sales campaign will never convert unless your offer is strong. So running a direct sales campaign is actually a great way of testing your offer. If it sells, then your offer is a winning one. Because no one has an inherent inability to make sales.
And that's why inside The League we have a range of direct sales and flash sales campaigns (like Columbo, the Overture campaign, or The Escalator) that you can use for existing products but also to test brand-new offers.
The advantage of running different direct sale campaigns
What all direct sales campaigns have in common is the fact that your subscribers know they're being offered something. But the campaigns are framed in different ways because you can still have variety! That's why we have so many of them. And we see this as a big downfall for a lot of email marketers. They'll just show up with the same direct sales campaign every single time and never try and wrap their offer up in different ways. As a result, their audience switches off and gets bored. They become blind to those campaigns and stop engaging. Even if you've changed some of the nuances, they won't notice.
So here's why we have so many different campaigns. And of course, you could also have hybrid campaigns that are both functional and about direct sales. An example are campaigns that help you win back past customers.
The Top 10 Books To 'Power Up' Your Email Marketing
10 book recommendations that will improve all areas of your email marketing (including some underground treasures that we stumbled upon which have been game-changing for us).
Content-led campaigns
The third type of email marketing campaigns you need in your business are content-led ones. These are the email sequences you use when you're cloaking your offer behind a piece of content, such as a teaching video or a webinar. If your offer sits behind a video, for example, you only trigger it once people have watched that piece of content. Our Golden Cloak campaign works just like that. And if people don't watch the video, then you want to trigger a different email campaign entirely (and then another one after that), and the whole process is streamlined.
Another example is our Daisy Chain campaign, where you put someone into a different email sequence as long as they've watched up to a certain point of your video. You pick a particular point in your video because it's only after reaching that bit that you think the campaign that follows has a good chance of making the sale for you. And our Video Hero technology (available to all our members) helps you do just that.
Another content-led campaign we have is the Phantom campaign, which uses a survey. We ask people to fill in the survey, and on the back of that, we do different things. For example, we might send them to our webinar campaign to register for a webinar. Signing up for the webinar is the call to action – the whole campaign builds urgency around getting people to register. And then at the end of the webinar, there will be a pitch for the actual offer. In other words, the campaign does the job to sell the webinar, and the webinar (the piece of content) does the job of selling the product.
Want access to all our email marketing campaigns? Join The League
As you can tell, your emails can do a lot of different jobs depending on what type of campaign they fall under. It's easy to think that all emails need to tell someone to go and buy something, but that's not how it works! There are different stages to the process that you must take into account.
The one thing that all these emails have in common is that they all ask for a click – they ask someone to take an action. And sometimes it's functional (i.e. you're asking them to do something that's free), sometimes it's about direct sales, and other times it's about consuming a piece of content that has an offer somewhere down the line.
You need all these types of campaigns to keep your audience involved and engaged and make the maximum amount of sales. All members inside The League know that the 30+ campaigns we teach fall under these three different categories. And by using them, you can build your own email automation engine, which runs day and night and fills up your email inbox with payment notifications – no matter where you are or what you're doing.
If you're not already a member and want to check it out, here's the link again. Are you ready to literally grab and deploy these campaigns in your business in your own voice?
Make More Sales with our Psychology-Based Email Marketing Membership
Psychology-based email marketing.
Complete email campaigns.
Video training.
Group coaching sessions.
Exclusive AutomateHero app.
Subject line of the week
This week's subject line is "SKIP module 01." The story here was about the fact that if there's ever a course that teaches about customer avatars, we will skip that module because we think it's mostly nonsense. And we talked about that in the podcast episode What We Really Think About Customer Avatars. 
The subject line links to the story we told in that episode, rather than simply saying what the episode was about (which would be the boring and dull option). In other words, this subject line works because it's interesting. People want to know which module we're telling them to skip. And it sounds counterintuitive – why would you skip module one when it's normally the one you start from? It almost sounds like an 'anti-consumption' email, which is why it generates curiosity. Try it out! 
Useful Episode Resources
Related episodes
7 Essential Email Campaigns Examples For Your Business.
9 Psychological Things That We Use In All Of Our Campaigns.
Template For Email Marketing Campaigns.
FREE list of the top 10 books to improve your email marketing
If you want to write better emails, come up with better content, and move your readers to click and buy, here's how. We put together this list of our Top 10 most highly recommended books that will improve all areas of your email marketing (including some underground treasures that we happened upon, which have been game-changing for us). Grab your FREE list here. 
Join our FREE Facebook group
If you want to chat about how you can maximise the value of your email list and make more money from every subscriber, we can help! We know your business is different, so come and hang out in our FREE Facebook group, the Email Marketing Show Community for Course Creators and Coaches. We share a lot of training and resources, and you can talk about what you're up to.
Try ResponseSuite for $1
This week's episode is sponsored by ResponseSuite.com, the survey quiz and application form tool that we created specifically for small businesses like you to integrate with your marketing systems to segment your subscribers and make more sales. Try it out for 14 days for just $1.
Join The League Membership
Not sick of us yet? Every day we hang out in our amazing community of Email Marketing Heroes. We share all of our training and campaigns and a whole bunch of other stuff. If you're looking to learn how to use psychology-driven marketing to level up your email campaigns, come and check out The League Membership. It's the number one place to hang out and grow your email marketing. Best news yet? You can apply everything we talk about in this show.
Subscribe and review The Email Marketing Show podcast
Thanks so much for tuning into the podcast! If you enjoyed this episode (all about the only email marketing campaign types you'll ever need in your business) and love the show, we'd really appreciate you subscribing and leaving us a review of the show on your favourite podcast player.
Not only does it let us know you're out there listening, but your feedback helps us to keep creating the most useful episodes so more awesome people like you can discover the podcast. 
And please do tell us! If you don't spend time on email marketing, what do you really fill your working days with? We'd love to know!