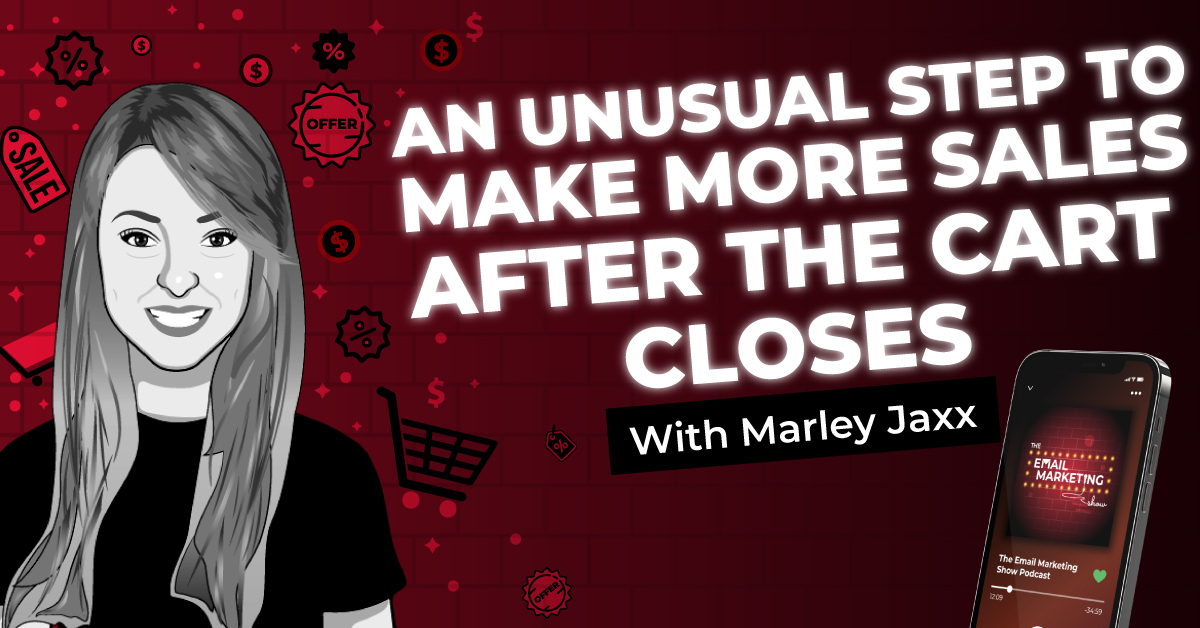 Add This Unusual Step to Your Checklist for Product Launch to Make More Sales After The Cart Closes with Marley Jaxx
You're doing a launch. The pressure is on. You've got it all planned out. You know what you're doing. Your subscribers are getting email reminders daily – hourly even. But then the launch is over. And… silence. What now? What do you send your subscribers now? Today, our awesome guest Marley Jaxx helps us add an unusual (but extremely clever) step to our checklist for product launch.
It's one you haven't thought about…
It's one you don't want to miss out on…
So are you ready to find out what to do after the cart closes?
Let's go and find out with Marley.
SOME EPISODE HIGHLIGHTS: 
(2:48) Did Marley once really loan money to a Shark from TV shows Shark Tank?
(4:20) What happens when you launch a new product?
(6:01) The first reason why people don't buy from you.
(6:38) The second reason why people don't buy from you.
(7:22) A look into Marley's post-launch email sequence.
(10:55) How to add a high-ticket item to your funnel.
(12:06) How to price your high-ticket items. 
(14:01) Handling follow-up conversations with your subscribers.
(16:27) Time-bound urgency vs scarcity. 
(17:44) Subject line of the week with Marley Jaxx.
The Top 10 Books To 'Power Up' Your Email Marketing
10 book recommendations that will improve all areas of your email marketing (including some underground treasures that we stumbled upon which have been game-changing for us).
What happens when you launch a new product
Marley Jaxx is really prolific at creating and launching new programmes, so we were quite chuffed when we managed to twist her arm and get her to talk to us about what to do in those eerie, terrifying moments and hours after you close the cart after a big launch – be it a membership, a coaching programme, a new product… anything you sell.
So you've closed the cart. What's next on your checklist for product launch? What exactly are you supposed to say to your subscribers now?
Marley likes to think of the value ladder in her business like a "Choose Your Own Adventure" course. So let's say you're doing a launch, and it closes on Friday night at midnight. Leading up to it, you're sending out all these countdown emails, encouraging people to buy, adding bonuses and scarcity and urgency. The worst thing you can do after the cart closes is to ghost them, right?
So the next day Marley sends an email out to anyone who didn't buy…
The first reason why people don't buy from you
Now, in this email, Marley covers the two reasons why people didn't buy the product she just launched.
The first reason is that they weren't ready. Financially or emotionally, they just weren't ready to take the leap and buy. Maybe they need a bit more time with your business. Maybe they want a little bit more support before they make a decision. And that's fair. So what Marley does is to offer another programme or point them to a different low-ticket item she's selling. And if that's not right, then she invites them to take one of her challenges again to help them get some quick results and fix the problem they're experiencing. Clever, right?
But the best part is this…
The second reason why people don't buy from you (and that's unexpected!)
The second reason why people might not buy from you is that they want more help! Maybe they want a done-for-you solution or one-to-one coaching. So this is where Marley tells people about her high-ticket items – like spots on a specific programme, for example. And if people want more information, they're sent over to an application page where they can pop their details in to book a call.
Isn't that mind-blowing?! And just so much better than sending them a hint or a handy tip a few days later and then ghosting that subscriber until you're ready to promote your next launch?
You've got to admit – pointing them to something that's less commitment is one thing. But would you have thought about offering your subscribers something more expensive?
Probably not, right?
It's genius.
And it makes perfect sense. Because people are either going to spend more money than time or more time than money on something – depending on where they are in their journey. Sometimes, when people want results faster, they're prepared to invest in done-for-you solutions and spend more to get it done.
The post-launch email sequence
Make More Sales with our Psychology-Based Email Marketing Membership
Psychology-based email marketing.
Complete email campaigns.
Video training.
Group coaching sessions.
Exclusive AutomateHero app.
We asked Marley how she spaces out her emails and how she structures her post-launch sequence, and she explained emails are sent out over a period of 3 days. These are upsell emails that invite people to check out her higher-ticket item. After 3 days of promoting the high-ticket offer, people are re-directed to the original challenge or a different low-ticket product.
How to add a high-ticket item to your funnel
So what happens if you don't have a higher-ticket item in your funnel already? How difficult is it to create one?
According to Marley, most business owners already have a high-ticket item available they can sell. Perhaps you made a course – now you can add a weekly coaching call or a Q&A session. Or maybe some templates. And you could even double or treble the price. Because if you're selling something that will teach people how to make $100k, for example, it's reasonable they will be prepared to pay a good amount for that.
But let's delve into price a bit more…
How to price your high-ticket items
A lot of the time, Marley says, business owners don't have a high-ticket item in their funnel because they're lacking the courage to add one on. But people pay attention when you price yourself as expensively affordable.
Often, as business owners, we make the mistake of setting a price too low because of fear. The common misconception is that keeping prices low will make our products more enticing. But if you think that pricing yourself cheap or even free can reach more people, the opposite is actually true – you'll reach more people by putting a $ sign in front of what you offer because when people pay more, they pay more attention. Plus, it's better to have a small handful of $10,000 clients who are invested and getting results than hundreds of $10 clients who aren't, right?
Handling follow up conversations with your subscribers
So you've done your launch, and you closed the cart. You've emailed the people who didn't buy to point them to other low-ticket items or to your high-ticket product. What happens when people have questions?
Marley confirmed that in her experience, low-ticket items don't lead to a lot of follow-up conversations – the purchase decision involved isn't huge, so if the offer is right, people tend to just go for it. But when people access the landing page for the high-ticket product then they have a chance to fill in an application and ask some questions over a phone call.
Of course, all this can be part of an automated sequence that you put together when you first go through your checklist for product launch, so after you've sent a few emails promoting one thing, then you can kick off other campaigns that could, for example, talk about your evergreen products. Marley uses a tool called Deadline Funnel to have multiple automation sequences running side by side with offers expiring on certain dates. This allows her to put into place what she calls the "Choose Your Own Adventure" course, where her clients choose the product that fits their needs while she continues to successfully grow her business.
Time-bound urgency vs scarcity
When we asked Marley whether she adds time-bound urgency to her offers, she confirmed low-ticket item products are left fairly open as some of them are evergreen. But when it comes to high-ticket products, that's when urgency comes in in the shape of "we only have so many spots open". And that works a treat.
Subject line of the week with Marley Jaxx
Marley's subject line of the week is "time is running out" but written with the help of emojis, like this: "??is ??out". And why did it work? Because it's different and sassy, and it shows personality and flavour. Another genius move by the awesome Marley.
Useful Episode Resources
About Marley
If you want to connect with Marley and find out more about her work, you can find her on her YouTube channel, on Instagram, and on her website.
Related episodes
Launch An Online Course the Non-Traditional Way with Chris Orzechowski.
The Psychology Of A Successful Email Launch – Being Desirable With Abraham Kallon.
6 Lessons We Learned From Launching And Growing Our Membership Site.
FREE list of the top 10 books to improve your email marketing
Today we talked about your checklist for product launch, but do you want help to write better emails? Come up with better content? Influence and move your readers to click and buy? Well, you can do that with this list of our Top 10 most highly recommended books that will improve all areas of your email marketing (including some underground treasures that we happened upon, which have been game-changing for us). Grab your FREE list here.
Join our FREE Facebook group
We know your business is different, so come and hang out in our FREE Facebook group, the Email Marketing Show Community for Course Creators and Coaches. We share a lot of training and resources, and you can talk about what you're up to.
Try ResponseSuite for $1
This week's episode is sponsored by ResponseSuite.com, the survey quiz and application form tool that we created specifically for small businesses like you to integrate with your marketing systems to segment your subscribers and make more sales. Try it out for 14 days for just $1.
Join The League Membership
Not sick of us yet? Every day we hang out in our amazing community of Email Marketing Heroes, where we get to share all of our training and campaigns and a whole bunch of other stuff. If you're looking to learn how to use psychology-driven marketing to level up your email campaigns, come and check out The League Membership. It's the number one place to hang out and grow your email marketing by applying everything we talk about in this show.
Subscribe and review The Email Marketing Show podcast
Thanks so much for tuning into the podcast! If you enjoyed this episode (all about adding an extra step to your checklist for product launch) and love the show, we'd really appreciate you subscribing and leaving us a review on your favourite podcast player.
Not only does it let us know you're out there listening, but your feedback helps us to keep creating the most useful episodes and get discovered by more awesome people like you.