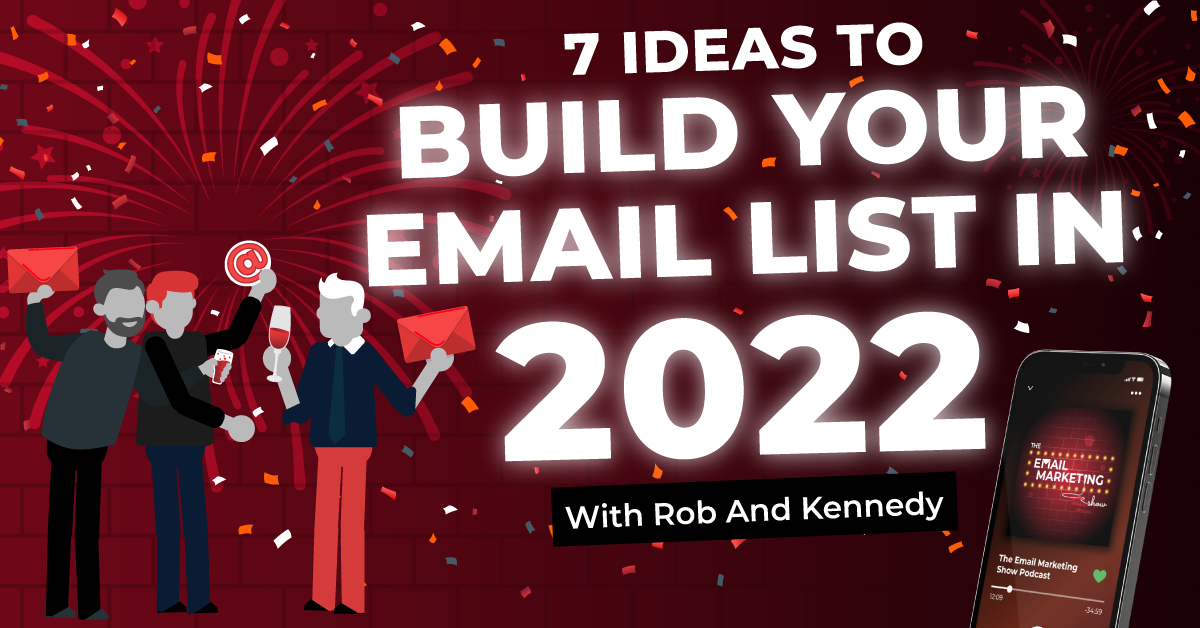 7 Ideas for Building Your Email List in 2022
Is 2022 the year you're finally going to focus on building your email list?
You might have heard us say this before, but once you've worked out how to maximise the amount of money you're making from your existing list, you need to also grow your list.
So… want some awesome strategies that will help you do that in the coming year?
Let's find out what you gotta do!

SOME EPISODE HIGHLIGHTS: 

(3:40) Our incredible Keap offer!
(5:27) Add links to your Instagram Stories.
(7:37) Use the question feature in your Facebook group.
(9:04) Offer people products or services that best suit their needs.
(12:37) Leverage other people's audiences.
(15:42) Add a list-building element to your existing campaigns.
(18:28) Become a podcast guest or deliver guest training. 
(20:55) Get endorsements from people.
(23:16) Buy another business.
(25:36) Subject line of the week.
1. Link to your lead magnet in your Instagram Stories
This is a new development with Instagram, which historically hasn't been the best out of all the social media channels to help online businesses share links. As you know, you can add a link to your lead magnets or sign-up forms in your bio – perhaps by using a tool like Linktr.ee or by creating your own custom link. But otherwise, links weren't clickable, and that's not great for list building.
But now Instagram gives all their users the ability to include a clickable link in your Instagram Stories. And as a result of that, you can get a huge number of extra eyeballs directly to your landing page.
So use your Instagram Stories to teach great content, share an idea or lesson, or tell a story. And then send people to check out your lead magnet by just clicking on the link. That's definitely going to boost traffic to your website and help with your email list building.
2. Use the question feature in your Facebook group
Another great strategy to capture email addresses on social media is to use the question feature in your Facebook group. We do this in our own Facebook group – The Email Marketing Show Community for Course Creators and Coaches.
You see, when people ask us to join the group, we ask people to give us their email address if they want to get some free resources from us. And when they accept to download the resources, they magically end up on our email list! Amazing, right?
When it comes to list-building strategies, this is a great way to start building or growing your list and collect email addresses – because you can pretty much mention your Facebook group everywhere! Plus, Facebook's algorithm gives you some help every now and again by suggesting it to more of their users, too.
The Top 10 Books To 'Power Up' Your Email Marketing
10 book recommendations that will improve all areas of your email marketing (including some underground treasures that we stumbled upon which have been game-changing for us).
Offer people products or services that best suit their needs
Because you can ask your target audience and potential customers up to three questions when they request to join your Facebook group, we recommend you use one of the questions to identify which of your products or services will be best suited for that person.
For example, in our case, we might want to find out whether someone wants to learn how to do email marketing for their small business or online business (in which case we'll tell them about our membership, The League, or our course, the Complete Daily Email Strategy), or whether they might want to have our email marketing writing agency write their emails for them. And if that's the case, we tell them about our agency, rather than our membership or courses. 
Remembe that people are at different stages in their journey, so offer them the products or services that best suit their needs.
Once we have people's answers, we then use different custom fields in our email marketing software (Keap) and put our email list subscribers into different series of automations that take them down different routes. This way, people coming into our Facebook group and email list, will get the solution they need as soon as possible.
And this is super useful because if we send our email subscribers a series of emails for products that don't meet their needs, they disengage and unsubscribe. And no one wins. But by identifying someone's needs as quickly as possible, we make the sale faster and also get to help people with what they truly need.
3. Leverage other people's audiences
The next tip is to build your audience. It's a hard and slow step for everyone, but it's essential. And one of our favourite ways to do it is to leverage other people's audiences. Do you know of any other business owners who are not your competitors but work in a similar space to you? For us, it's anyone who sells to course creators, membership site owners, and online businesses. We can team up with them, even if they don't offer something that we teach.
So figure out how to integrate your products and services into other businesses' funnels and get a piece of space on their land – it's a great strategy for lead generation. You could set up an affiliate programme or put up a banner on their thank you pages that points to your lead magnet so you can start growing your list.
Of course, you'd have a deal with that business, where they either get a percentage commission of your sales or you pay them a flat amount. And this means you also get to benefit from whatever strategy that business is using to drive traffic to their business. By working to build their audience, you build yours as well. 
Similarly, you could approach membership site owners who sell to an audience who can benefit from what you do and ask if they would offer special deals on your products. By integrating your products into other people's businesses, you're able to 'ethically steal' their audience and direct them across to your stuff.
4. Add a list-building element to your existing campaigns
Another strategy we like to use is to add a list-building element to our existing campaigns. Not all our promotions have a list-building element – a quick flash sale of your programmes wouldn't, for example. But if you're hosting a webinar or running a challenge, a quiz, or an online summit with lots of different speakers, you might want to add a list building element into your email campaign. 
For example, if you're hosting a webinar, you could ask your email subscribers to invite friends. This allows you to build trust and authority while giving people a solid outcome, but at the end of it, you're also making an offer. Quizzes and contests are perfect for list building. And so are summits. You might have 20 different speakers there, and if everyone emails their lists about the summit, you get to increase your email signups. Their audiences get to enter your world too!
So think of ways of including a list-building element in campaigns, promotions, and activities that you're already doing, rather than thinking about these as separate entities. And in case you're interested, we have lots of campaigns (with a list-building element) ready for you to customise and use, inside our membership The League. 
5. Become a podcast guest or deliver guest training
The next strategy is to become a podcast guest or deliver guest training in order to leverage other people's audiences and build yours really quickly.
As you know, we have guests on this show but also appear as guests on other people's podcasts. But we also do guest training – we get invited to jump into other people's communities and deliver some training on email marketing. If the audience isn't an exact fit for us, we'll get paid a fee. But if it is (and the room is full of our ideal customers), then we do it for free because we also benefit from the opportunity.
Imagine having the chance to give a 30-40 minute presentation to a group of perfectly qualified potential customers! You put that training together once and teach it over and over for different audiences. 
This is a great type of list-building mechanism because it builds raving fans out of people. They get to see first-hand how you can help them before they've given you any money. And of course, because you're invited by the owner of the membership these people are already part of (someone they trust and pay money to), you almost come recommended – and those people will trust you as a result. So find paid communities, memberships, and coaching programmes that are a good fit for you where you could deliver guest training and then pitch your products at the beginning, middle and end of that training.
6. Get endorsements from people
Ever heard of endorsed mailings? This was popular years ago, and it's a powerful strategy that has made a comeback. This is where you reach out to someone who has an email list of your perfect customers and suggest they could get even better results if they used the thing you teach. 
So in our case, we'll approach a specific business, tell them about a great resource we have (free or paid for) and ask them to tell their audience about it. Of course, they'll either get a flat fee depending on how many clicks or subscribers they send our way. You could set up a trackable affiliate link (a business partnership, if you like), and offer them a commission when someone buys from you as a direct result of that endorsement.
7. Buy another business
The last strategy we want to share for building your email list is to acquire a business that already has an email list. We're not talking about sharing data illegally or doing dodgy practices like swapping lists to get subscribers on your list. None of that!
This is about legally and legitimally buying a business that comes with its own email list of subscribers. Where would you find this? You might know someone in your industry who wants to close down their business or is looking to hand it over to someone else to manage while they still retain a percentage of the profits, for whatever reason. If you negotiate a deal to buy that business, there's no reason why you can't acquire their email list and start promoting your products to that audience. 
Make More Sales with our Psychology-Based Email Marketing Membership
Psychology-based email marketing.
Complete email campaigns.
Video training.
Group coaching sessions.
Exclusive AutomateHero app.
Subject line of the week
This week's subject line of the week is "Ever made one of THESE?" This is something we've talked about before, and it's about taking an obscure word that references to something specific and writing that one word in capital letters.
This specific email we sent out was talking about customer avatars, which is something we stand firmly against for a few different reasons (very controversially), and it had a good open rate because people were curious about what the email was all about. And that's all because the word 'THESE' was in capital letters. 
Useful Episode Resources
Related episodes
Build Your List using Viral Ads with Dave Rotheroe from Grip Advertising. 
How To Grow Your Email List Using Facebook Pages (Without Ads) – Rachel Miller Moolah Style!
How to Grow your Email List When You Have Less Than 10k Instagram Followers, Helen Perry spills all.
FREE list of the top 10 books to improve your email marketing
If you want to write better emails, come up with better content, and move your readers to click and buy, here's how. We put together this list of our Top 10 most highly recommended books that will improve all areas of your email marketing (including some underground treasures that we happened upon, which have been game-changing for us). Grab your FREE list here. 
Join our FREE Facebook group
If you want to chat about how you can maximise the value of your email list and make more money from every subscriber, we can help! We know your business is different, so come and hang out in our FREE Facebook group, the Email Marketing Show Community for Course Creators and Coaches. We share a lot of training and resources, and you can talk about what you're up to.
Try ResponseSuite for $1
This week's episode is sponsored by ResponseSuite.com, the survey quiz and application form tool that we created specifically for small businesses like you to integrate with your marketing systems to segment your subscribers and make more sales. Try it out for 14 days for just $1.
Join The League Membership
Not sick of us yet? Every day we hang out in our amazing community of Email Marketing Heroes. We share all of our training and campaigns and a whole bunch of other stuff. If you're looking to learn how to use psychology-driven marketing to level up your email campaigns, come and check out The League Membership. It's the number one place to hang out and grow your email marketing. Best news yet? You can apply everything we talk about in this show.
Subscribe and review The Email Marketing Show podcast
Thanks so much for tuning into the podcast! If you enjoyed this episode (all about building your email list) and love the show, we'd really appreciate you subscribing and leaving us a review of the show on your favourite podcast player.
Not only does it let us know you're out there listening, but your feedback helps us to keep creating the most useful episodes so more awesome people like you can discover the podcast. 
And please do tell us! If you don't spend time on email marketing, what do you really fill your working days with? We'd love to know!