We all love having the opportunity to talk about ourselves, right?
Well, what if we told you that telling stories about your everyday life could actually make you sales? Can we get a hell yeah!
How should you market yourself during a crisis like COVID-19?
What kind of messaging is appropriate?
In this special episode of the show, we're joined by 3 of the best marketing minds in the whole of the UK in a frank and open roundtable discussion about what we should be doing in our email marketing during these types of events.
Tune in now to learn:
How do you 'sell' during a crisis like this?
How do you (or should you) create links between crisis and your messaging?
What about 'back to normal' or recovery messaging, what does that even look like?
Eek! Don't Miss An Episode
Don't miss a single episode of
The Email Marketing Show as well.
Receive a heads up by email when we
drop a new episode (it's free):
What A Good-Looking Bunch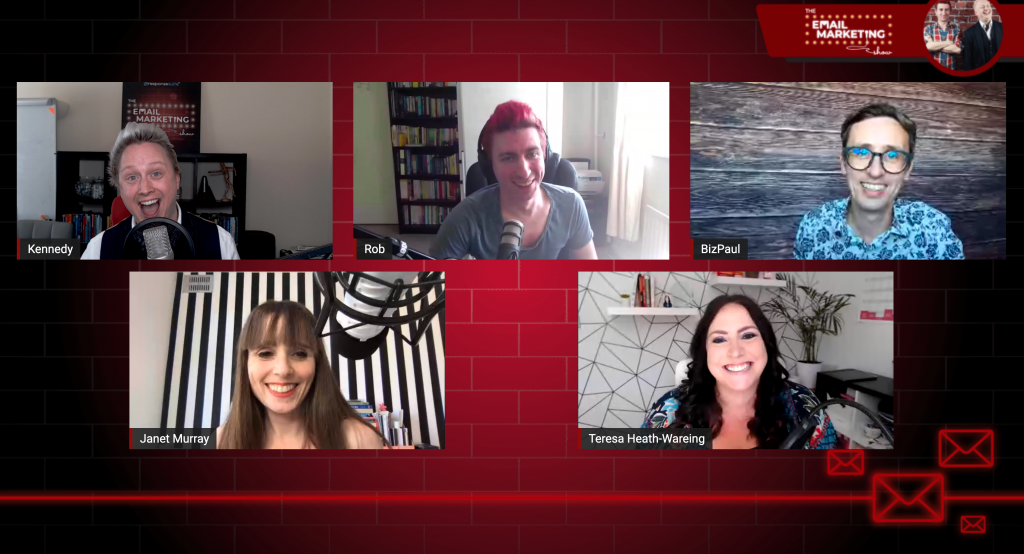 Episode Resources
Janet Murray: www.JanetMurray.co.uk
Paul Ince (BizPaul): www.BizPaul.com
Teresa Heath-Wareing: https://teresaheathwareing.com/
The Email Marketing Strategy Every Business Should Steal – Blog Post
6 Techniques To Segment Your Email Subscribers – Podcast Episode
Writing The Perfect Welcome Email With Gavin Bell – Podcast Episode
How To Do Better Email Marketing In 2020 – Blog Post
INBOX 2020 Event – Buy your ticket
Download The Email Marketers' GamePlan
FREE Email Marketing Webinar
JOIN The League Of Extraordinary Email Marketers
Connect with us on Twitter for podcast updates and email marketing content